Do Kevin, Oskar and Oksana want to meddle in our elections?
Start
reading
On Wednesday of the week before Christmas, when the attention of the media was captivated by the detention of suspects in the Danske Bank money laundering criminal investigation, the Propastop blog published a post concerning fake news circulated in social media.
The Propastop team had discovered that a page of Russian social network Vkontakte "Us – People of Narva" had published a story along with photographs, according to which a man protesting the UN migration compact was attacked in Tallinn's Lasnamäe borough. The photographs seem to depict a man carrying a blue, black and white flag on his shoulder beating on someone wearing a hood lying in the snow. Other photos depict a torn placard with slogans like "EU=USSR", "Stop the UN attack pact" and "ESTexitEU".
There is nothing to suggest such an incident ever took place. None of the photographs show the participants' faces or other details that would help identify them. It is also impossible to determine where the photos were taken. Everything pointed to a setup. Last but not least: there was no snow on the alleged day of the incident, while the photographs show snow cover. All this led Propastop to conclude that what they had was fake news pure and simple.
What do Kevin Lepik, Daniil Männik and alleged Rakvere resident Daniel Kaasik have in common? Or what about Oskar Kallas, Henri Ilves, Yuri Vilberg, Oksana Söderholm and Ivan Vasilev?
I believe that there are only a few people who know the answer to this one. They are the administrators and moderators of Facebook group "Estoners" created on October 3 of this year. The page description says "Estoners" publishes "creative news" and is aimed at "Estonian residents who do not care what language they speak and who can post and comment in their language of choice". All to understand "where our government is taking us".
I've been a member of the group for about a month to get a picture of what is discussed. The page often promotes the #ESTexitEU hashtag. It is the same – rarely used – tag that was seen on the placard that allegedly earned the protester a beating in Lasnamäe. The cumbersome abbreviation ESTexitEU marks its popularizers' wish for Estonia to leave the European Union. It is used in caricatures and (often vulgar) drawings like this one.
Group administrators – those eight people – also post a plethora of sarcastic and venomous photographs, illustrations and memes aimed at Estonian politicians and social issues. They are especially fascinated with President Kersti Kaljulaid caricatures of whom are published and shared weekly.
Everything seems to suggest that "Estoners" has been carefully thought through and is moderated professionally and with great enthusiasm. The page has attracted 2,000 members in what has only been a short time, even though social media analysis software Crowdtangle suggests its posts do not reach a wide audience yet.
Now for the punchline. None of the eight administrators of "Estoners" existed on Facebook four months ago. The Facebook account of Oksana Söderholm (whose friends' list includes at least one Estonian MP) was probably created on September 5 of this year. The accounts of Henri Ilves and Oskar Kallas were created the next day, while those of the remaining administrators and moderators followed a few days later. Ivan Vasilev, who is among the more active members of "Estoners", appeared on Facebook on September 9 and soon showed himself to be in a relationship with Sandra Luik from Pärnu whose life on Facebook started just three days prior.
The cherry on top is Yuri Vilberg's Facebook profile. Vilberg is a man who comments on the wall of former president Toomas Hendrik Ilves, advertising a petition for Estonia's exit from the EU. It is likely Vilberg's account was not created until October 15. Its creator had previously operated under the name of Katya Zaglyadina.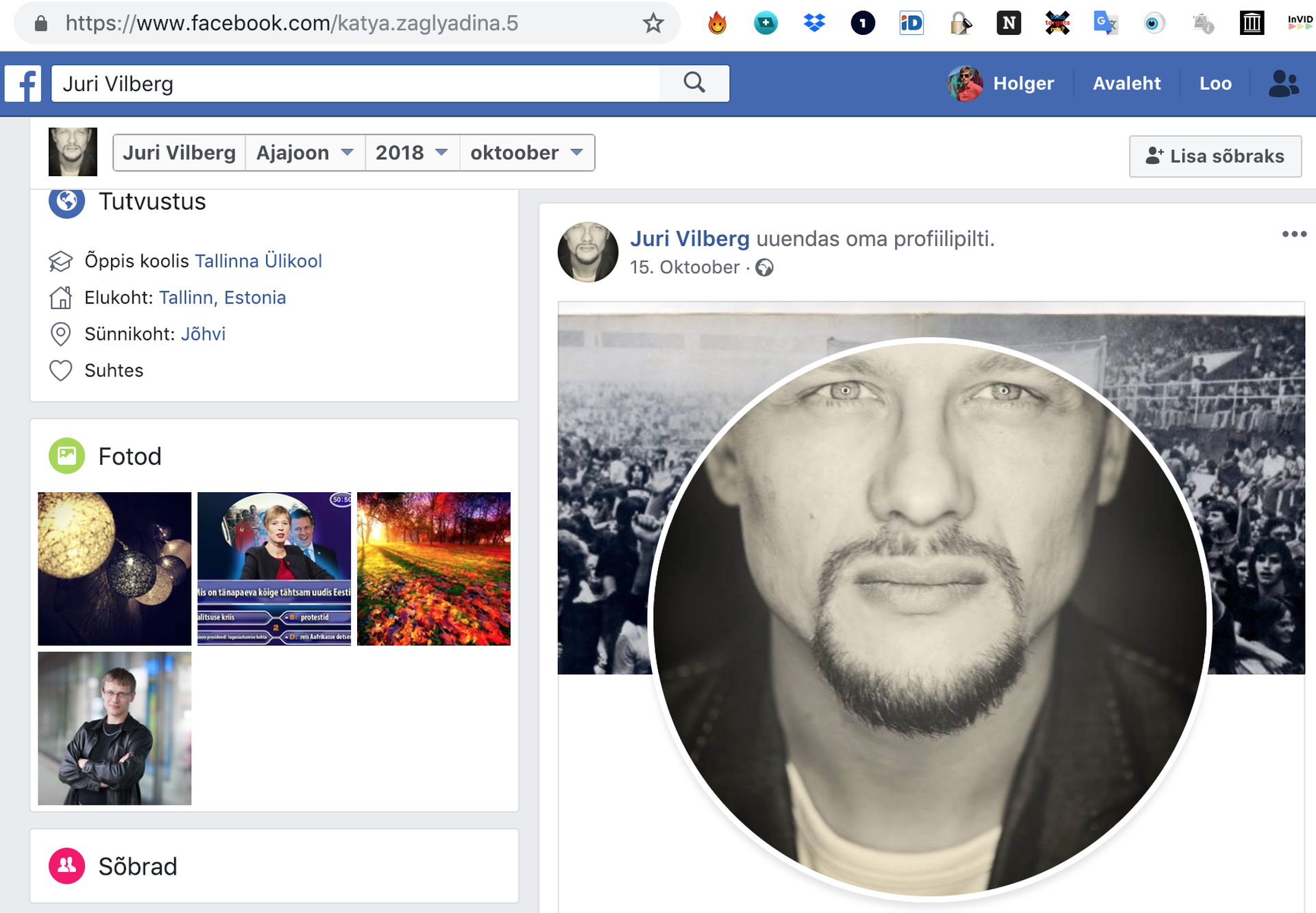 The profile pictures of most of these accounts do not clearly reflect faces and the users share "Estoners" posts mixed with universal and eye-catching nature, animal and entertainment memes on their personal walls. They are likely fake accounts created primarily for the purpose of spreading the disruptive content of "Estoners".
These examples characterize the social and social media context in which we will face two elections next year, and how easy it is to manipulate people. A cursory glance at the leaders of the "Estoners" group raises no red flags. They all have profile pictures, they all have friends, the posts have clearly been made by real people and not bots and several have even listed their education.
This matches warnings by international experts, according to which while automated bots – that haunted US presidential elections two years ago – are rather easy to detect, recognizing disinformation operations will become far more difficult in the future. It is becoming harder to separate sincere information from manipulation.
The US Senate gave disinformation researcher Renee DiResta access to social media companies' data on elections tampering in 2016. The conclusion drawn by her workgroup is grim. "Russian attempts at meddling using social media channels are chronic, widespread and clearly identified and are something the US needs to aggressively curb," she wrote in the summary of her analysis in the December 17 issue of The New York Times. One of the more important conclusions drawn by DiResta's workgroup was that interference is coordinated on a multiplatform level. This means that the same goal was simultaneously pursued using Facebook, Twitter, YouTube and other channels. Returning to Estonia, we see that anti-EU sentiment (#ESTexitEU) is being spread on Facebook, Russian-language Vkontakte and in the streets.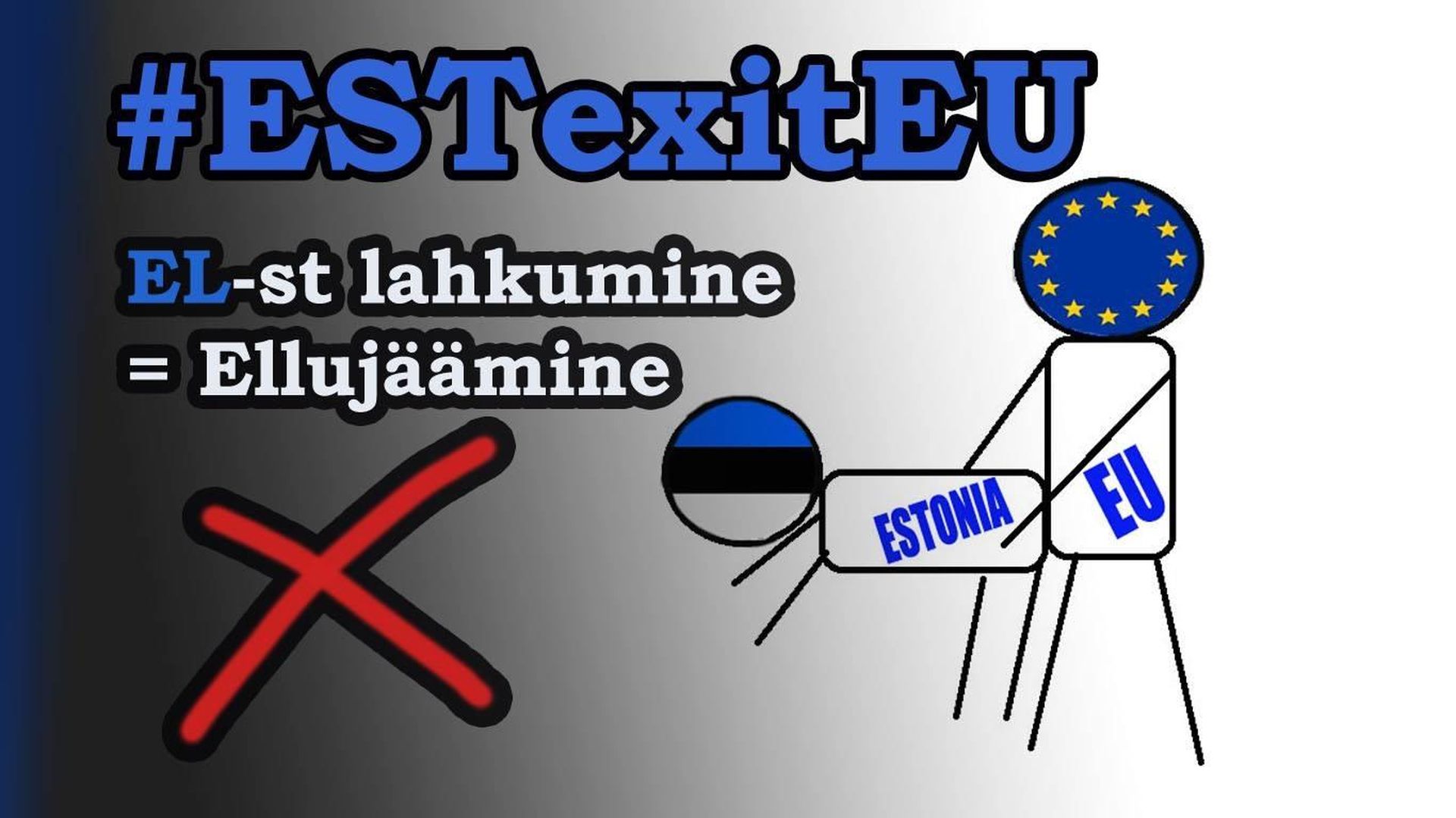 The second major conclusion by American researchers is that trolls knowingly target vulnerable social groups that are easier to radicalize. The Russian disinformation campaign concentrated on topics that were known to drive a wedge in society.
These more vulnerable groups in Estonia likely (as there are no exhaustive studies to rely on) include the Russian community and Estonians with a lower level of education who rely on a narrower field of information. People who do not pay for journalism either in print or online and are not regular viewers of public broadcasting television. They get a lot of their information from things shared in groups and on the walls of friends in Facebook.
Divisive topics number quite a few: migration and refugees; the increasingly deep-rooted conviction that the political elite is becoming alienated from the people, leaving the EU with more say. Why not everything tied to felling of forests and Rail Baltic that will divide Estonia in two quite literally.
What is the situation in Estonia? We lack a thorough overview of the influence of social media and its use in society. Which age groups or social groups prefer which channels? How often? How critical or susceptive are they to the information they find there. Which social media channels are rising and which falling in Estonia? How big is the role of social media in how people vote?
A fresh study by Latvian think tank Providus on the effect of social media on the country's parliamentary elections this fall showed that 70 percent of residents actively use at least one social media channel and that campaigns in social media played an important role for every fifth. More than half of the population noticed election campaigns in social media.
Events in Latvia perhaps give us a glimpse of what we should be prepared for when the election campaigns of parties will be kicked into high gear over the next two months. Latvian analysts did not detect direct Russian meddling campaigns. Parties, on average, spent a tenth of their campaign budget on social media advertising. Investigative journalism center Re:Baltica identified 2,100 (!) political ads on social media. That was the official part of the campaign.
The center also discovered a number of anonymous Facebook pages some of which were created immediately before the campaigning period and either actively promoted a party or were aggressively opposed to one. Let us take the example of Facebook page 101.km that was created in spring (campaigns started in August). While the page only had about 1,500 official followers, memes posted there saw up to 5,000 daily interactions (shares, comments and likes). That made 101.km the most widely referenced Facebook page during the campaigning period.
Its content could be compared to that of the "Estoners". During the campaign, memes to smear all political parties – except the populist KPV LV and pro-Russian Harmony – were shared. It remains unknown who created and financed the page as Facebook does not divulge that kind of information.
Several entertainment pages on Facebook also became political overnight. For example, the page "Where to Eat?" that has 44,000 followers replaced its cover photo with a picture of two Harmony candidates. Classifieds portal for the Liepaja area "For Sale" that has 48,000 followers gave administrator rights to KPV LV candidate Artuss Kaimins who set about using it as a campaign platform.
Social media advertising remains a wildland also in Estonia. The Party Financing Monitoring Committee does not collect discernible data on advertising on foreign social media sites. While Facebook has become a little more open in terms of advertising or paid posts a party or other type of group is spreading, data on target groups and advertising volume remains unavailable. The little information that is available disappears as soon as paid posts expire. This makes it impossible for the press to verify which target groups are sent what kind of information. We are completely in the dark regarding social media activity outside official party and candidate pages.
Russian social media sites, like Vkontakte and Odnoklassniki, make for a separate topic altogether. If people working for the strategic communication department of the Government Office have at least some contacts with US social media giants to ask for help in combating misinformation, a person familiar with the field recently referred to Russian sites as a black hole.
A joint study of the Russian virtual world in the Baltics by the national defense and security center and NATO strategic communication center of excellence recently came to several conclusions that confirm the considerable influence of Russian social media sites in Estonia. First of all, Vkontakte and Odnoklassniki are more popular than Facebook in East Viru County. Vkontakte is believed to have 327,000 total users in Estonia and Odnoklassniki 250,000.
Secondly, the authors write that every Baltic country has a small but notably active group of ideological users – their accounts are the main sources of pro-Russian content. The analysis showed that just 10 percent of profiles on Russian sites create 70 percent of ideologically loaded posts. "A noticeably growing Russian community that demonstrates and spreads pro-Kremlin and pro-Russian and anti-Western sentiment can be observed in Baltic social media. Their deepening ties and increasing visibility support the spread of ideological posts all over the Baltics."
I do not know who created the "Estoners" Facebook page and why and whether it is connected to clearly intentional fake news of a beating in Lasnamäe. I do not know how many other sites like it are there on Facebook and other social media sites. However, I am utterly convinced we will see more of such posts over the next two months before Riigikogu elections and starting from late spring when European Parliament elections campaigns are in full swing.
The latter are even more important than Riigikogu elections in this context. It is easier to play on fears of Brussels-orchestrated mass immigration and other kind of Euroscepticism before European Parliament elections. These emotions are universal in a lot of EU countries. It is also where the interests of Russia and Eurosceptical parties of EU member states align: the more fragmented the new parliament, the better.
Underhanded and covert campaigns do not necessarily have to come from Russia. Their execution is simpler than many of us imagine. All it takes is persistence and patience, a little money and a few people who can spend their time exclusively on the task at hand.