Objektiiv importing Orbanism using donations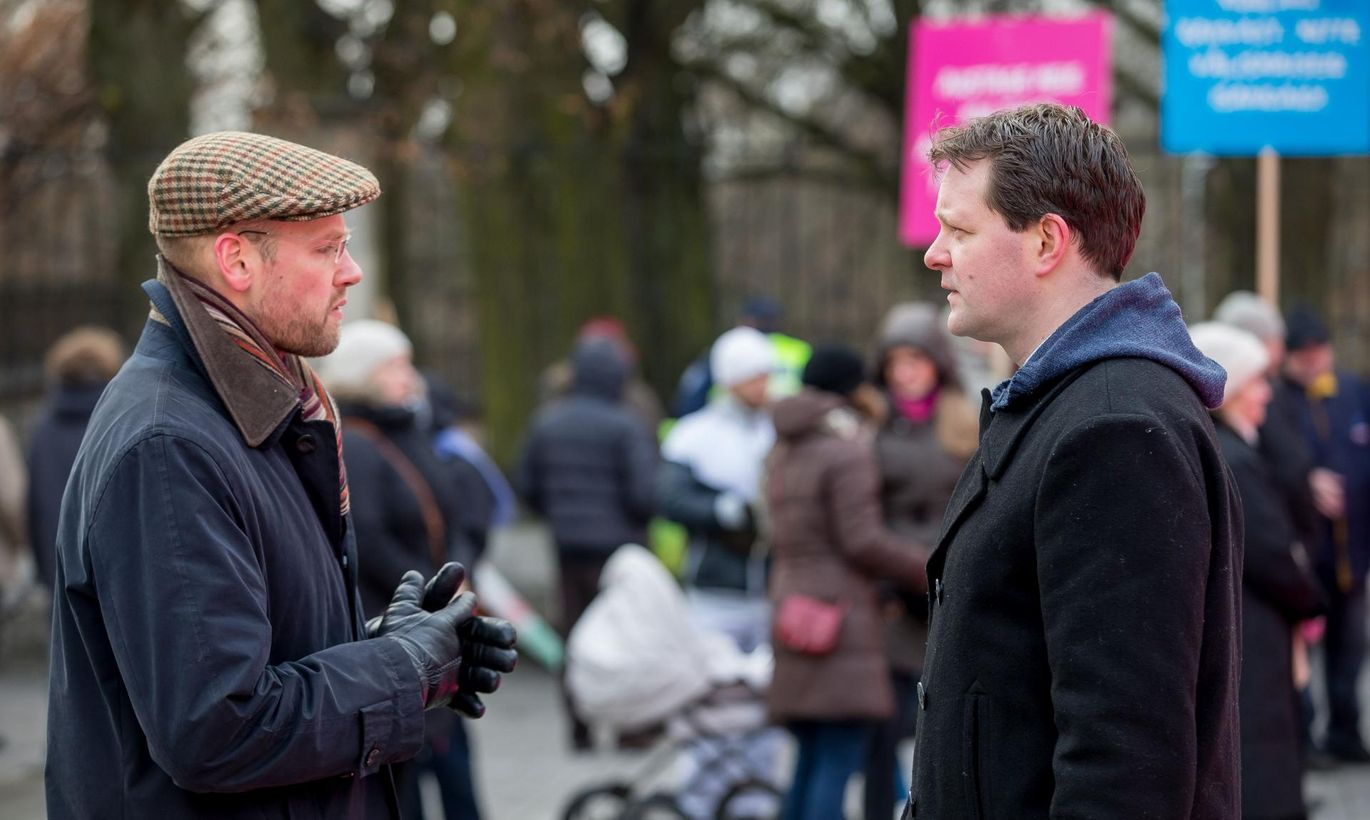 Analysts find that traditional values portal Objektiiv feeds confrontation and helps spread radical messages from foreign sources known for willingly misleading audiences.
December is a time many charity organizations launch their drives for the attention of sponsors, and alternative news portal Objektiiv is no exception.
The campaign was traditionally led by heads of the Foundation for the Protection of the Family and Tradition (SAPTK) Markus Järvi and Varro Vooglaid. The men said they needed the money to "make the voice of conservatives heard truly independently".
By Christmas morning, SAPTK had received €45,000 in donations and gained a number of regular sponsors.
Successful donation drives have become a staple of SAPTK: sums from sponsors have been growing over the past three years, amounting to nearly €300,000 last year. The people behind Objektiiv say that the project and its four employees are their most expensive undertaking. Acting editor-in-chief Markus Järvi refused to divulge further financial details.
To get to the bottom of the portal's phenomenon, Postimees decided to take a closer look at how the portal disseminates information. We turned to media monitoring company Meedius Eesti OÜ. The analysis is based on articles publishes this year that correspond to the keywords "European Union", "Russia" and "Putin".
Even though the portal claims its aim is to cover what is happening in society honestly and independently, the analysis paints a different picture, at least as concerns the European Union. "The editorial staff's choice of news almost eliminates pieces of information that show the EU in a favorable light," said analyst Peeter Peet.
Public enemy number one: European Union
A few examples of negative coverage: "View from New Zealand: European Union has Become a Dictatorship" and "British Foreign Minister Compares EU to Soviet Union". Or let us look at migration: "Austrian Official: 20,000 Knife-wielding Migrants Prepare to Enter EU" and "Orban: Hungary's Money must be Spent on Hungarians, not Migrants".
As showcased by these examples, analysts found that foreign policy idols, countries run by national democrats or that favor rigid migration policy, clearly stand out. "Objektiiv always sided with the UK, Hungary, Poland and Italy in their confrontations with the EU," the analyst said. Peet pointed out that leaders of Austria and the Czech Republic were also portrayed in a positive light. Next to Vooglaid and Järvi, Hungarian Prime Minister Viktor Orban and the UK's Nigel Farage were among the most quoted people by Objektiiv during the period in question.
Meedius also analyzed the tonality of articles. As concerns Russia and Putin, negative and positive articles numbered about the same, while most were neutral in tone. Russia and its leader were shown in a favorable light in an article that reflected Vladimir Putin's New Year's greeting from last year. A few days later, Objektiiv published a comment by Varro Vooglaid titled "Believe it or not, but Putin's Warm New Year's Greeting Towers Above Kaljulaid's Declarative Speech".
"In treating with Russia and Putin, we find a considerable number of positively inclined pieces that strive for understanding and common elements and interests," said Ragne Kõuts-Klemm, docent of journalistic sociology at the University of Tartu. Postimees asked for her opinion on analysis results.
She added that this mix of positive, negative and neutral articles creates the illusion of balanced coverage. "It is very likely an effective way to change critical attitudes toward Putin and Russia among the audience," the media expert said.
Fake news factories as sources
The analysis also showed that the portal uses right-radical websites as its sources. Objektiiv most often cited Breitbart, known for its dubious content throughout the world.
"Breitbart has spread false information, knowingly mislead readers and amplified conspiracy theories," Kõuts-Klemm said. "Citing this source, Objektiiv is not carrying out additional fact-checks – at least not evidently.
The media expert sees a problem in that mixing sources with varying degrees of credibility might leave the reader with the false impression they are being treated to reliable news. BBC and Reuters are cited next to Infowars and Trunews. "This kind of mixed use works to legitimize less credible sources," Kõuts-Klemm pointed out.
Former strategic communication adviser to the government Ilmar Raag also said Objekltiiv's choice of sources is noteworthy. "Content analysis paints a picture of Objektiiv as an Estonian clone of Breitbart," Raag said in comment of the analysis.
"Publications where ideology does not allow itself to be misled by facts seem to dominate," Raag added. "I'm not a friend of Breitbart as I dislike the old communist practice of escalating each and every conflict to score points in the ensuing chaos."
Member of the board of SAPTK and editor-in-chief of Objektiiv Markus Järvi does not agree with criticism of Breitbart. He said that fingerprints of media giants are all over this as they are in the business of stigmatizing and discrediting critical conservative publications.
"We use sources we find appropriate. There is nothing new in that left-liberal circles accuse Breitbart of spreading fake news," Järvi said. He admitted that Infowars is not the most credible of sources.
"As it is with Breitbart, the information these channels (Trunews, Zerohedge et al. – H. M.) publish largely cite public sources and so-called mainstream media. Assessments of these channels are largely tendentious and malicious," Järvi said and added that major news groups also spread misinformation.
Concerning criticism of the European Union, Järvi described it as "a left-leaning undemocratic and bureaucratic political body that has revealed its true nature in how it has treated Poland and Hungary that are defending their national sovereignty".
Docent Kõuts-Klemm said that Objektiiv clearly prefers certain topics and sports a mobilizing style of argumentation – urges readers to resist and creates friend and enemy images through confrontation.
"Objektiiv's content is heavy with topics that recreate confrontation, facilitate radical positions and criticize current rulers in Estonia and the EU," she concluded. She also found that Objektiiv disproportionally echoes attitudes that are not as prevalent as they are made out to be – for example, citing the positions of national conservatives in EU topics, making them more visible than the opinions of other political forces.
This way, the reader is left with the impression of widespread support for conservative positions in Europe. This creates a one-sided picture of the situation, according to Kõuts-Klemm. "By simplifying events and processes, it is possible to reach readers who want a simple and easy-to-navigate world full of black and white choices and clear villains," she said.
That is exactly what Objektiiv is doing: showing who is to blame and proposing solutions. "The way the portal approaches topics is aimed at people's fears, their need for security and certainty," the media expert said.
How does this selection of messages affect the reader? Even though the analysis showed that articles are largely neutral in terms of their tonality, Kõuts-Klemm said it is another matter how they are received by readers.
This is where the practice of repeating certain positions over and over comes into play. Whereas this effect also works if the information that is repeated is incorrect.
Constant contact with false information could lead to a dominating opinion among the audience – as the number of people who believe the lie grows, those whose claims are to the contrary might fall silent, further contributing to the prevalence of misinformation.
"Therefore, the danger is not so much that these opinions are covered by Objektiiv, but the potentially explosive growth of people who subscribe to them," she added.