Prosecution cracks first link in Danske money laundering chain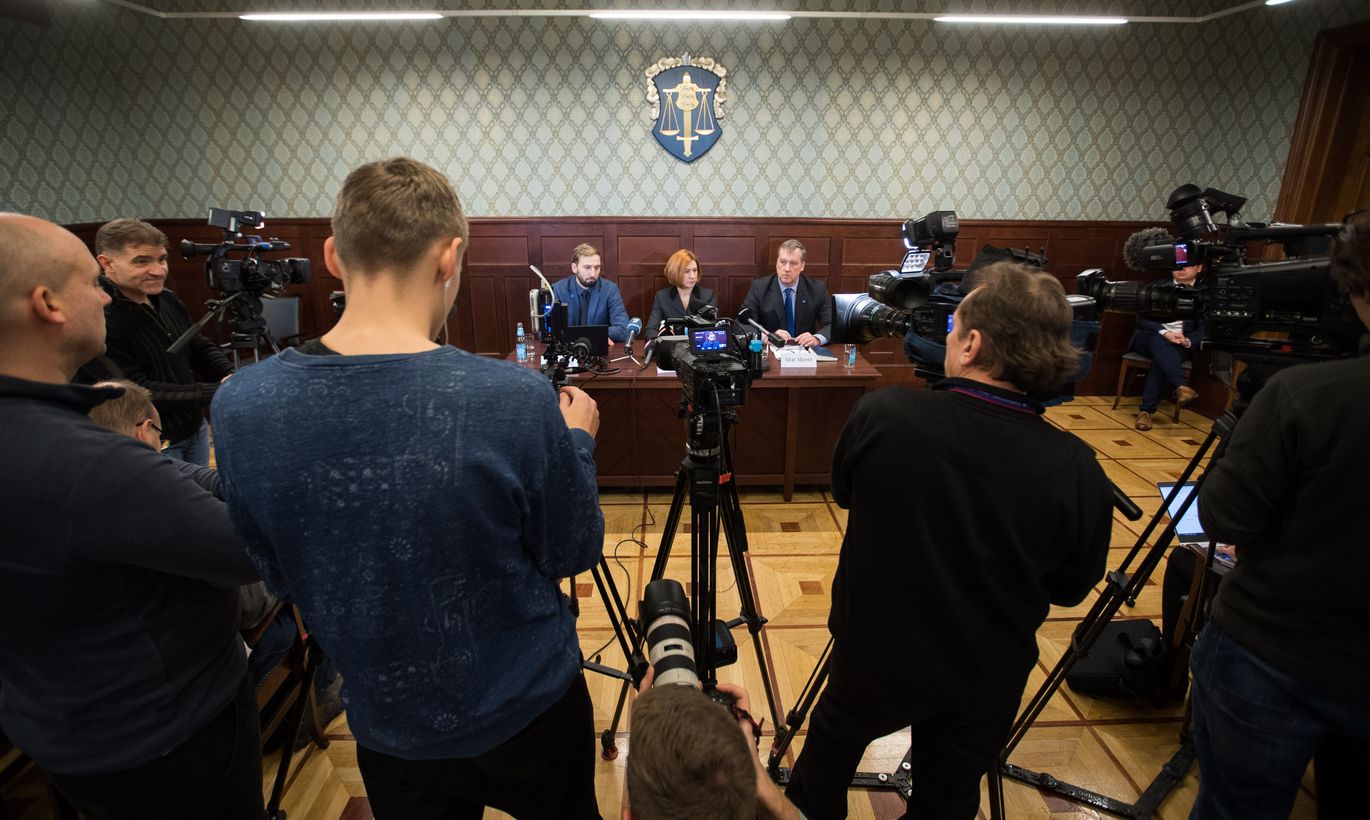 The prosecution broke down one of the defensive walls of Danske money launderers yesterday when it brought suspicions against the bank's former foreign client managers and their head. Six former Danske Estonia employees were detained on Tuesday and four more yesterday.
All stand suspected of extensive money laundering by a group of persons. One is suspected of accepting bribes and another of aiding and abetting bribery. Suspicions concern two episodes of money laundering today, while investigators said that it is possible there will be more suspects and episodes in the future. The prosecution believes approximately €300 million of dirty money from Azerbaijan and Georgia was laundered through Danske in 2011-2013.
It is possible to prove the criminal origin of the money or predicate offenses in the two schemes in question. Danske believes a total of €25 billion was laundered using the bank.
The prosecution believes these ten wolves in sheep's clothing worked as a network, in a coordinated fashion. Many were employees when Danske Estonia was still Sampo Pank. For the most part, the suspects are relatively young men and women born in the 1980s.
According to suspicions, the group benefited from transactions: the prosecution has confiscated criminal proceeds worth €1.5 million by today that includes cash, cars, money in bank accounts and real estate.
Danske Estonia's private and foreign banking department was run by Juri Kidyayev at the time, who also stands suspected today. The remaining nine suspects were client managers in the same branch. This begs the conclusion that Kidyayev played a key role in the network.
A department head was an important person at Danske and only answered to CEO at the time Aivar Rehe.
A former colleague of Kidyayev said that he came off as a reasonable man. "As a colleague, he was always results-oriented. His ran a tight ship in his department," they described.
Kidyayev is a shooting sports enthusiast and one of the best in Estonia in practical shooting. He has many children and is often described as a "relatively private person". A person who knew Kidyayev said they often wondered how he could afford his lifestyle.
At the same time, Kidyayev has an interesting connection to the Danske whistleblower. The signatures of Kidyayev and Howard Wilkinson are on a memorandum sent to Danske executives that points out how the bank helped facilitate mirror transactions of Russian clients for up to €8.5 billion a year.
Just like many other suspects, Kidyayev continued working in the banking sector where he held similar positions after leaving Danske. He was head of private banking at the Estonian branch of Citadele before being arrested.
"When we hired him in 2015, he came from a leading Scandinavian bank. Who could have imagined he could be connected to something like that," said CEO of Citadele Guntis Belavskis.
Belavskis only learned of Kidyayev's ties to money laundering when he received a call from investigators.
Competitors were not aware of the circumstances under which Kidjajev left Danske. Other Estonian banks also hired people now suspected of money laundering.
A part of suspects continued working together after leaving Danske. Yevgeni Agnevshtshikov, Marko Teder, Mikhail Murnikov and Olga Chetverikova advised clients in a joint business and financial consultancy company NRD.
Former colleagues know little about the departure of the four account managers. Rumor has it Chetverikova left the bank after a major row and refused to give statements later.
Äripäev has written that Chetverikova's clients included Lantana Trade, a company with a Russian background, against which even the Estonian watchdog warned Danske. The company's documents were out of order. After the connection came to light, Danske stopped working with the company and fired Chetverikova.
Murnikov talked to Postimees months ago and promised a detailed description of how things worked at Danske Estonia. He refused to give an interview in the end but denied having participated in money laundering or illegal activity of any kind. Murnikov emphasized that CEO Aivar Rehe is blameless as the Danish headquarters kept a close eye on him.
Murnikov explained it was simply how things were done: the rules were different, and his actions fell within those rules.
IT businessman Erik Lidmets has also talked to Postimees. He largely echoed Murnikov in that he did nothing illegal and that the rules were different at the time.
Oksana Lindmets – who found work in the non-residents' department of Versobank after leaving Danske – is directly tied to events in Azerbaijan.
Äripäev has reported that her signature is on a document used to open an account for a company called Helox Services at Danske Bank. Helox Services is owned by offshore companies and has ties to the Azerbaijani money laundering scheme. The Estonian Financial Inspectorate later shut down Versobank for ignoring anti-money laundering rules.
The prosecution's work was helped by hints of organized activities at Danske. "Money laundering took place in the interests of employees. In exchange for bribes, legally speaking. That is when we saw our opening. We were no longer afraid we couldn't prove predicate offenses or the case collapsing," said case prosecutor Marek Vahing.
He said that the list of suspects will likely grow longer and that authorities are keeping an eye on former CEO of Danske Estonia Aivar Rehe and former foreign clients' department head Tõnu Vanajuur. Vahing said that suspicions will be brought against them if evidence shows they had knowledge of and facilitated money laundering. "We need more time to ensure our suspicions are watertight," Vahing said.
Evidence collected so far suggests that anti-money laundering rules at Danske were a mere formality and simply ignored. Head of the central criminal police Aivar Alavere said that the bank seemingly had in place all in-house regulations, so-called "know your client" rules, internal control and non-resident client guidelines. "All of these documents existed but largely only worked on paper. Actual monitoring was seriously lacking," he said.
US financier Bill Browder sent the prosecution a report of criminal conduct in July of this year that included a list of 26 people whom he claimed helped launder money at the Estonian branch of Danske. The report was the start of proceedings, while the prosecution had already launched an investigation.
"We can confirm for the first time that criminal proceedings at hand have lasted nearly a year longer than proceedings brought following the report by Bill Browder. We could not reveal this fact for tactical reasons. Today, we can confirm: the Estonian justice system has not idly sat by and launched proceedings in November of 2017," Prosecutor General Lavly Perling said at the press conference yesterday.
All suspects get to wake up in their beds today. Alavere told public broadcaster ERR yesterday that there are no grounds on which to keep the persons detained any longer.
"On it is a person who answered only to CEO Aivar Rehe," Alavere said, referring to the list. He added that suspects also include a person who signed a number of documents banks are expected to follow in anti-money laundering activities. "Banking makes for a highly regulated and conservative field. They were in charge of laying down rules that were rather formal than actual at the end of the day," Alavere told ERR.