Kremlin networks to remain on air in Estonia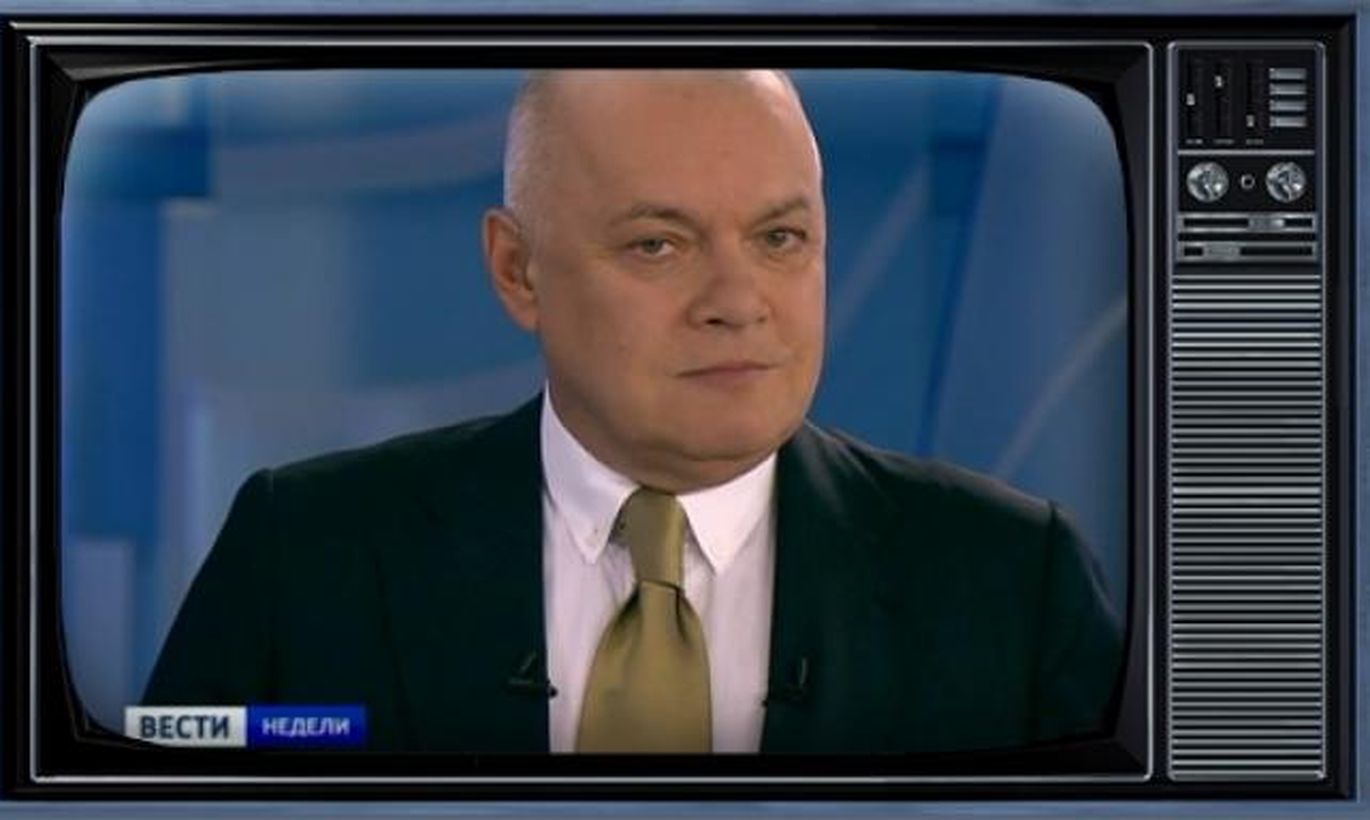 Three major Russian networks will remain on Estonians' TV screens as service providers have no motivation to replace them. Most parliament parties are not willing to seriously discuss media restrictions or regulation.
The basic television packages of four leading operators include the Perviy Baltisky Kanal (PBK), RTR Planeta and NTV Mir that are all controlled by the Kremlin and air more or less hidden propaganda in between entertainment.
It is usually white propaganda where news and studio guests interpret actual events proceeding from Russia's official position. Truth and lies meet in occasional gray propaganda.
Every once in a while, the viewer is treated to black propaganda. One of the most serious examples is from the spring of 2015 when PBK, RTR and Russia Today news programs used an ETV gallows humor sketch titled "Estonia searching for a neo-Nazi" to illustrate the spread of Nazism in Estonian schools.
Why are television service providers not offering Finnish networks while translating 40 Russian channels, columnist Erkki Bahovski wondered in an opinion piece in the October 10 Postimees. "We should be living in Europe, looking at our economic policy and history, but we are definitely living in Russia's cultural sphere if we look at television networks," he wrote.
Viewer interest is key
The Estonian market is split between four major operators. Their basic TV packages cost upwards of six euros. These packages include 20-50 channels that are picked following two principles. Public broadcasting channels ETV, ETV2 and ETV+ need to be universally available. Other networks and channels make the packages based on demand – the more viewers a channel has, the likelier it is to be included.
Even though Russian networks' viewer figures have been falling for years, interest is still considerable," said Silver Soomre, head of television services at ISP Elisa. He added that because all Estonian operators air Russian networks, competition means they are included in basic packages. Finnish channels are available in custom packages.
Head of television and multimedia content at ISP Telia Birjo Kiik also said that packages are put together based on viewer preferences. "Companies base these decisions on market economy and competition," Kiik told Postimees. He said that Finnish public broadcasting Yle channels have few viewers while the relative importance of English channels is growing.
Satellite TV operator TVPlay Home, formerly Viasat, also considers the expectations of the Baltic audiences in its choice of channels.r
"We look at auditorium interest in the Baltics, and Finnish channels just aren't popular. Adding them to our packages simply does not make sense, considering the costs of satellite signal. It is up to the viewers," said head of communications Karin Laurima.
Member of the board of ISP STV Dmitri Kuzmin said, pointing to major Russian networks, that more popular channels can demand operators include them in their most popular packages.
All operators offering paid TV services pay networks they include in their packages. The networks also sell advertising seconds to the Estonian market. Operators refused to reveal how many viewers Russian networks have, pointing to business secrets.
Reduced momentum
While Russia's influence activities are increasingly topics of vocal conversation, their initial momentum in Estonia is slowing.
The market share of PBK has fallen by 8 percent in the past decade. Its share in total viewing time fell from 12 percent in 2008 to 4.4 percent in September, a Kantar Emor survey found.
The other two major Russian networks available in Estonia, NTV Mir and RTR Planeta, have hovered around the 4-5 percent mark in terms of total viewing time. Linear viewer figures of public broadcasting channel ETV+ have remained around 1 percent.
Analysts point out three main reasons why viewers of Russian networks have left their screens. First of all, various devices and applications make it possible to choose from a growing number of channels while many homes no longer have a television set. Secondly, young people speak Estonian and other foreign languages well enough not to be tied to Russian networks. The older television generation is on its way out.
Most viewed programs of Russian networks in September were PBK's "Estonian News" that had at least 30,000 viewers for one full minute (2.5 percent) and RTR Planeta news program "Weekly Messages" with 26,000 people (2.1 percent). The main Russian evening newscast "Vremya" on PBK had 20,000 viewers or 1.7 percent.
No political pressure
Five of Estonia's six parliament parties remain cautious when it comes to restrictions for Russian networks. Only the Conservative People's Party (EKRE) would be willing to take measures.
Minister of Culture Indrek Saar (SDE) told Postimees that Estonia's media policy is rooted in media freedom. "All manner of media restriction needs to be clearly justified – including media the messages of which we might not agree with," he said.
"Instead of restrictions, we support measures that help keep Estonians in a single and free information area," Saar added, pointing to ETV+.
Because several owners of networks broadcast in Estonia are registered in EU countries, Estonia must also look at EU regulations when laying down potential restrictions. "Restricting media services is an extreme measure only to be used in highly exceptional cases and on strong grounds," Saar said.
Head of the Center Party's Riigikogu group Kersti Sarapuu said that limiting the activities or broadcasting of networks requires very careful consideration. "Estonia is not a closed country where all manner of unwanted information gets censored. Shutting down one or two networks would also be useless as different ways of accessing media are endless," Sarapuu said.
Reform Party faction chair Jürgen Ligi described freedom of speech and media as fragile values limiting which might not produce the desired result. "It is my clear preference to regulate these matters through good practice and leave the public the freedom to decide whether that has been achieved. The content, tonality and level of distortion of these networks create a kind of contrast that lends credibility to the values of the free press," Ligi said. "Tallinn TV or Pealinn are no less anti-Estonian than PBK, they have simply pulled on a lamb's skin to support the coalition."
Pro Patria's media adviser Mart Luik said that a country that values democratic freedom of speech and the press cannot directly limit the availability of TV channels as long as they comply with Estonian laws. "They need to be held responsible for specific violations as efficiently as possible. The spreading of slander and misinformation on networks broadcast in Estonia needs to be condemned and all relevant measures taken," Luik said. He said that Pro Patria feels Estonia should not move for a ban of Russian networks.
Free Party faction member Andres Herkel said that Russia's aggressive influence activity needs to be addressed in a way that would help balance the Russian-language information sphere in Estonia. "I do not regard banning something as the best possible policy; another problem is that the abundance of Russian networks means viewers often cannot find ETV+," he said.
EKRE parliamentary group chairman Martin Helme said that propaganda networks should be restricted. "The state has several levers with which to suspend or end transmission of programs that incite hatred or undermine our constitutional order," Helme said. The MP added that the state can put pressure on service providers to remove certain channels from their packages and directly block channels.
Restrictions used
Even before the annexation of Crimea and the start of the war in Ukraine, a Lithuanian court banned the transmission of PBK for three months in October of 2013 after the Russian network aired a program that denied Russian special forces involvement in a massacre of civilians in Vilnius in January of 1991. Latvia's television and radio council fined PBK €3,600 for biased treatment of events in Ukraine in May and October of 2014, six months after the occupation of Crimea.
Ukraine went one step further. A court in Kiev decided that all television channels that treat Crimea as Russian territory will be banned. This removed the Perviy Kanal, RTR, NTV, Rossiya24 and Russia Today from Ukrainian cable distribution. The ban also hit Russia's oppositional network Dozhd as it also referred to Crimea as part of Russia on numerous occasions.