Another setback for MMS marketplace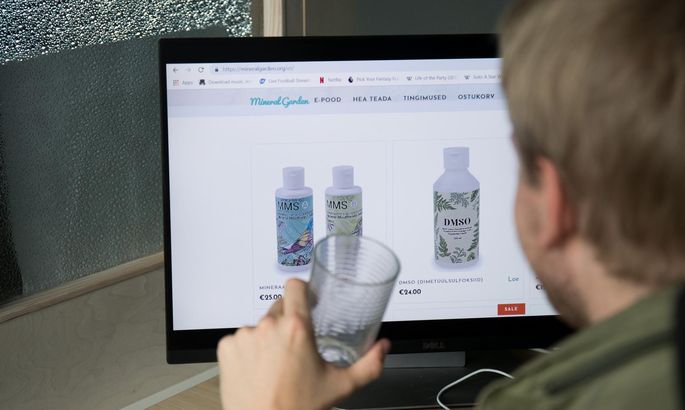 Facebook shut down the forum and primary marketing channel of a group advocating the use of MMS a month ago, following a letter form the health board; now, Estonian banks have also stopped working with MMS and DMSO marketplace Mineral Garden.
The banks' decision means it is impossible to buy the toxic liquid from the online shop of OÜ Living Minerals using a bank link. The decision was made after an inquiry from Postimees.
LHV bank's communications chief Priit Rum said that the bank was not aware of such a website. Asked why the bank supports sale of harmful substances, LHV looked into the matter and decided to remove its bank link. "We cannot offer a bank link for the sale of such products," Rum said. He added that the shop sold other items not deemed safe by the Veterinary and Food Board (VTA).
Head of communication at Swedbank Kristel Peterson said that as a responsible company the bank follows clear principles, including making sure its bank links are used only for lawful and ethical purposes. "We will open negotiations for the removal of our bank link from the said shop's website," Peterson said.
SEB has also removed its bank link, but because Living Minerals has an account at the bank, it is still possible to pay for MMS via a bank transfer.
The Mineral Garden website now says purchases can only be made using PayPal or via bank transfer. Owner Merill Kukuškin did not answer emails or calls from Postimees.
Representatives of banks told Postimees they were not aware of their participation in the MMS sales scheme as Living Minerals used their bank links through payments collector Maksekeskus AS.
"Clients of Maksekeskus sign a contract with the mediator. Banks are notified of questionable businesses and we can stop offering them bank links," Priit Rum said.
Executive manage of Maksekeskus AS Art Lukas said he is aware that their client's online shop sells MMS – a product marketed as a mouth wash that has a clear "do not swallow" label – but added that it is up to the health board to decide how the product should be used.
"As far as I know, agencies have not deemed it necessary to ban the sale of this substance but have pointed out that consumers should read the information leaflet and only use the product as instructed." Lukas said.
He explained that Maksekeskus checks online shops when they register as clients as well as after that. "We mainly look at elements of consumer protection. A food processor or supplements seller must be registered with the VTA," Lukas said.
Press representative of the Health Board Simmo Saar said that the agency cannot ban MMS or other substances like it because these chemicals have various uses. "Companies can always refuse to work with private businesses. That does not require the other venture or its product to be made illegal," Saar said.
He said that shutting down the online shop is more difficult than it was to require Facebook to close the MMS group. "We have filed a control action against the shop's manager and fined them for failure to comply." The shop is still open.
Delivery service Itella is also still working with Living Minerals. Executive manager Meelike Paalberg said that the service has no knowledge of what is inside packages it delivers.
Paalberg also pointed to the health board and VTA as the institutions that need to decide whether Mineral Garden's products pose a health risk and whether they can be sold. "Itella Estonia OÜ is not responsible for the (un)wholesomeness of products of online shops or the purchasing decisions of consumers," Paalberg said.
One of the best-known opponents of MMS, creator of the Facebook group "MMS tapab tervist" Merlis Nõgene said that it is the mark of a socially responsible company to be able to tell the difference not only between legal and illegal but also right and wrong.
"It seems Itella still has ways to go in this regard and is need of additional lessons from their headquarters," she said.