Estonian soldiers teaching Africans to fish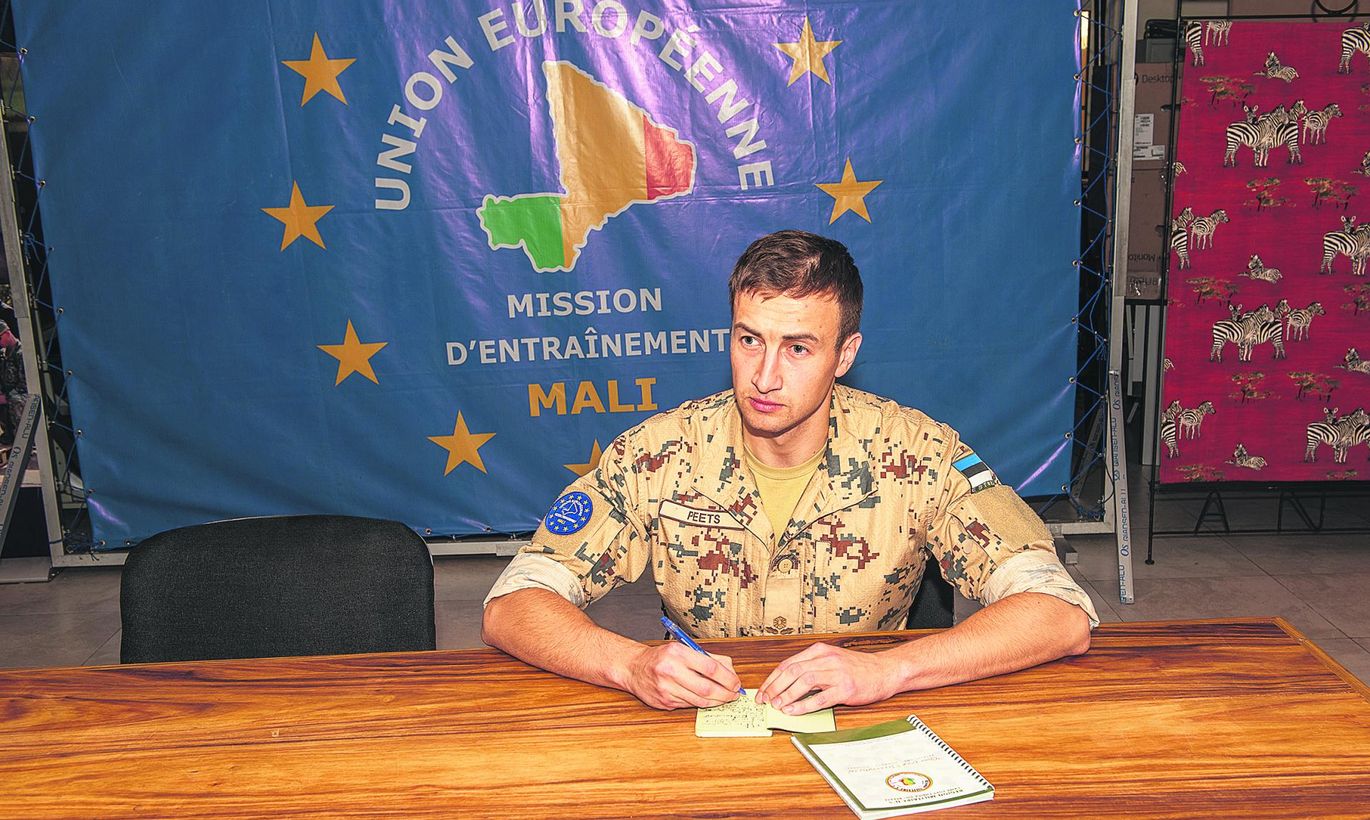 Major Ivo Peets has been serving with the EU training mission in Mali (EUTM) for six weeks. Peets, who has served with the Kalev Infantry Battalion for several years, concentrated on developing a more effective conscripts' training cycle to make the best of time spent in compulsory military service and produce capable reservists in Estonia.
The new basic soldier's course that makes it possible to get conscripts ready for combat in less time was among the most noteworthy achievements of Peets' work in Estonia.
Now, the Estonian officer accepted at least an equal challenge and flew 6,000 kilometers to Mali to fill a post that has belonged to Estonia for the past two years. His task with the EUTM is to help develop the Malian army so it could restore stability and combat terrorism in the restless country.
In an interview given to Postimees in the capital Bamako, Peets talked about what motivates Malian soldiers, how Estonians are doing training Africans and why it is necessary to find Malian soldiers' aggression.
How does training work in Mali and who do you train exactly?
There is no compulsory military service. Mali has a paid army. The focus of EUTM has changed since the training mission began in 2013. Back then, the goal was to provide basic combat training, train squad and platoon commanders.
We fulfilled that role because Mali no longer had a systematic structure for training its units. EUTM ensured basic training.
Things have changed now. We are no longer fishing for them but are teaching them to fish. We are teaching courses that are several steps ahead. Our aim is to train the trainer; we teach them something and then we teach them how to pass that knowledge on. That is our main focus.
Specialist skills are another thing. These include how to deal with IEDs and international military law; [teaching the soldiers] to communicate with the civilian population so as not to alienate the army from the people.
That is one side of EUTM – training. The other is advice, instruction of top and medium-ranking officers in terms of how to tactically plan operations all the way to the strategic level, so the armed forces of Mali would sport a higher quality.
Advising the G5 Sahel military framework (made up of Mali, Burkina Faso, Chad, Mauritania and Niger – ed.) to facilitate coordinated action in the region has become an important part of EUTM.
Malian soldiers have committed crimes against humanity. I understand that is part of your focus.
It is a sensitive subject for the European Union in a way. Soldiers might commit offenses either knowingly or unknowingly if they do not know the consequences of their actions. Such offenses are the most effective tool for terrorists. Insurgents can use their weaker position to show how the government is only doing bad things.
If we compare things done by Malian soldiers to what the terrorists are up to, we're talking about isolated cases, but they get advertised. That is why one part of EUTM's work is trying to prevent these problems.
All anti-insurgency missions have shown it to be governments' weakest spot. It provides the opportunity to say that we are not the bad guys because look at what your government is doing. Those isolated incidents are paid a lot of attention.
It is a lesson learned from multiple previous missions. I wouldn't say things are somehow very different here, but it is definitely our focus. We cannot have EUTM trained soldiers committing acts that clash with international military law. It is important for Mali for their armed forces to be professional and respected, not hated and feared.
You are training officers in 12 weeks. How does this expedited training work? Is it yielding sufficient results?
Some of our allies train officers in just eight weeks after which they earn the rank of second lieutenant. This, of course, requires higher education and a few weeks of basic training.
Once the system is in place, training platoon commanders isn't a problem. It requires a support structure of some kind that has strong non-commissioned officers for example. It is possible in a professional army if you can rely on non-commissioned officers.
EUTM wants to intervene in Malian army training to have curricula that really give results.
I've been here for six weeks three of which I have spent working on a two-year plan for going to military schools and training army units that already have basic training as well as on how to plan training duration.
The fact the Estonian military service cycle was based on what was realistically possible is very useful today. It is the same here: experience comes from leaders. The latter's training must be based on certain basic and leadership skills. Next comes practice that allows for command and cooperation of units.
It is a short period, but civilians were sent to the battlefield in the ranks of professional units after just three weeks of training during WWII. They are soldiers, it takes longer to train commanders.
What we see in the conditions of actual wars is how everything superfluous is stripped and we're left with what is paramount – courses are becoming shorter. War rarely gives early warning and time is always short. What matters is what we teach.
In Mali, we do not need to train them for what we need. Their enemy and environment are entirely different. Everything else also plays a part, like cultural background for example. We cannot expect a Malian platoon commander to act like one of ours.
We need to use the premise we have here. People are much more down to earth here – we do not have to teach them how to cook or live off the land. Also, as concerns leadership – those from more important tribes or larger families already have those skills from looking after young ones.
There are interesting factors that do not exist in Estonia. The environment is entirely different. What takes long in Estonia is done quickly here and vice versa.
While you said these things cannot be compared, your name clearly comes up in connection with the new soldier's base course plan in Estonia. To what extent can you utilize that experience in Mali?
We are not in charge of basic combat training here; the next level is the leadership and company commanders' course. We discussed how long these cycles should be.
We decided to fully develop certain capabilities instead of giving them a little bit of everything. In case of soldiers, this means the ability to use their weapon, take orders and react to contact.
The [EUTM] general said the Malian soldier must become aggressive. He needs to know he can use his weapon and how to use it in case of contact. If he uses his weapon, he must see it through by killing his opponent.
That requires training. If there are other things, they do not belong in basic training as they are not part of what allows soldiers to survive the battlefield and successfully complete their task. These changes are in the works as we are revising the entire curricula system to achieve greater linearity.
We are working together to have fewer topics while being able to achieve a certain level regarding more important ones. There has to be focus.
Battle operations are not the problem – Defense Forces members are planning them. When it comes to training, they want everything because they need everything. It is always necessary to prioritize.
Talking about the ordinary Malian soldiers, do they understand why they are there and what is their motivation?
It varies. A Malian soldier is a mercenary. I have not met with ordinary soldiers on the level of training them. What instructors have told me as well as reports I've read suggests that units that have a strong commander, available officers and good equipment are motivated. It matters to mercenaries. Morale is weak in units that lack well-trained officers and proper equipment.
Class relations also play a part. Mali used to be the wealthiest empire in Africa. The aristocracy still lives despite political changes. This means that certain traditions based on people's last name endure: slave class versus the aristocracy.
It is a major obstacle we need to consider. If we have a platoon where the commander is from a lower caste than a soldier, it will be the soldier giving orders. It affects morale and chain of command.
We have no reason to think Malians have the same concept of a country we do. Loyalty to the tribe is very strong. At the same time, tribes are highly fragmented that often makes it difficult to agree on mutual positions on the state level. The national flag and pride unites many tribes, but differences remain.
How does the strict style of Estonian instructors sit with Malian soldiers? Has it caused conflicts or do they comply readily?
I would like to think it is not just political rhetoric or an attempt to curry favor, but Estonian instructors are thought of highly.
An example: an Estonian officer who has only been here for a week and a half would have been chosen as an important training mission's company warrant officer had he only spoken French. The fact they would have picked an Estonian from among dozens of people suggests we are valued.
It is very important not to lose face or your cool during training. I believe Estonians' calm nature works to our benefit. More hot-tempered nations would perhaps be flustered, but Estonians take it easy. I believe Estonians are managing very well with the soldiers and have a way with them.