Spy left out in the cold: my homeland forgot about me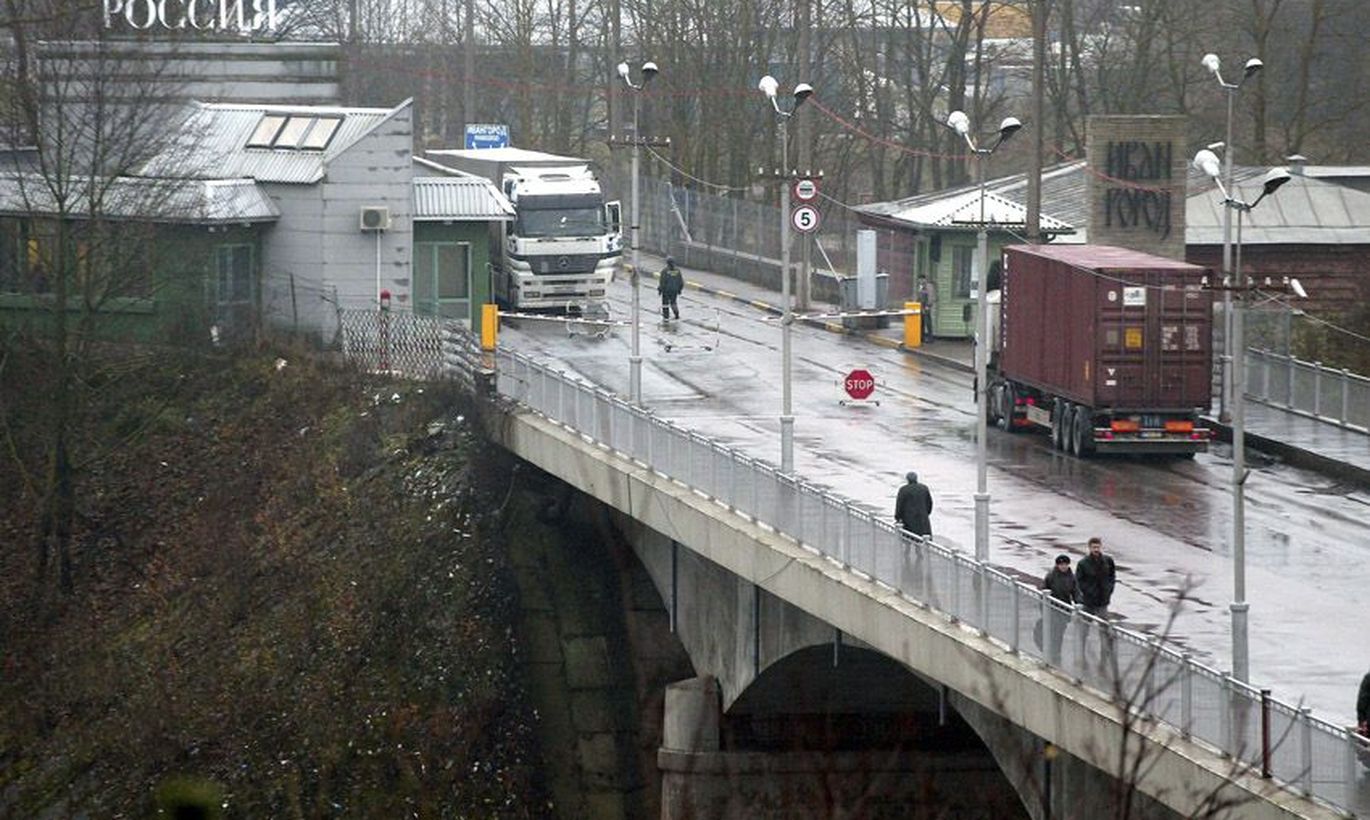 Estonian border guard officers asked Alexei Vasilev to get out of his car a little less than a year ago, on November 4 last year. It was three thirty in the afternoon. Vasilev (20) and his girlfriend had just reached the Narva border crossing point on their way home to Saint Petersburg. They could already see the Russian flag flapping in the wind on top of the Ivangorod fortress across the river.
"The dog picked up a scent," an officer told Vasilev as he got out of his Mazda 3. Vasilev knew that the narcotics dog was a ploy – he had never been in trouble over drugs. The real reason for his detention had to be the task he was performing for one of Russia's leading security services FSB. His fears were soon confirmed when he was approached by Estonian Internal Security Service (ISS) operatives and arrested on suspicion of espionage.
Vasilev spent four months in detention until he was convicted and sentenced to four years in prison in March of this year.
"I'm waiting. I'm waiting for support for myself and my loved ones. But nothing changes," Vasilev told Postimees in an interview. "I've been sitting here since March 21. /…/ But no one has come."
The slender man, wearing a brown prison uniform, sat across from me behind a glass wall and talked using the intercom. He had had a lot of time to think about why this had happened to him. He had prepared for the interview. Answering my questions, he sporadically glanced at his checkered notebook where he had written down ideas he definitely wanted to express. He spoke slowly and clearly.
"It seems to me that as long as I was useful [to the FSB], they could have found me anywhere. Now I'm in prison, and they don't need me anymore. No one needs me."
Unreachable consul
Vasilev said how he was paid two visits by the Russian consul immediately after he was arrested in November. He wanted to meet with the consul again after he was convicted in March. "At first, I waited as I believed they would take an interest in how I was doing, but no… Then I phoned the embassy and asked the consul to come see me."
The Russian embassy did not answer Postimees' questions and request for comments, but the consul has visited Vasilev once since the interview. The visit did not solve his problems though.
Vasilev said he had been working for the FSB for six months by the time of his arrest. He said he was afraid to tell the recruiters no. "You know, you are not really given a choice. I was afraid it would cause problems for me or my relatives. That is why I agreed."
Vasilev is one of the more important among at least 12 spies the FSB or Russian military intelligence agency GRU have recruited to act in Estonia and who have been caught and sent to prison.
Spies are usually Russian citizens or people with double citizenship. The latter makes it even easier to move between the two countries as no visa is required. Some are smugglers moving everything from cigarettes to people over the border in Southeast Estonia. Smugglers are easy to recruit as they face a criminal investigation and jail time if they refuse to cooperate.
Others are small business owners or students with family ties or some other connection to Estonia. Tasks the FSB gives them usually do not require them to steal top secret documents or go after state secrets. Instead, they are told to monitor Estonian and NATO training exercises and collect information on equipment. They also monitor border guard patrol tactics and collect data on police, border guard and ISS operatives.
Vasilev's profile was different. The rookie spy was caught in the middle of performing his first major task. "I did what was asked of me. I wrote code to access the internal wireless network of a state agency," Vasilev said. Neither Vasilev nor the ISS agreed to reveal the name of the agency.
No harm done
A cybersecurity expert Postimees consulted said that access to an institution's internal network could have fatal consequences. "Penetrating the internal network perimeter would have allowed the assailant to monitor the network undetected, escalate user rights, create new backdoors and possibly cause considerable damage to other state institutions," said Aare Reintam from CyberExer Technologies.
Vasilev said that he was on his way to Russia to hand the code over to his FSB contacts when he was arrested on November 4. "I was supposed to take the data over the border and pass it on that day. We were to meet in Kingisepp or Ivangorod. They were to contact me," Vasilev said.
ISS press representative Harrys Puusepp did not wish to speculate as to the potential extent of damages as no harm was done. "I believe we managed to avoid serious damage to national security this time as we apprehended Vasilev in the early stages of his activity," Puusepp said. He added that Vasilev's case proves that agreeing to work for the FSB will likely have a worse ending than saying no right away would.
Vasilev, now 21, grew up in Saint Petersburg. He got a job at a local photo shop at the age of 16 to support his mother. He soon realized he would need a proper education to make something of his life. The boy wanted to go study in Europe, but his mother did not wish to let him so far out of her sight.
Told he could go to either Finland or Estonia, Vasilev chose the latter. He enrolled at the Sillamäe Vocational School and later studied programming at the Tallinn University of Technology's Kohtla-Järve college. Vasilev said he worked as a freelance web designer at the time. "I used the money to help my mother pay her bills," he explained.
Mother thrown out
Vasilev could no longer support his mother and brother, who was just two years old at the time, after he was arrested. The landlord kicked them out. "For a time, my mother and little brother had to stay with friends. No one helped them. Most of mother's salary is spent on rent, and now I cannot help them either," Vasilev said. That is his main criticism of the FSB and the Russian embassy.
Vasilev's mother, Yelena Pasovets, said in a separate interview to Postimees that the landlord gave her a day to move out. "It was midwinter. They simply told us they no longer wanted "people like us", meaning a family one member of which is in jail," Pasovets said.
She said that no one has offered to help her or even contacted her, either from the embassy or other state structures. "I went there once, but they told me they didn't know anything about my Alexei. So, there is no point to even try again."
Russian's track record in terms of taking care of its spies who get caught abroad is less than stellar. It is especially evident in the case of so-called discount spies," said British security policy and espionage expert, journalist Edward Lucas.
Lucas said the reason Vasilev has been forgotten could be that he was caught on his very first assignment after he had failed somehow.
"If he did not have a separate agreement with his recruiters for his family to be taken care of, I would not be surprised if the FSB no longer took him seriously," Lucas said.
Vasilev told Postimees he was promised that his family would be taken care of. "Please understand, when I was recruited, I did not know what to expect. They promised to help me and my family financially should something happen to me. Unfortunately, that wasn't true."
Vasilev, who was 20 years old when he was recruited, said he was offered money – he did not agree to say how much – and trips abroad. "I thought it would be interesting and beneficial in terms of personal growth. Nothing came of it."
Instead, Vasilev must pay the fee of his defender and legal costs of €1,250. "I'm forced to work here in prison while I only get paid 60 cents an hour. Half of it is taken away to pay for legal costs. I don't know whether I can pay it all off while I'm here."
Credible denial or aid
Ivo Juurvee, historian with a Ph. D. from the University of Tartu and expert of the espionage world, said that what to do with spies who get caught is always a difficult choice for countries.
"If you have agents who get caught – and you will if you pursue aggressive policy – the government should have credible deniability to minimize political consequences. This means saying "we don't know anything". On the other hand, you need to help your spies any way you can and make sure future recruits know about it. This discrepancy between credible deniability and support is insurmountable. Countries have to decide which strategy to opt for on a case by case basis," Juurvee said.
He said that it seems the choice was made for denial in Vasilev's case. "Could it be tied to his little worth in the eyes of the FSB? I suppose."
Alexei Vasilev has three more years to serve. "There is nothing fun about being in prison," he said, looking at me through the glass.
His mother has visited him twice. They had two hours to talk through that same glass divider. Yelena Pasovets told Postimees that Alexei has not told her what he did for the FSB exactly. "He said that he'll tell me once he comes home. Right now, he doesn't want to sadden me or himself I think. I don't know, perhaps he's afraid of something."
The other person Vasilev misses is his girlfriend. "They are the only ones who support me," the man said but admitted he is not sure she can wait for him. "You understand, four years is a long time. She says she will wait for me, but I don't know what will happen in time."
Asked whether he allowed himself to be recruited because of the bond-esque reputation of the spy world, Vasilev said that "James Bond" is a romanticized movie and that real life is much tougher. "My everyday is prison. There is no happy end here."