Days when the Rescue Board was stretched thin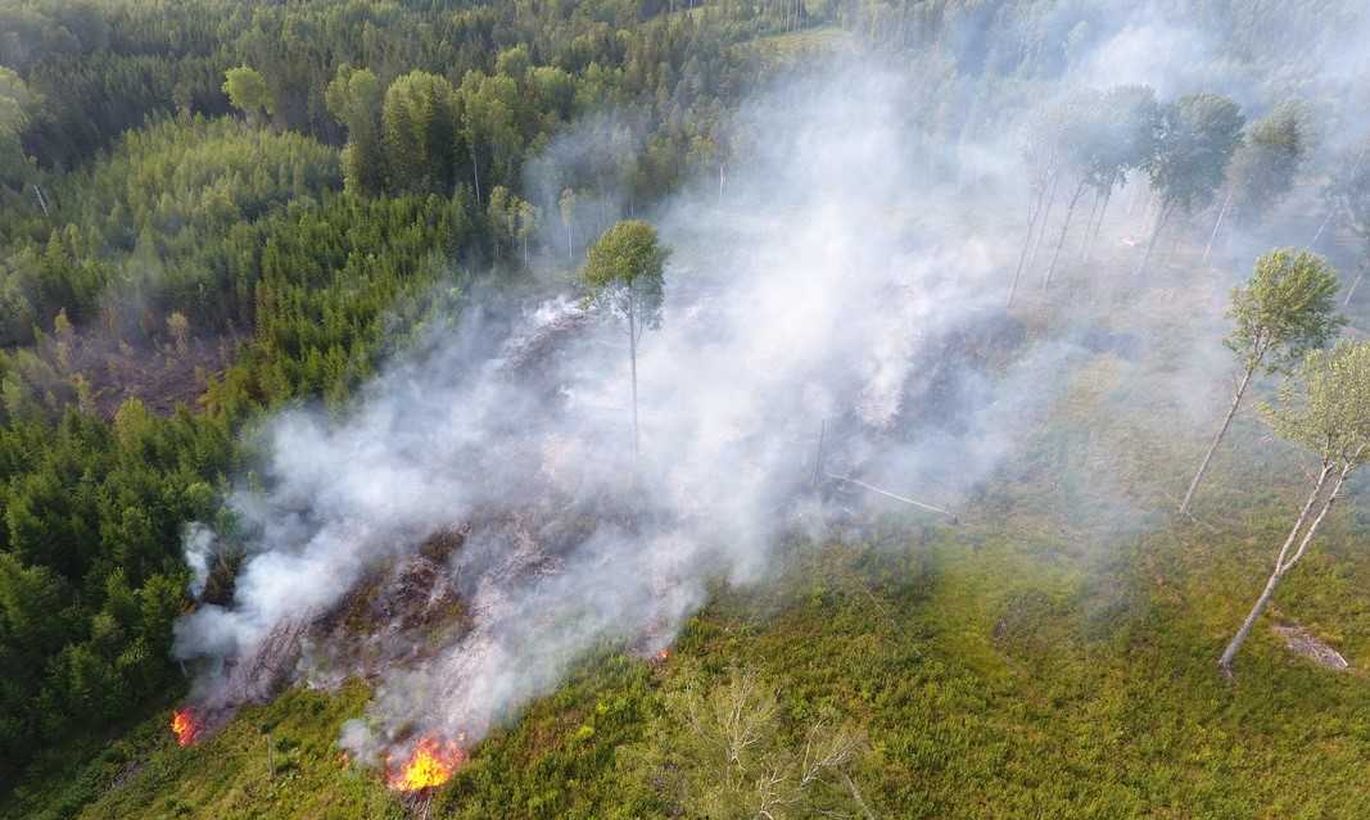 The previous dry and hot summer sent the Rescue Board scrambling: rescue capacity was barely ensured on several occasions and rescuers had to respond to calls more than a hundred kilometers away.
The summer also witnessed a situation where the capital did not have a single free rescue team. Firefighters would have been forced to respond from far away and would have taken a long time to arrive. East Viru County faced a situation where the closest free rescue team was 70 kilometers away. The longest drive was clocked by rescuers from South Estonia who drove 161 kilometers to respond to the Vikipalu forest fire in Harju County.
Extreme fire hazard lasted for an unprecedented 40 days in Estonia, 75 days in Jõgeva County this year. The Rescue Board's rescue capacity came close to breaking seven times. Rescuers' ability to control several major events at the same time came close to the breaking point, the agency's summary concludes.
"Those seven situations constitute a red flag for us. They force us to change our thinking. We need to do something," said Director of the Rescue Board Kuno Tammearu at yesterday's press conference.
Tammearu said it is important to develop IT solutions that would help plan and forecast resources. "Weather conditions being what they are, a person cannot monitor all aspects of this picture. It is paramount to be able to recognize when things are about to take a turn for the worse in case of such major disasters. That usually requires experience, which is why we need something else to help us," Tammearu said, referring to IT solutions.
Minister of the Interior Andres Anvelt was less pessimistic looking back. "Our resources were close to running out in some places but didn't. We managed to avoid a critical situation. The board can rely on the Defense Forces when it sees its resources are about to be depleted. It was a highly unusual summer. What can you do?" he said.
Anvelt said that Estonia was looking at the same kind of carnage Latvian and Swedish forests went through but managed to help out its neighbors instead. He highlighted prevention efforts: rescue professionals and volunteers visited camping sites and recreational areas, urging people not to build fires and extinguishing ones already burning. Authorities also urged people to skip traditional Midsummer's Night fires.
Compensation
The red rooster attacked Estonia with unprecedented fervor this summer. The number of fires between May and August outdid the three-year average by a third. The number of fires that raged longer than 24 hours came to five, with one lasting over a week. While numerous forest and landscape fires cost the state half a million euros, the number of fire deaths and serious injuries fell short of the average.
The Rescue Board has applied for compensation from the state budget for half a million euros spent on extinguishing forest and landscape fires for which there was not enough money in the agency's budget.
Temperatures regularly exceeded 30 degrees in summer and rainfall was much lower than usual, falling 60 percent below average in May and July, 40 percent in June and 2 percent in August. July was the fifth driest in recorded history.
Rescue work involved five times more participants than usually for a total of over 2,000 people a fifth of whom were volunteers. If usually two fire trucks respond to a call, lengthy landscape fires require a far greater presence – the Vikipalu forest fire was combated by 37 brigades.
These kinds of extensive fires depleted the Rescue Board's capacity to respond to other calls as there simply weren't enough people and fire engines. At the same time, Estonia has never before had the resources it has today (1,700 professional rescue workers and 2,000 volunteers), Tammearu said. The situation has remained the same for the past decade. The main question for the board is how to handle simultaneous events.
Anvelt said it is time to make good for what has been cut for the past ten years. He added that rescue workers' upcoming 20-percent salary advance is an important step in that direction.
Drones more of a concern
Kuno Tammearu admitted that the board is short on aircraft in case of forest fires. "We currently have a single helicopter for aerial firefighting, but the Police and Border Guard Board's flight squad is very busy. They would need more aircraft and staff because rescue capacity is woefully short in that area. Aircraft are in short supply. We need to turn to our neighbors. The Finns and Lithuanians have the capacity to come to our aid, but the situation is complicated," Tammearu admitted. He said that international cooperation should be developed if Estonia wants to count on its neighbors' help.
Minister Andres Anvelt believes aerial capacity does not need boosting in the coming years. He said that rather sea rescue should be developed. "Aerial firefighting is a very rare occurrence in Estonia and a capacity we cannot afford to maintain. If we can drop three tons of water using a single helicopter, it's enough for us. It would not be sensible to have another aircraft sitting idle for most of the year. Aerial firefighting is also not the most effective way to combat bog fires," he said.
The interior minister finds that Estonia should develop drone capacity instead as they can be used to detect things one cannot see on ground level.
Kuno Tammearu agrees as Estonia virtually lacks rescue drones today. "We are testing hobby drones that fly away to do their own thing, and it is something we can hardly afford. We need to be able to map out areas, also using infrared technology," the head of the Rescue Board explained.