Tõniste: every budget is aimed at elections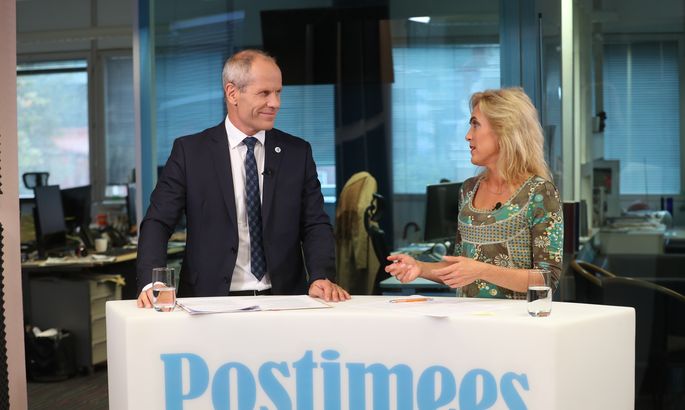 Minister of Finance Toomas Tõniste (Pro Patria) told "Postimees Live" yesterday that everyone wants to make promises before elections, while it later turns out keeping them costs money.
What were the things you fought for during budget talks?
As finance minister, I try to make sure state finances are in order instead of looking at the political side of things. My priority was to make sure the framework would hold, that the budget would be balanced and in nominal surplus. The budget depends on the economic forecast, and instead of throwing money around, we had to make proposals of how to cut costs, cover expenditure.
It is clearly an elections budget. Teachers and rescuers will get a pay raise, there will be more money for healthcare. Who is going to pay for it?
The economy is growing, and so is the state budget. The budget is a way to distribute the state's money. Its goal is not to take anything away from anyone. The goal is for the state to function as efficiently as possible. Because it's a pre-elections budget, we could say that is its focus; however, budgets in between elections aren't free of that influence either.
What will the budget be like in 15, 20 years?
We will have cut our public debt further and will be among the most disciplined countries, fiscally speaking, in Europe in 15 years' time. Our salaries will be close to those in Scandinavia.
Why is it necessary to pay down Estonia's relatively modest debt now? Perhaps we could use reserves for something more practicable?
In areas where Estonia has fixed goals and plans – that hopefully transcend party lines – we are willing to suffer fiscal deficit to make them happen. For example, rapid development of Tallinn-Tartu or Tallinn-Pärnu highways. There is no such agreement today.
Ideally, one should invest during a recession. Adding fuel to the fire would only work to hike prices and buy us fewer kilometers for the same money today.
I found in the budget's explanatory memo that one of its goals is to bring Estonia out of economic stagnation. We do not have stagnation!
When the coalition was formed, we knew Estonia had spent years in economic standstill. It is from that time.
What kind of support will entrepreneurs be given so they could produce more value added?
Tax peace. We will not lay down new taxes or hike existing ones. That is the message entrepreneurs want.
The memo reads that tax burden will grow by 0.2 percent. Where will that come from?
It will come from higher salaries of policemen, teachers. The hikes are reflected in tax burden.
The budget also claims to lower labor taxes. What does this mean?
The decision to hike basic exemption to 500 euros a month. Lower income households got to keep more of their money. The cost in the budget was €150 million.
You uttered immortal words during the press conference: "Border trade is neither normal nor economically sensible." So, border trade is no longer an issue…
It is still an issue. The fact we have this level of border trade means that we have gone overboard regarding certain things which has led people to look for cheaper alternatives with our neighbors.
On what conditions would the government be willing to lower the excise duty on motor fuels?
It has been discussed on numerous occasions. It would cost the state in excess of €100 million. I would also like lower duties, but we would have to find a way to compensate.
While the document claims supporting immigration of foreign labor is a priority, I could not find a single measure to that end. What are they?
Specialists can come to our labor market outside the quota. Several exceptions have been made. There are a lot of Estonians working in neighboring countries; we want to bring them back. We can add to that the open EU labor market and its several million workers.
Pro Patria maintains a harder line here: entrepreneurs from several countries have warned me and Estonia against ruining the country's future by flooding it with cheap foreign labor.
We were promised major infrastructure investments, while I cannot see any major changes compared to the last budget. Why is that?
That is what I mean when I say that while everyone is keen on promising things before elections, it turns out they cost an arm and a leg once you start construction. Major investments should be made during economic downturn.
You said, commenting on Pro Patria's poor rating, that many people do not realize it is the successor of the Pro Patria Res Publica Union (IRL). Whose fault is that?
I simply voiced my opinion that many people might believe it is a new party. Not everyone keeps a close eye on politics. However, several tax changes and the excise duty rally that followed were partly IRL's fault.
When you became minister, your English skills were criticized quite harshly. How many times a week do you attend English classes?
Yes, my doorstep interview in Brussels in June of 2017 became famous, and I'm glad if I'll go down in history because of it. I attended a German specialized school and have studied English on my own.
English is definitely not my strong suit. I have taken classes but I'm not taking them today as I get quite a lot of practice meeting dignitaries during foreign visits.