Prospective citizens to qualify for free language classes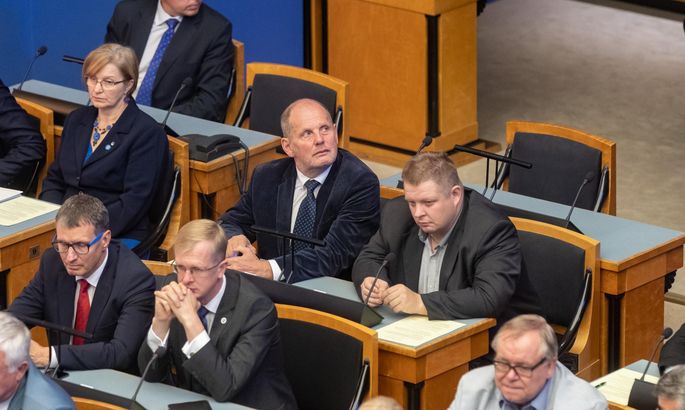 People applying for Estonian citizenship will gain access to free language classes from the new year. The state will also offer benefits for the duration of unpaid study leave, the Riigikogu decided by passing amendments to the Citizenship Act.
The coalition of the Center Party, Social Democrat Party and Pro Patria started the fall session with a narrow 51-member majority. Yesterday's vote was the government's first touchstone as it needed all 51 votes to pass.
The amendment merited the support of 62 MPs, while 30 delegates did not take part in the vote: mainly members of the Reform Party and Free Party and independent MP Marko Mihkelson. Reform's Valdo Randpere voted against.
While the coalition was likely concerned whether the votes would hold, help from the seven-member Conservative People's Party (EKRE) faction and Riigikogu independents Urve Palo, Peeter Ernits, Olga Ivanova and Artur Talvik sealed the deal.
Representative of the Reform Party Hanno Pevkur said they could not support the bill as language classes would be handled exclusively by the Estonian Academy of Security Sciences. Pevkur added that it would be another law Estonia doesn't really need. «We do not need to create norms for the sake of creating norms,» he said before the vote.
Center Party representative Oudekki Loone said that the bill will help people meet language requirements and make the state more honest and fairer. One of the authors of the amendment, chairman of the Social Democrat Party Jevgeni Ossinovski emphasized that it is «a completely ideology-free solution» and wondered how anyone could have anything against the state helping people learn Estonian.
Estonia will start offering so-called citizen contracts for free Estonian classes and study leave benefits from next year. The contract will be made available to people who have lived in Estonia legally for five years, meet the preconditions for applying for citizenship and want to apply. Prospective citizens are offered a single Estonian language course taking them from zero language proficiency to the independent B1 proficiency level.
Participants are eligible for a benefit for days spent on study leave based on the average salary for up to 20 calendar days. The classes would be offered by the security sciences academy.
«The ability to speak Estonian is a prerequisite for Estonian citizenship. It is also a precondition for better social integration,» said Minister of the Interior Andres Anvelt (SDE).
«When a person has decided to tie themselves to Estonia and apply for citizenship, the state can offer them free language classes and necessary study leave,» the minister added.
The B1 proficiency level is required to qualify for citizenship. Citizenship can be applied for by residents who have lived in Estonia for at least eight years and meet other legal requirements.
The cost of the project in the state budget for the next three years is €3.7 million.