Crimean War-era artillery battery found under Reidi road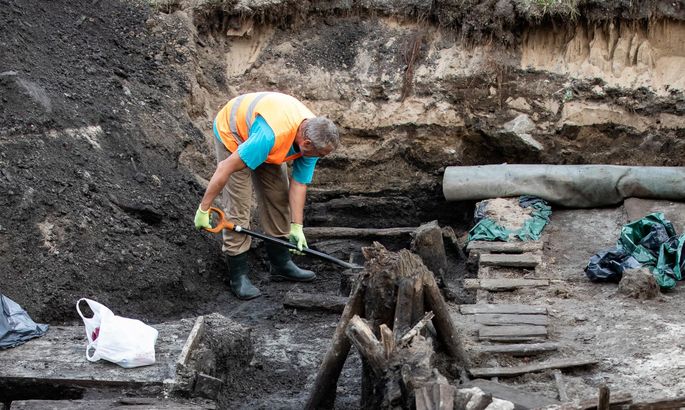 It was expected a few old ships could be found before work on Tallinn's Reidi road began, while now, remains of a Crimean War-era artillery battery have been unearthed.
Archeologists have been busy in the yard of a building on Uus-Sadama street for some time and have dug out an old wooden structure. Namely, remains of an artillery battery from the time of the Crimean War the location of which was known from old drawings and maps.
Archeologist with Tallinn City Planning Department's heritage protection arm Ragnar Nurk drew a detailed map showing shipwrecks and historic defensive installations, including the Veejuhtme battery, a few years ago.
"In that sense, its discovery was a matter of time. The battery finds mention in the Reidi rd. construction project. Digging of shafts was prescribed in the procurement. A shaft dug a few weeks ago suggested something interesting could be down there, and we are now opening it up and seeing what it is," Nurk said.
"If it is the Crimean War-era battery, it is interesting because while there were around ten such installations in the Gulf of Tallinn at the time, they all existed for a relatively short time. Because they were temporary things, we don't know much about them. Russian archives likely have more drawings, we only have general plans. It represents a specific type of battery," the archeologist added.
Therefore, while not unique in Tallinn, it is the first such battery scientists can see and study for themselves.
3D modelling of the battery was planned to be completed by the end of last week, before it turned out not everything has been unearthed yet. "It just turned out that the structure emerged on a wider area deeper down, and archeologists will continue removing top layers to get a better understanding," Nurk said on Friday.
Historian Robert Treufeldt explained that Russia started building such coastal fortifications after the fall of the Bomarsund fortress in Aland during the Crimean War.
"The Russians were shocked by the loss of Bomarsund and started erecting fortifications in Tallinn. Before the port, there was another battery, called the Kaupmeeste (Traders') battery. The newly found battery was called Veejuhtme (Aqueduct) battery because it was the location of one running down from where Vesivärava street is today," Treufeldt explained.
There was a sluice on the Liivaoja stream in Vesivärava. When ships in the port needed fresh water, the sluice was used to direct water from the stream to the port. The water was directed elsewhere, including the lower ponds of Kadriorg, when there were no ships in port.
Treufeldt said that the Russian army feared an allied landing after losing Bomarsund. "That is why they were busy preparing and developing coastal defenses. We also have access to British materials now, how they weighed whether to put on a landing and what kind of a force it would take. In the end, they found that the navy alone wouldn't be enough," the historian said.
He added that the Veejuhtme battery was a small installation that didn't even have a furnace for heating cannonballs. "Back then, cannonballs were sometimes heated up to set fire to the enemy's ships that were made of wood," Treufeldt explained.
Lead archeologist Keiti Randoja said that roofing felt was found under the top layer of boards, with birch bark used instead in some places. Only a few items have been found so far. "An ash dump door with a brass handle, an intact bottle with a two-letter inscription on the bottom. And some pottery," Randoja said.
Deputy head of the City Planning Department Reio Vesiallik said that the dig is not standing in the way of construction. "We can carry out work in different parts of the Reidi road. We knew these kinds of discoveries were likely in store. That is why we moved early in that area, to avoid delays later on," Vesiallik said.