Russian town stole «Kissing Students» from Tartu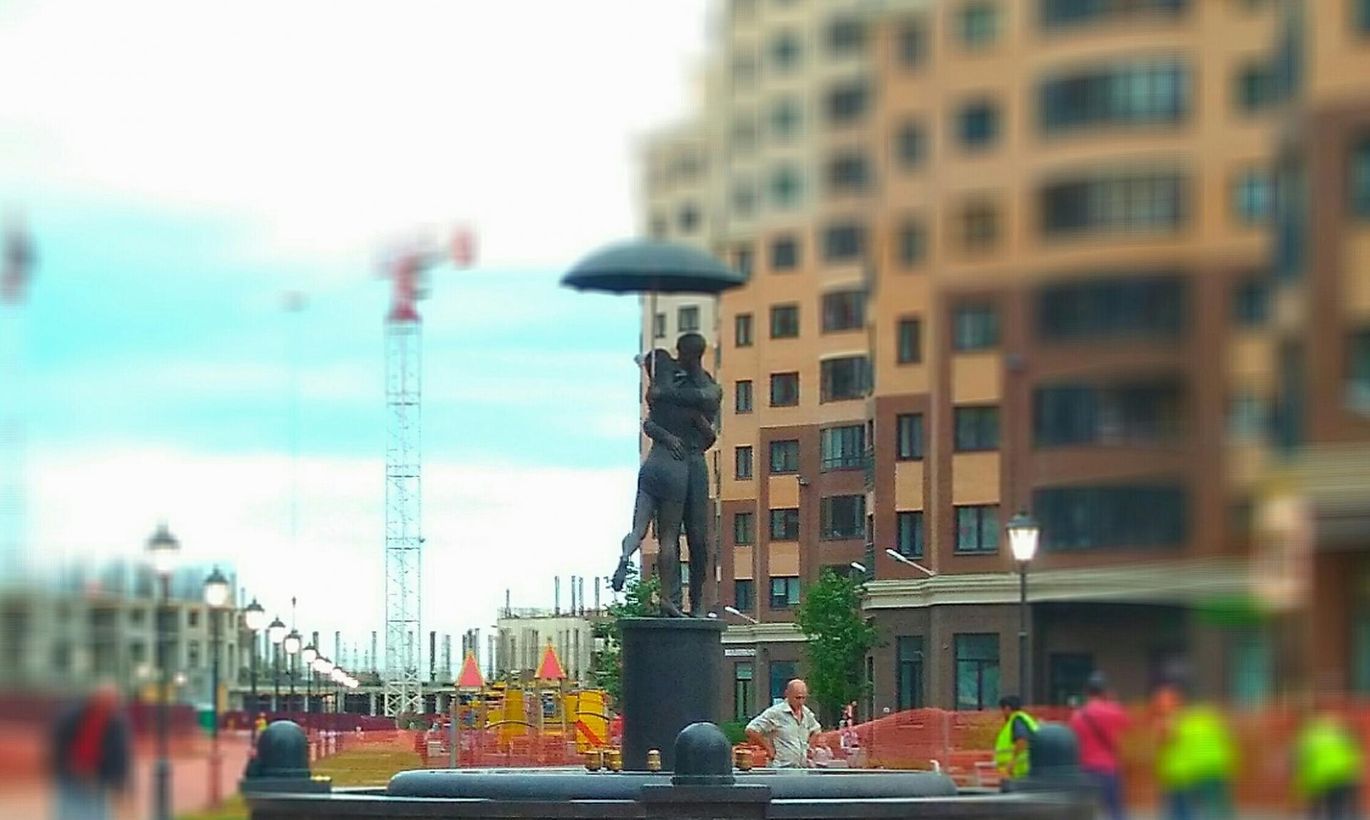 Sculptor Mati Karmin was treated to an unpleasant surprise a few days ago when he discovered photos taken in an urban neighborhood of St. Petersburg in his mailbox. A copy of one of Karmin's sculptures «Kissing Students» has been erected in the town without his consent or that of the city of Tartu.
Karmin received a polite letter from Russian construction company Otdelstroy last November. Nadya Emelayanova from the company's marketing department informed Karmin that they had noticed the beautiful «Kissing Students» statue in Tartu the idea, design and execution of which had left a lasting impression.
The company wrote that it plans to build an urban neighborhood near St. Petersburg that would benefit from having something similar. Karmin was asked whether he could make a copy and how much it would cost.
The artist never replied to the letter. «I didn't even write back because the statue is a symbol of Tartu. While I own the intellectual rights, Tartu owns the statue,» Karmin said.
The matter was followed up a few days ago. It turned out that Karmin's failure to reply did not stop a copy from being made in St. Petersburg's Kudrovo neighborhood. The kissers' fountain was opened on August 26. It is located in a pedestrian area, in the middle of a great bedroom suburb. Karmin learned of the statue when a stranger sent him photos of it.
Things are way beyond inspiration. «It is plagiarism pure and simple, except for the fact the students' necks have been made longer. But the architectural side – fountain, four domes spitting water, granite… It is virtually impossible to make a more exact copy,» Karmin said.
The sculptor said that Russia's kissers are a little more wooden. «But the statues are still the same, down to the creases in the man's pants,» Karmin said. True, the young man and woman in St. Petersburg are a mirror image of the statue in Tartu.
Karmin has turned to the city of Tartu, Ministry of Culture and the Estonian Authors' Society. The latter's hands are short however. The society's attorney Anne-Ly Hussar recommends Tartu to make the matter official and write to the Russian local government. «Kissing Students» is a symbol of Tartu. «If another city has erected a copy, they should have first secured permission,» Hussar said.
Karmin also expects Tartu to fight for its statue as taking on the Russian justice system alone would be too much for him. The sculptor said he does not want to share his work with a Russian suburb.
«Had the mayor of St. Petersburg turned to Urmas Klaas and had the city said yes, it would have been a different matter. However, it would have to have been an official request in that case,» Karmin said.
Karmin sees taking down the sculpture as the solution. «The standard practice in copyright law is for the fake to be destroyed, but that requires a court decision.» There are other options that would require the local government to humble itself and launch talks with Tartu and Karmin. «My condition is for them to build the Tartu City Hall behind their kissers,» Karmin said, smiling.
Mayor of Tartu Urmas Klaas said that the city government has put their attorneys to work and is planning to send an official inquiry concerning plagiarism to Kudrovo. «What we are dealing with is misuse of one of Tartu's more important symbols for which neither the city nor the author has given permission. I will contact the foreign and culture ministries to decide what happens next,» Klaas said. The mayor added the city is yet to decide what kind of a claim to file and against whom.
«Copyright is such a serious thing it should be observed by all countries, including Russia. The culture and foreign ministries should definitely take a stand here,» the mayor said.
Postimees was told from the Estonian Ministry of Culture yesterday evening that the complaint has reached Moscow's cultural adviser Dmitri Mironov. There is little the culture ministry and the Estonian state can do beyond this point as copyright disputes are handled in civil court.
Otdelstroy could not find a single person with knowledge of the sculpture saga yesterday. After several phone calls, we decided to wait for an email reply.