This is not Vanuatu, this is Narva!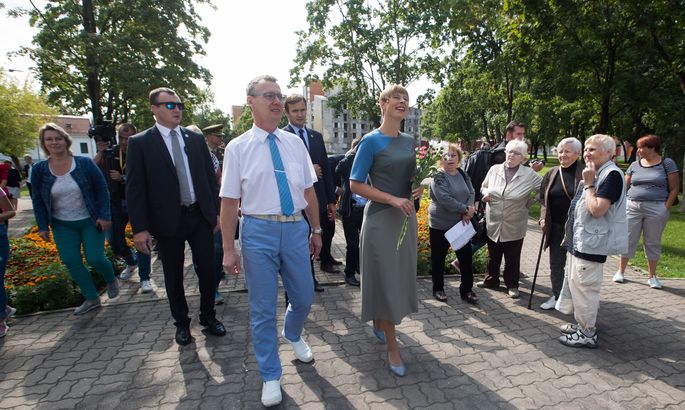 While we cannot say that Estonians do not visit Narva, know nothing about it nor want to, the future of East Viru County depends on locals, and citizens of Narva could try speaking Estonian among themselves just for the fun of it, President Kersti Kaljulaid finds. She will be working in Narva for the next week.
Do you remember the moment when the decision to move the Office of the President to Narva for a few weeks was first made?
Yes, very well. I do not remember whether it was in late 2016 or early 2017, but it was a snowy day in Narva. It took a long time for it to become a public matter.
I visited Narva to take a look at the Free Stage (Vaba Lava) project that was little more than a tall abandoned building at the time. We climbed the stairs and roof and talked about plans. The ideas they were trying to realize and why. That is when I told them that it was such a wonderful project that if they pull it off – come to Narva and inspire the local community, turn it into something we will know in Kalamaja in Tallinn where Free Stage operates – I will move here for a month. Just because it is so super!
People, the community and not the state will turn Narva into a new Narva. A Narva that is no longer a sad postindustrial city but one that builds on the topics of the future.
It was clear already back then that Free Stage's idea was not a crazy one-off venture. We saw people of Narva working in startups, the tech sector who have found in Narva the place they want to live and develop their companies. It seemed that the venture could take root in the local community. And that is when I made the promise. The public only picked it up from an interview I gave before Christmas 2017, but the promise was made much earlier.
How long did it take you to get up to speed on East Viru County's problems?
I have never looked at Estonia regionally. To some extent – because I have worked for Eesti Energia – I have known the topics of Virumaa, especially as concerns the environment, manufacturing and industry, for a long time. When I was younger, my brother and father told me stories of Narva. I do not have different feelings for Narva. I have never seen it as… look, there's a place I know nothing about. It's not Vanuatu, it's Narva!
East Viru County is usually a strange place for Estonians. Would you have developed an interest in the region had it not been for the security threat a few years ago?
Of course I would have. Attitudes toward East Viru County should not be generalized. It is a generalization just like that Russians don't love Estonia.
It is a widespread conviction.
And it's every bit as nonsensical as the claim that Estonians take no interest in Narva.
I remember when we organized our student body's summer days in Narva in 1999. These events usually draw 30-40 people, while we numbered 150 in Narva. We had serious trouble organizing such a big event. And people also came from abroad. Estonians who had once lived in Narva.
I also know that the people who are trying to tie Narva to the rest of Estonia, delete that peculiar dividing line between communities have roots in East Viru County, in Narva. My half-brother has roots in Narva. I have visited Narva often and heard stories of the old, first republic Narva. There are a lot of Estonians who think like that. So, we cannot make such generalizations. We cannot say that Estonians do not go to Narva or do not want to hear about it.
This is also reflected in how easy it was to motivate people to go to Narva. How much more talk there is of everything taking place in Narva: festival, music festival, the Jaak Joala play that was sold out. It only took a little nudge for people who are perhaps less associated with the city to take an interest – we all have places we don't visit very often. Scientists have found that people usually have 15-20 places they regularly move between. Narva has lied off course for a lot of people but has now been included. And that is very good. Narva is changing.
Are you bothered when foreign journalists ask questions about security and Narva? A lot of Russian journalists are sick of hearing that question and would like to move on.
I take offense together with the people of Narva and Estonia's Russians and representatives of other nationalities. When we were talking about the future of the Estonian school during the Opinion Festival in Paide, young people – high school students – got up and said they would like it very much if people didn't doubt them. While they have a different mother tongue, they love Estonia just the same.
I have had to say this very often – also to foreign journalists – that I take offense on behalf of the people of Narva when something like this is suggested, and that the people of Narva have every right to take offense. However, there is nothing we can do except fight that myth together.
Yes, we might hold different political positions, have a different understanding of sensitive subjects, but it is important for everyone in Estonia to value the ability to talk openly and freely about our ideas.
The people of Narva have family ties in the neighboring country, and it's a big deal.
I cannot confirm or refute that, but whenever I have visited Narva, local NGOs are always there, the community is active, people talk about their ideas and plans. I have not gotten this impression.
Where your relatives live is not necessarily relevant when you want to get something done in your home city. For that, you go to your neighbors. There is more of this cast of mind everywhere in Estonia. Meetings with the voluntary sector in Narva have not been empty. These people exist in Narva and they need to be seen and talked about. Find them and interview them too. We have learned a lot of what can be found in Narva, working on my program for the city in the Office of the President.
What does a citizen of Narva expect from the state?
That's the question, whether the state will come and fix Narva. It won't. The initiative for the renovation of the Narva City Hall has to come from local people, they must want to turn it into something nice. When I say locals, I also mean the city government and council.
The more relevant question is what do the people care about. We know that the people of Narva love culture. There is considerable youth sports interest. Narva has strong gymnasts, soccer is also big. We need to look at what people want to do and boost their confidence, offer the community something that would help society grow. That is how it is everywhere. The state is not manufacturing Estonia for the people. The people of Estonia make Estonia what it is.
That said, the people first and foremost want public services. While it is good officials are visiting Narva, it is merely symbolic. And the construction of the Free Stage is somewhat contrary to the general trend of life dying out in the county. We are building the Narva Free Stage, while we have to shut down the pediatrics wing of the Narva Hospital for the summer period and say that we'll only have a few delivery wards in the whole of Estonia soon.
The population of Narva has fallen. To be able to offer services in the recent volume, we must first reverse this process and have more people move here. That will give the state more resources to maintain services.
We all know that a doctor needs to practice, and it is important for them to have a lot of patients with different conditions. More complicated cases can rely on a helicopter ensuring the best medical care in Narva or Kuressaare. Local hospitals need to be able to sort patients and decide what is needed. It is a fact that we only have a million people.
The important thing is to reverse the trend of people leaving Narva.
The other thing people want is security. Is East Viru County safe enough?
Security is lower and unemployment higher in East Viru County compared to the rest of Estonia – these two things go together. It will change once we put Narva on a better path, turn it from a closed postindustrial region into something more creative.
It is important to note that this problem is in no way specific to Narva. It is a common concern in postindustrial Europe. There are a lot of industrial regions in search of new momentum. That is why I believe it is very important Narva is a candidate for European capital of culture. This makes it possible to find inspiring examples and peers in Europe and realize that Narva – even though located on the eastern border of the EU – is not alone. Europe has a lot of cities that have lost their industry and are looking for a new attraction. I'm quite confident Narva will find it.
The language problem, and shortage of specialists it creates, is even more serious. Yes, there are motivational packages, but how effective is this approach? Are highly qualified specialists willing to move to East Viru County, even part-time?
I cannot say. In a situation where we cannot find school and kindergarten teachers, I believe we should revise those motivational packages.
When we were up on stage at the Opinion Festival, I started thinking about what Estonia could do or why it isn't doing more to inform Russian-speakers of what is happening in the country. Why is the state not doing more to teach Estonian? Language houses. They will come, and I believe adults should be able to walk in there and practice and learn Estonian – unconditionally.
On the other hand, there are plenty of people in East Viru County who have the B1 language proficiency level that allows one to read a newspaper.
At the same time, it is almost impossible to get a place in a language class.
I know. And this needs to change. But people have the key.
I have the B1 level in German, and I read German newspaper and feel my proficiency improve. I also do not have anyone to talk to here. If you want to develop your language skills but live in an area that has no Estonians, at least you can read.
A language environment is needed. How to create one?
It is not. My claim is based on young people in Narva who say they are hurt when people say that Narva citizens do not read Estonian papers or watch ETV Plus. They came up to me to say (and yes, the channel is in Russian) that they watch it regularly. They also said they do not know a single person who doesn't. And it has Estonian programs with Russian subtitles. That is very useful when learning a language.
One can change their language environment through podcasts, online newspapers these days.
And it's not passive language. My French went from passive to active just this way. I forced myself: I will not grab the Financial Times in the morning, I'll take Le Monde instead. It just wants a little practice every day. And this can be kept up until they open the language houses in Narva where people can meet and practice together.
The people of Narva could try to speak Estonian among themselves for the fun of it. Trying to speak the language with compatriots also helps. You can if you want to.
Language training was very limited in Soviet times, but people still met to speak French, German, English. We have had such initiatives – I believe there was one in Sillamäe where people could come for coffee from elsewhere in Estonia. I hope something similar can be done once that language house opens.
However, the desire to take part must come from the people.
Narva for European capital of culture – is it feasible or just a tall tale?
It is a very concrete project. To become capital of culture, a city needs a roadmap to show what would be done and why. This cannot be done by Helen Sildna or myself. That is something Narva must want to do. To discuss the matter in the city government and council and move toward it. It seems to us that the desire is there, and Helen Sildna, as well as everyone else with relevant experience, will try to support them.
Estonia has other candidates for capital of culture. Stiff competition is important. But it's definitely not just a… I mean it could be a tall tale, but then it will not happen. You have to want it.
One thing that could help improve the region's reputation is tourism. But a vacation in Narva can end up costing more than one in Turkey. What could the state do?
Kuressaare and Pärnu are expensive too. I do not know why our tourism is so much more expensive. Estonia is the 36th wealthiest country in the world, we are not cheap.
As concerns state support – you are talking to a liberal as far as the economy is concerned. I believe the state must ensure a strong, transparent, corruption-free business environment. The latter is especially important. So every company would know they can operate in accordance with the law and regulations and that there are no other factors or disruptive agents, no corrupt competitive advantages. All of it is of the highest significance.
East Viru County is special when it comes to corruption…
We have reason to suspect that enterprise has not enjoyed as good an environment in Narva as elsewhere. Perhaps it helps explain why we have fewer successful entrepreneurs in the region. Even though it has more than 4,000 registered companies. These are mainly micro and small companies, but that's how it is everywhere in Estonia.
A clean business environment is important. Nothing can be developed without it.
Everyone is always talking about Narva, while East Viru County also has Kohtla-Järve, Sillamäe and smaller places…
Yes, it does. The average salary in East Viru County is bigger than the average salary in Narva. The people of Narva often work outside the city. Economically speaking, East Viru County is close to the national average. It has the eighth biggest income of all counties. So, we cannot talk about a region that is behind economically. True, we can see large companies feel more at home here, but that is perhaps also a sign that the business environment has not been the best. A clean business environment is a prerequisite for development.
How often do you think in regard to East Viru County: oh, we have handled that wrong?
There are a lot of things in Estonia where we are late in terms of development. It often concerns addressing social problems. So there would be less anger and violence in society. Perhaps what is happening in traffic today is the result of having too little time for our children over the past 30 years. Transitional societies are complicated, and we will spend a long time still tending to the wounds of the past.
The most important thing is to understand that a welfare state is not just a high GDP per capita but stands for a society where people notice and care.
What could become the symbol of East Viru County?
The people of the county need to choose that for themselves. I believe it is important Narva has historically and archeologically been an outpost of Europe on the Russian border. A meeting place of cultures. The better we can show this – I believe it is one thing that could be Narva's future. Let us start by fixing up City Hall. Once Narva starts thinking about future city plans, as today's khrushchyovkas have their expiration date – perhaps it could go back to the old city center street plan. Perhaps it would be good to turn Narva back into the European city it was in the past…
Can you imagine buying a house and retiring in Narva-Jõesuu for example?
I cannot imagine buying more real estate anywhere. What I already have is exactly what I need and what my children will perhaps take over one day. I want to move around Estonia. I've spent a quarter of my life away from Estonia, but I like it here. I do not want to leave if at all possible.