«It is much better when people are together and talk to each other»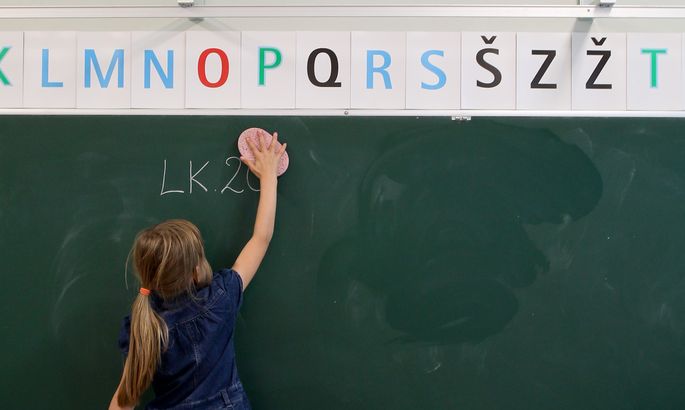 Tallinn resident Aleksandr Shtavbonko (39), who switches between Estonian and Russian effortlessly as he talks, is convinced that a person who lives in Estonia must speak Estonian. He believes that school and kindergarten are the best places for learning languages and that Estonian and Russian children should not attend different institutions.
"It is much better when people are together and talk to each other," he says. "And switching classes because of language would be much easier than switching schools."
Linguists Postimees contacted largely agree with Shtavbonko, while politicians are trying to phrase their ideas so as not to upset voters.
The idea of the common school has merited a lot of attention courtesy of forceful statements by Kristina Kallas, whose political movement Estonia 200 decided to register as a party last week. Political intrigue has been created.
If Kallas is talking about abolition of the Russian school and that children could all go to the same school, Pro Patria – the only party that has turned school reform into one of its election promises – believes Russian schools need to be switched to teaching in Estonian. The two camps have a fundamentally different approach to education.
Learn languages while you're young
Director of the Estonian Language Institute Tõnu Tender believes it is too soon to tell which party's plan is more effective. He believes it is more important to reach agreements that would hold.
Tender has no doubt that a common Estonian school is needed. "The recent segregated and parallel school system is not sustainable in terms of the quality of education, including quality of language studies, social cohesion, cost etc.," Tender finds.
Tender believes a common Estonian school has three goals: ensuring a level of proficiency of Estonian necessary for coping in society, closer contacts between people of different nationalities and making Estonian the main language of communication for the people of Estonia.
Tender emphasizes that all manner of language education needs to start as early as possible, be natural. It needs to be understood that languages are not just learned in class but also in everyday communication.
Professor of education technology at the University of Tartu Margus Pedaste says that it is commonplace for students with different mother tongues to go to the same school and class elsewhere in the world. "In the United States, it was found already back in the 1990s that two-way language immersion is one of the most effective ways of learning a new language," he says.
Students who spoke English as their first language and those who spoke another language were in the same class and taught each other. The result was that students who learned English as a foreign language this way on average achieved better results than native English-speakers in other classes. Pedaste knows that there are good examples of this practice in Estonia, while there are not enough relevant studies.
Professor of Estonian at the University of Tartu Martin Ehala recommends opting for a solution where Estonian and Russian children would learn together from an early age but where Russian students would have a separate set of Russian language and culture classes.
"The best solution would be a flexible transition that would consider regional peculiarities," he reasons. "It would be impossible to have a common school in East Viru County if only because there are not enough Estonian students. Tallinn has enough students from both nationalities for a common school to work."
It has been in the interests of the Center Party to retain the status quo in Tallinn to keep from upsetting its voters.
Ehala says that most Estonians are not against the idea of Estonians and Russians going to the same school and class. It is another question whether to execute the reform forcefully and in only a short time or whether to opt for a flexible and soft strategy that would see Russian schools kept open while new and better opportunities are created for Russian youths in Estonian schools.
Human rights violation
While other linguists approached by Postimees talk of the idea and possible solutions for the education reform similarly to Kallas, University of Tartu docent Mart Rannut seems to favor Pro Patria's approach.
"The current education system requires major reform; first and foremost by switching to teaching in Estonian," he says. "There are several reasons: it is a segregating system that clashes with human rights standards, it costs more than a single-language system would and is giving poor results where a part of the population cannot find suitable employment because of poor official language proficiency," Rannut explains.
"Some people are under the influence of Russian information and entertainment networks, whereas people know little about Estonian culture and distrust the Estonian media. We can add to that endless adult language training that is inefficient, comes too late and is too expensive," he adds.
Rannut says universities' entry examinations see young people who cannot form sentences in Estonian. He describes the current situation as pure violation of human rights the state is obligated to remedy post haste.
"Achieving this goal is complicated but entirely possible," he says, adding that switching to teaching in Estonian would not be very expensive and would yield great saving once completed.
Even though linguists have their ideas concerning more and less feasible models, politicians are less than keen on asking for their advice.
"Politicians cannot rely on the recommendations of scientists in a democratic system if it would cost them their voters, and this is especially true of periods before elections," Ehala explains. "The matter of the Russian school is definitely one where parties have a lot to gain or lose," he adds.
That is why politicians tend to listen to voters instead of scientists.