Estonia 200 collecting anonymous funding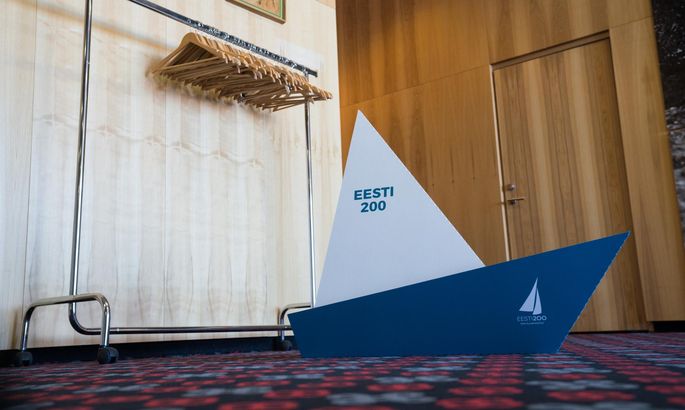 "We want to be transparent and involving and give everyone in Estonia the chance to support our movement and goal of a better political landscape," the leaders of Estonia 200 write on crowdsourcing platform Hooandja where the movement that decided to become a party yesterday is collecting donations.
The transparency of collecting donations in this novel way is devalued by the fact that Hooandja allows anonymous donations. Parties are not allowed to accept anonymous donations in Estonia.
The trick lies in that Estonia 200 is not a political party yet and ordinary nonprofits have no such restrictions on accepting donations.
Leaders of Estonia 200 announced yesterday that they hope to register the party and have the required 500 members by November. That leaves the movement free to accept anonymous donations, also from companies that are not allowed to donate to parties, until November.
The movement had collected €955 of its €5,000 target on Hooandja by yesterday evening. Sponsors numbered 18 of which ten people could be identified using their first and last names.
Chairman of the supervisory board of Estonia 200 Kristina Kallas emphasized the fact that the movement is not a real party yet. "We are a political movement with the ambition of becoming a party and participating in elections. This means that once we register as a party, all donations must be public," she said.
Kallas could not say whether the names of current sponsors would be revealed then.
Party spokesperson Meelis Niinepuu also said that the party and the political movement need to be kept separate. "Hooandja will give us a list of sponsors, so they will not be anonymous for us," he said. "We will register as a party in November at the latest when we have enough people. After that, we will operate in another framework." Niinepuu said that the party decided in favor of a Hooandja project to pursue an entirely new fundraising campaign.
"It is a unique way to fund a political movement in the entire region. The idea was to maintain greater transparency," he said. "Perhaps someone has donated five euros anonymously, but we will have a list at the end of the day which is when we will run background checks."
Niinepuu said that Estonia 200 cannot ensure the lasting anonymity of sponsors, even though Hooandja project conditions read that the names of sponsors will be made public only with their consent.
"We cannot ensure their anonymity. Why should they remain anonymous? They could, but I see no reason why they should. We cannot rewrite Hooandja's rulebook for them: it is their system," Niinepuu said when asked about the possibility of anonymous donations.
Member of the board of NPO Hooandja Henri Laupmaa said that while leaders of Estonia 200 asked the organization whether anonymous donations could be made unavailable for their campaign, Hooandja did not wish to create such a precedent.
"Sponsors can remain totally anonymous for the durations of the campaign. The full list of sponsors is usually given to the organization for publication after the drive," he explained.
"I believe it will be the same with Estonia 200. Whether they will publish the list in full is up to them. I understand that because they're view is political transparency, they will disclose the list in full," the representative said.
Laupmaa added that it is up to the campaign organizers to explain to people that they might not remain anonymous.
Deputy head of the Party Financing Monitoring Committee (ERJK) Kaarel Tarand said Estonia 200 will have to obey the rules laid down for parties once it registers as such.
"The question is how much of this money will be transferred to the party once it's established. This could at the very least be enough for a deliberation over what happens in a situation where an NPO collects donations from legal persons, which is something parties are not allowed to do, before becoming a party," Tarand said. "There is nothing we can do in a situation where a group calls itself a party while it isn't one in the legal sense."
Tarand added that he does not want to criticize people for trying to find new ways of funding parties.
"I do not want to nor could condemn anyone in advance but am simply pointing out that it will be better for all involved to avoid future trouble," he said. "The rules are what they are today, and it pays to keep a close eye on them. The recent party funding system, which I find unjust, cannot survive forever."