Savisaar: I created this state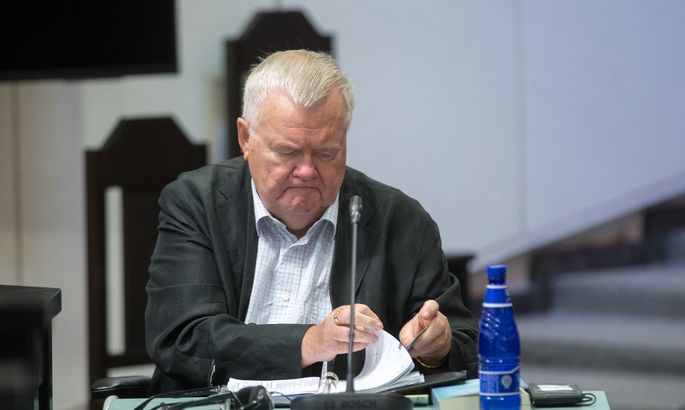 This summer, Edgar Savisaar has tried to learn how to walk with a prosthetic leg and pondered the nature of his trial. The interview at hand is the result of three meetings: our conversation at his Hundisilma farm was not recorded, while things we talked about in Jõgeva Hospital largely were. I was also able to ask Savisaar's defender Oliver Nääs some additional questions later.
Edgar Savisaar, why is the Savisaar trial happening?
Out of desire to settle the score with me! The first attempt was when I invited the people to Toompea Hill in May of 1990. The next attempt was the tapes scandal. This produced four court cases. When the new millennium began, attempts were made to paint me as an agent of Russian influence when I helped construct an Orthodox church in Lasnamäe.
When that failed, they decided to kill me, and I was infected with flesh-eating bacteria. Some doctors believe it was planted and had nothing to do with my trip to Thailand. It all happened in a matter of days.
I survived. I went through 11 surgeries in Tartu but losing my leg left me weak. Then, the score was finally settled, and I was pushed aside. The corruption trial was brought some time after that, when I had had a chance to recover somewhat.
Who are these people who wanted to get rid of you?
Both allies and adversaries. An aggressive younger generation had developed in the Center Party. I was in their way. But naturally there were also my old competitors. Power was seized both in Tallinn and the party. Today, we are ruled by the alliance of Urmas Reinsalu and Jüri Ratas.
The Pro Patria Union was already in power in Tallinn but couldn't hold on to it.
They cannot rule. I believe Jüri Ratas is also a weak ruler.
Who engineered the criminal case against you?
We live in an officials' state. We do not have democracy, we're merely pretending. I was inconvenient for many.
Attacks against Savisaar cemented the narrow victory of the Reform Party at 2011 Riigikogu elections, while in late fall 2016, attacks against Savisaar were used to topple the government of Reform's Taavi Rõivas. Jüri Ratas could only become PM if he didn't smell like Savisaar. That is to say that playing the "Savisaar card" has always suited the "white" forces, no matter the goal.
What was your business with Alexander Kofkin? He allegedly bought you a glass of cognac.
Kofkin is an old friend of mine. He is one of only few fellow defendants in this case I know. We talked about a lot of things. For example, about food, the health of our dear friend Eri Klas and many other things. Klas used ozonization of blood to reinforce his health and live longer. The procedures were done in Spain.
The secret recordings of my conversations with Kofkin were so long that even the judge was vexed over having to waste their time listening to two old men talk about Ukrainian borscht.
Kofkin was up to speed on Klas' treatments. By the way, Siret Kotka paid Kofkin everything that was due, so I believe he shouldn't be in that courtroom.
What about Villu Reiljan?
What can I say about Villu Reiljan's Christmas visit. I thought he came to wish me a merry Christmas, but he was representing his friend [entrepreneur] Vello Kunman's interests. Why would I be involved in his business in Nõmme?! Let him do it himself! Why should I sit in court with him?
Reiljan pleaded guilty, probably out of fear. However, what exactly it is he pleaded guilty of remains unclear.
And your fellow Center Party member Kalev Kallo?
He brought some people to see me; however, this, too, is not enough to draw conclusions, and nothing followed. I simply heard their concerns.
Kallo also presented Hillar Teder's problem which also remained unsolved. People always go to the city government to talk about their dreams and look for solutions.
What did Hillar Teder want?
Teder wanted to swap a plot he had in Kadriorg, but the city could not accommodate him. We can see Teder trying to make a deal with the prosecution, but it remains unclear what this deal would entail. They probably want him to say that Savisaar was behind it all, but I do not know that younger generation businessman.
Loyal party soldier Priit Kutser.
As concerns Priit Kutser's billboard antics, it falls outside of the mayor's league. I'm not superman, capable of preventing the mischief of all these kids dreaming of a party career and lecturing them when the time is right.
You give them a job and the next thing you know they're trying to appear on billboards!
It is rumored that Kutser was blackmailed to testify against you and that he recorded the threats.
I have heard about these Kutser tapes. Kutser was summoned by the prosecution on two occasions and required to testify against Savisaar, say I was behind the billboard thing. I was not. It is not my business to address petty concerns of city district mayors.
The prosecution should not use technical tricks of criminal procedure in political process, where fellow defendants are swayed by unethical means to give statements against each other, including false statements.
Why is the Center Party under fire?
We are the only party that does not follow orders and tries to think for itself.
It is no secret this country is run by [Director General of the Estonian Internal Security Service Arnold] Sinisalu and [Minister of Justice Urmas] Reinsalu, but I went against them. Perhaps it was because of my character or perhaps it was because I created this state.
I founded it without blood because we knew how to get along with the Russians! My main goal was to break away from Russia, but then Pro Patria came to power after elections and took off running toward the West.
What do you think of the trial?
It is a circus! A poor circus. I want no part in it. It's beneath me. The entire criminal case is a construction of random conversations, and there are a lot of random witnesses with nothing to say.
I'm practicing walking with a prosthetic leg. I have phantom pain from losing my leg for which I have pills. They are not doing my memory any favors.