Ossinovski: it is natural that politicians get tired and are relieved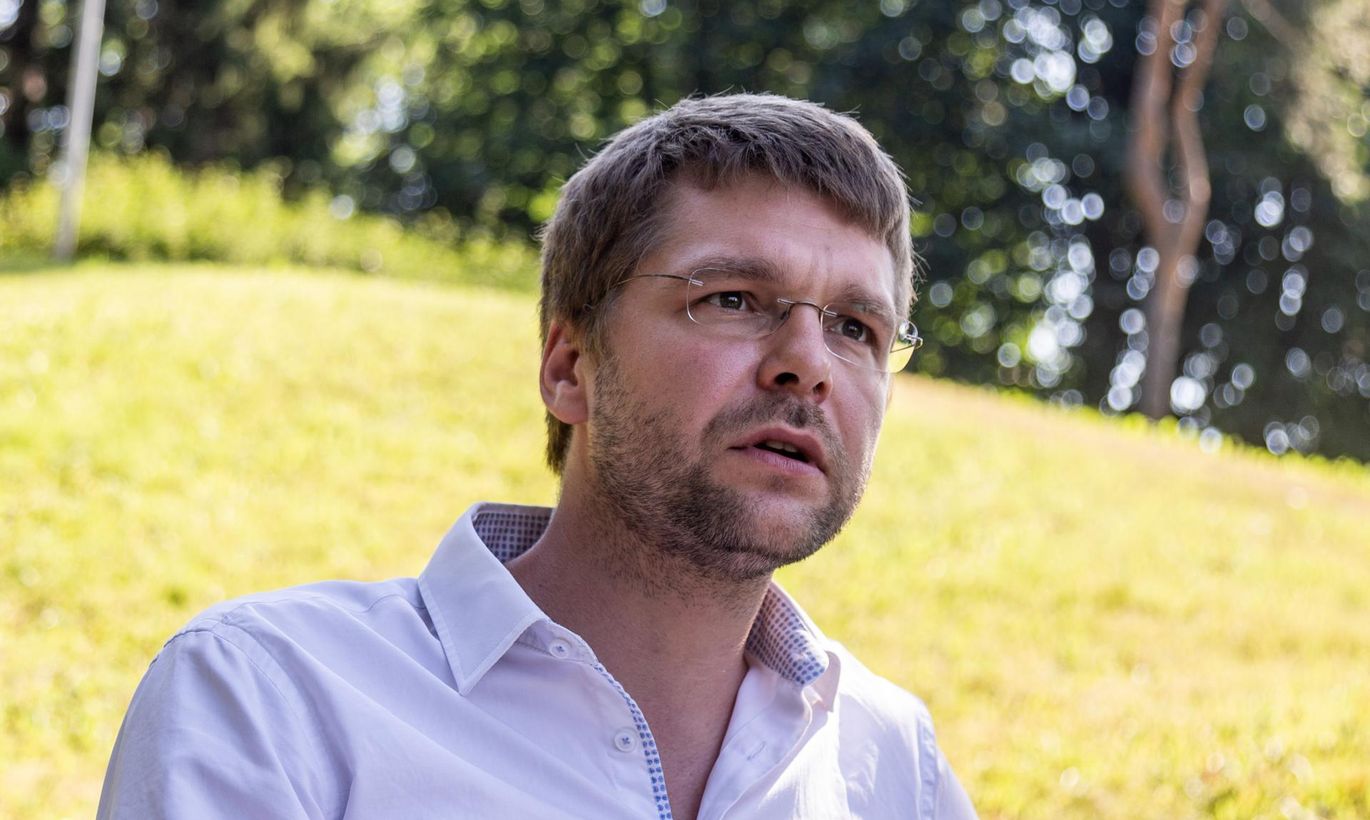 Internal pressure in the Social Democratic Party became briefly almost explosive in the midsummer heat. But the party leader Jevgeni Ossinovski says that things are under control and the Social Democrats aim at increasing their support by 25 percent at the March election and boosting their parliament faction from the present 15 to 20 members.
I have been discovering certain signs of exhaustion in individuals who have been in politics for a long time.
After all, politics is made by human beings and they can get exhausted in politics just like in every field of life. This is why some people say every election period that this stage is over for them and will be replaced by others. Political parties are living organisms and undergo constant change.
Maybe this is the moment when Estonia's political landscape begins to change quietly?
I cannot sense such a change being in the air. There has been a number of moments of political changes in Estonia since the restoration of independence, where almost all parties have changed their name by the time of the next election. This is not good, since it breaks up continuity and therefore undermines responsibility.
Politics today has become more value-oriented and more ideologically defined. The Free Party, for instance, which declared that it does not want any ideology, did not fit in that pattern. This does not mean that the constant renewal of politics has stopped; it is going on within the political parties.
What would you predict for the Eesti 200 movement? Even old parliament members fear that someone comes up with new ideas?
Their opinion that Estonia's politics needs long-term perspective is correct. But a long-term perspective does not replace ideology. The way politics is made cannot replace what is being made.
When looking at the Eesti 200 proposals which are worded rather like slogans, nature protection is obviously important, and we welcome it; we can also find common ground in the integration policies. On the other hand, the proposals to privatize health care so that the rich could have better treatment on account of all the others--- This is an ideological choice which the Social Democrats definitely cannot accept.
This strange combination of proposals, "some from left and some from right", remains vague. They should say what kind of politics they will lead rather than just saying that they will lead politics with long-term vision.
The voters want bread and circus. All parties can offer bread. Is the time of the Royalists in the parliament, who banged the shaman drum in the hall and burned holy fires at the parliament building, over?
Unfortunately not, I am afraid. My concern for Estonia's democracy is not related to political movements and parties but the disappearance of the global united public space.
One could sense some years ago when talking to some people that they have not read more than the headlines, but now it is happening all more frequently. The Ministry of Social Affairs deputy secretary general recently criticized the Social Democrats' idea of care of the next of kin and it emerged that the official had only read the heading.
Another problem is the echo chamber of people thinking in the same fashion. Social media has helped some extreme populist parties achieve very good results because they have never even bothered to debate other opinions in public. The first negative sign of it already exists in Estonia and it was EKRE which started it. Now nearly all political parties have their own "news portals", which serve party briefings as news.
I have understood that you would not easily negotiate with the present EKRE.
The Social Democrats will certainly talk to all people in Estonia. The EKRE voters are Estonia's residents just like the voters of all other parties. My position concerns the leading politicians of EKRE and their attitudes which undermine the rule of law in Estonia. One cannot make compromise on matters of principle.
It is not an everyday matter that a long-time member of the party – I mean Urve Palo – announced the party chairman of her resignation after a lot of people already know about it.
I cannot say that I did not know. I knew it at the same level as all these other people, but there was some hope that she would not take that step.
Palo is a decisive, not to say complicated individual.  You probably cannot make her change her mind by saying, "here, have some chocolate and stay with the party". 
In fact, Urve is a very strong team player. She can listen and if she disagrees, she always respects the decision of the team. She is decisive on matters of principle, which are important for her.
If Palo left the party, will she also leave the parliament faction?
I do hope that she will continue as a member of the Social-Democratic faction.
So that you could still have 15 seats in the parliament?
This, too. But Urve Palo received her mandate while being with the Social Democrats.
You have to find a minister to relieve Palo for seven months. This sounds like a job for a project manager. How can you solve this problem?
We shall solve it. Time is a bit short, but one does not have to come for seven months.
Seven months is time enough to prove oneself as a politician by the March election. It is true that large and principal changes cannot be made in that time, but something can be done. One can show oneself as a good politician and claim a mandate at the election.
You would not reshuffle portfolios within the coalition before the election?
I would not consider it very practical. I support the idea of dividing the ministries. The idea initially seemed strange to me but having worked in a ministry where the spheres of responsibility were divided between two ministers I find it a clever idea.
If I had been the minister of social affairs covering the whole area of responsibility, a lot of issues would have certainly been left in the background. For example, the Ministry of Social Affairs includes the spheres of health, labor and all the social welfare. This is a portfolio one cannot handle alone.
In the Ministry of Economic Affairs, the minister must be responsible at the same time for entrepreneurship, tourism, IT, foreign trade, railways, roads, ports, aviation and energy – this is madness! One person just cannot handle all these spheres and the outcome is a ministry run by officials.
There has been talk about merging the ministries of culture and education as it used to be once. This would be madness!
I read in a newspaper that the Social Democrats are involved in a huge row within the party. There is Indrek Saar's camp and Jevgeni Ossinovski's camp and party members are labeling themselves to make it clear where they belong.
I read it as well in your publication. I have not observed it in the party.
We have had a complicated half-year, we have held serious discussions and important strategic debates, we have made weighty decisions, some quite unprecedented ones in Estonian politics, including my decision to leave the government. It is a part of our organizational culture that if we hold these arguments, we shall eventually agree and move on.
The Social Democrats and yourself must have scored some points by finding Marina Kaljurand. Can you say that some more Kaljurands will join the party by election time?
There is just one Marina Kaljurand.
I was speaking figuratively.
After resigning from the minister's post I have been working in three directions in the party.
First, improving and evening out the level of work within the party.
Secondly, work with new political initiatives for the upcoming period in the government. While we previously could afford to take the earlier program, copy it and make some changes, we have by now kept most of our promises during these four years. The voters would not thank us for raising the children's benefits at the election, they will ask: what will you do in the next period? By now we have launched the idea of the youth future foundation and the reform of care for next of kin; there is still a lot of work in progress.
Thirdly, there is naturally the involvement of new people. This spring the bright and energetic Riina Sikkut joined us, now there are Marina Kaljurand and Andrus Vaarik. Some others will apparently join in the coming months.
Jürgen Ligi of the Reform Party, who has criticized all your initiatives listed above, recently described your leadership as incompetent and mentioned limited experience. What is it with you two?
There isn't anything. Like the Reform Party says itself: "Jürgen is Jürgen."
I am a bit sorry that he is always so grumpy, one should be more positive. But if you have been that long in politics, apparently only few people can remain positive. Eiki Nestor is one of them.
The excise policy and combating vice is like fighting a seven-headed dragon. Is it possible at all to fight vice and how – to make people drink and smoke less? As we can see, raising prices does not help.
Of course, we all want to have quick results and it is sometimes possible. But changes concerning a large number of people and their habits take time.
You did not foresee what would happen at Latvia's border?
We naturally could not foresee that the cross-border trade would be inflated to such volume and that the desire for cheap booze is that big; the government has accordingly made adjustments. The government's alcohol policy is integrated and neither I nor the Ministry of Social Affairs have claimed that it would be a magic wand. The restrictions to the advertising of alcohol came in force on June 1 but the results may become apparent only in five years.
The improved protection of juveniles came in force early this year, the changes to the terms of sale will come next year. Estonia began actively leading the tobacco policy 15 years ago, the ban on advertising tobacco products and smoking in buildings was imposed gradually. There were no significant changes during the first decade but now we are observing them.
The bill on compulsory payment of dividends faced much criticism. I have not read it, but Jürgen Ligi, who shot it up, probably has.
I have seen how Jürgen Ligi comments on a proposal concerning industrial accident insurance, claiming not to have read it. I had not read the bill for several months, but now I read it through a couple of weeks ago.  I have not defended the bill, I defended a parliament member's right to open a discussion, since members of most factions have signed it.
The Social Democrats have not discussed it in their organizations, our faction did not start the bill, it was initiated by some of the faction members. I have not signed the bill.
There is a clause in the bill I consider very reasonable. All shareholders, including small ones, must have the right to receive information from the management. I was amazed that such an opportunity did not exist. I personally do not support the mandatory payment of a share of the profit.
You have said that you support in principle the idea of changing the names of the health and unemployment insurance funds. But a new brand cannot be created without money, this is a fact.
Of course. I think that this change of names is not going to happen before the election is over. If the price tag says that we shall spend nearly a million on new signboards, stationery and pens, it would not make to the top hundred priorities of Estonia's social policy.
I believe that the name change could happen in the future. But it should be planned not as a political rush job. Organizations do renew their brands and offices now and again and it could be done within that process without spending any extra money.
What are the Social Democrats' three iconic promises to the voter, which no one could hijack, and which would be clear?
This question cannot be answered briefly, that would be essentially incorrect. Populist politics should promise higher pensions, higher salaries, larger benefits and lower taxes. It would not be really reasonable since this would make the state go bankrupt. And the Estonian people are not as stupid as to vote in favor of such political promises.  The issue is whether a person believes that the party's values and principles coincide with his own as much as possible.
The Reform Party headed by Kaja Kallas now seems much more honest than before when they wanted to please everybody and show itself as on the top of the pyramid. This means that if those at the top are doing good, then everybody else is. The Social Democrats see in this image of a pyramid that it requires the welfare and success of as many people as possible to make everyone do better,
I really believe that the state's philosophy is not to help the strong – the strong can manage on their own. The purpose of the sate is to help the weaker.