Tänak drove his fans crazy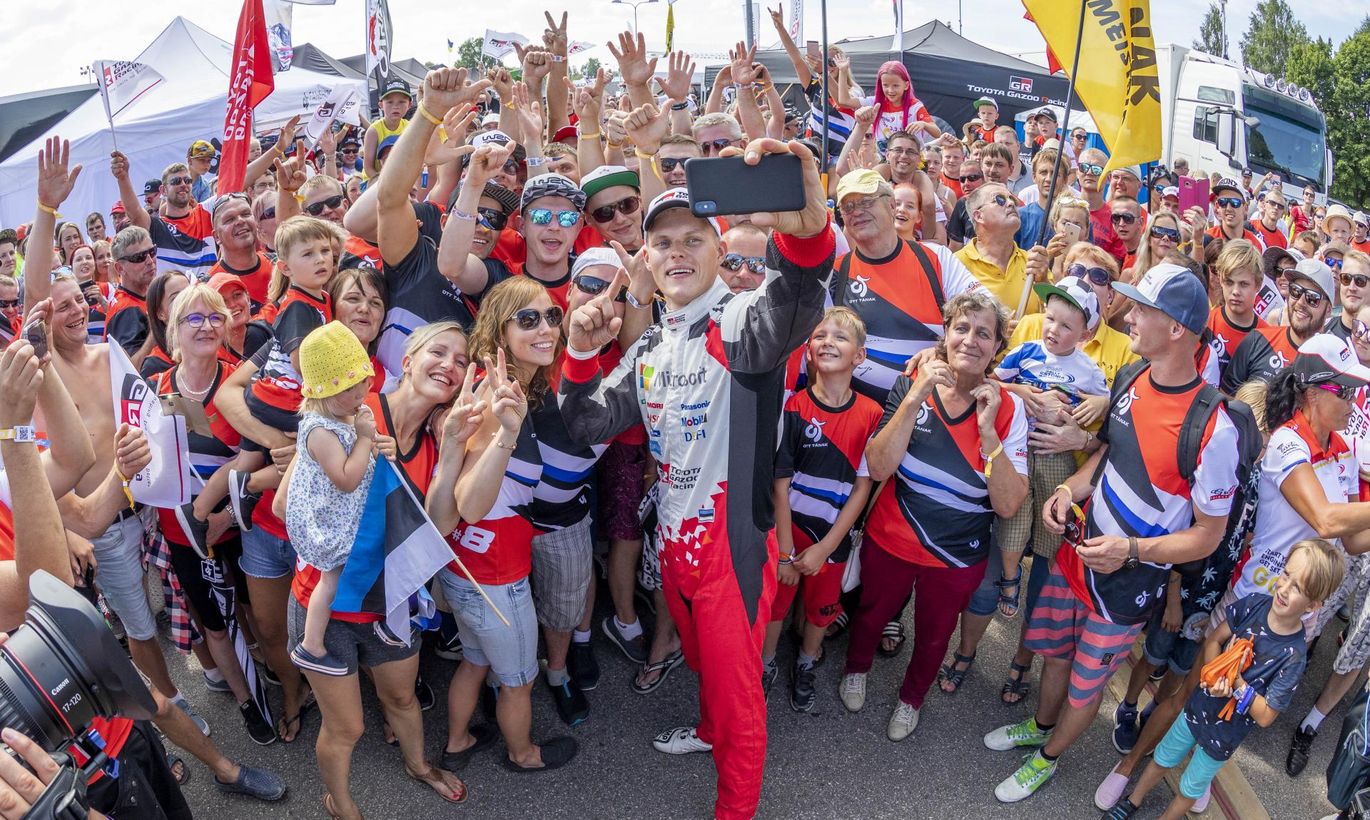 Ott Tänak steps on the top level of Rally Estonia podium in central Tartu. The viewers applaud as he hands the helmet to his codriver Martin Järveoja. Tänak radiates sheer happiness - the public roars and flags are flying. Will Rally Estonia thus establish itself in the WRC calendar?
Postimees sums up the weekend with three questions.
1. Is Tänak Estonia´s best rally driver of all times?
Tänak, who is preparing for Rally Finland, found himself in a new situation in South Estonia's roads as he had to break in the track for the first time, He tried to negotiate with the management to have the starting lineup reversed for Sunday, similar to the WRC series, but the rules did not allow for it.
Nevertheless, Tänak won 11 stages even though he, Craig Breen and Hayden Paddon were testing different adjustment options. Paddon commented that the results should not be taken for complete truth but Tänak's driving reflected the fact – he is still very fast. «Tänak can currently be described only in superlatives. Knowing when to speed up or hold back is the sign of true master,» says past champion Raido Rüütel.
Tänak had a lot of fun, pushing his car to the limit, but also pleasing the crowd in Elva by making pirouettes. «We certainly had to be fast. We saw that the car runs well. But Finland is a very different rally. We cannot state today with certainty that we are completely ready,» he said.
Estonia's rally fans welcomed his success properly. You could hardly see anyone without a fan shirt during the stages, while their other business came to a total standstill on Saturday as their idol called them all to a photo session. The crowd attempting to fit in the tiny service area of the Tehvandi skiing stadium numbered at least a thousand and it looked like a reception of an Olympics winner. «The service-park wasn't large enough,» Tänak laughed. «Rally is becoming more popular every year. There is a lot of people willing to come and see. I am proud that I could demonstrate a real WRC car at home at last.»
Yet the Estonians' rally manners leave room for improvement. Fans rushing to get Tänak's autograph on Friday pushed Hayden Paddon, sitting next to him, out of the way. The New Zealander was treated disrespectfully also after the photo session, when some drunken Estonians tried to push a Toyota flag in the Hyundai driver's hands for selfies. «There are all kinds of fans, but the atmosphere was generally pleasant,» Paddon said.
2. Were the organizers too eager with jumps?
It is no secret that at the request of top teams, the rally track was provided with some 80 artificial jumps, which were reminded the WRC teams of Rally Finland but caused problems to other cars. Karl Kruuda, who raced in Estonia after a three-year break, had to end his competition after the second stage, while Egon Kaur, who also damaged his car, returned to the track. Georg Gross, driving an older generation WRC car, had trouble as well. «I was quite lucky one time as I drove off the road – over tree stumps and between them, but somehow we returned to the road,» said Gross, who ended the rally with a victory of the Elva town stage and overall sixth place.
It is a complicated matter: for whom is a rally meant, after all? According to Alain Penasse, manager of the Hyundai team, the organizers had indeed been told before the rally that Paddon would like the jumps above all. «I can understand the others' concerns, but if a WRC rally were to be held here in the future, there would be even more complaints. It is difficult to test anything on a straight road. Changes propel progress,» he said.
Tänak also agreed that the organizers were correct. «I think that what they did was wonderful. Otherwise the Estonian roads are quite easy, it is safe, and you just rely on power. Now you could not simply rush straight on. There were place where you had to think,» Tänak said.
3. Could Estonia organize a WRC event?
There was a depressive incident on Saturday when a child got injured. But the onlookers were in their designated area and it was one to thousand possibility that the wheel, which came off Klim Baikov's and Andrei Kleshchev's Lada, would brush someone.
Top drivers as well as the 2003 world champion Petter Solberg were satisfied with the event. «There were difficult stages suitable to WRC series and the organization worked very well,» the Norwegian said. Paddon added. «Even if anything happened during the stages, there were no big delays. Everything went according to the timetable. It was one of the best rallies for me outside the WRC series.»
Breen believes as well the Rally Estonia could reach the promised land. But the stages could be slightly longer – this year's rally was only 146 kilometers long. «The rally could be longer. But it was good for testing,» the Irishman said. «These stages could be short for the WRC series, but this is what I prefer. The onlookers like them more as well,» Paddon said.
Obviously, the Estonians would be proud of the opportunity as well. But as Tänak said: «This is utopian, but you can always dream!»