Palo's utterance could prove decisive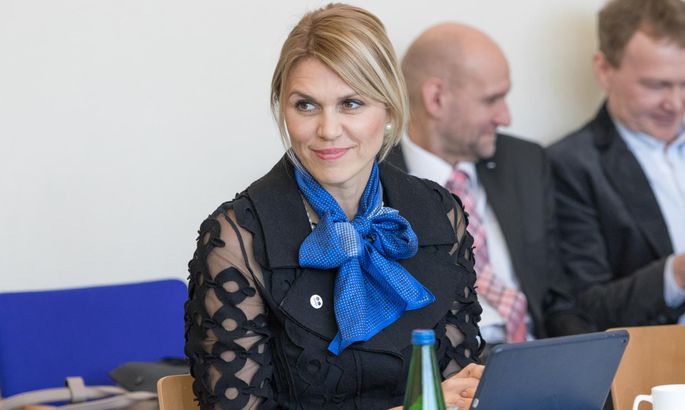 The first battle in the in-house conflict of the Social Democrat Party (SDE) could be fought over Urve Palo's suitability as a member of the government. Her utterance to weekly Eesti Ekspress is such a serious insult for social democrats that it is difficult to see Palo and Indrek Saar maintaining an allied relationship in the future.
«If I can imagine Indrek as chairman at all, it would rather be as chairman of the Conservative People's Party (EKRE),» Palo told Eesti Ekspress. She pointed to the social democrats' voters who are better educated and more intelligent than the average person and whose expectations the chairman should meet. While other parties might be more inclined to overlook such ideas, it is a serious insult for social democrats who set themselves in contrast to the conservatives.
Things made personal
Saar said that Palo's sentiment took him by surprise. «I read it in the paper, but, frankly, I find it hard to believe Urve really means that,» Saar said. Asked what he thinks Palo really meant, Saar suggested the question should be directed to her.
Palo disappeared after her utterance. The only answer she gave Postimees was: «I'm on vacation.» She has not apologized to Saar either privately or in public.
The incident sparked reactions from other members of the party. «It clearly impacts the credibility of the social democrats' government delegation when one minister believes the other is fit to run EKRE. It is to be believed that changes will not be long now,» wrote Hanno Matto, member of the party's Tallinn area. Several other members expressed their displeasure, including Rainer Vakra and Toomas Alatalu.
And even though Palo is Jevgeni Ossinovski's ally in the party, the chairman was also critical of the enterprise and IT minister. «Urve Palo clearly made things personal in her comment, and I condemn her choice of words. Because Urve and Indrek are both members of my team, we must certainly clear this matter to restore productive working environment,» Ossinovski said.
Palo's statement is not surprising in light of rumors of a possible extraordinary chairman election. The latter have seen dignified chairman candidates but less civilized supporters in the past, both in the Social Democrat Party and other political forces.
Saar remained modest when asked about the possibility of him running for chairman yesterday. «We have not decided to hold an in-house election. However, I have told fellow members of the party that should an election be called, they can count on me,» Saar said. He did not wish to elaborate on problems associated with Jevgeni Ossinovski, even though they have been discussed for hours on end at board meetings.
Saar's better-known allies against Ossinovski are Rainer Vakra and Sven Mikser. Both associate the chairman with personal disappointment. Vakra hoped to become minister in Ossinovski's stead this spring but had to swallow the position going to Riina Sikkut. SDE members say that Vakra has the ambition to run for chairman in the future.
Mikser's personal frustration goes back to the 2015 general assembly where Jevgeni Ossinovski challenged him for the post of chairman and won. His allegiance was reflected in an interview Mikser gave the «Aktuaalne kaamera» news program on Tuesday, where he commended Saar for his concern for the party. Had Mikser not seen Ossinovski as a problem, he would have ruled out the need for an in-house election.
Postimees' sources suggest that Saar's camp does not believe SDE could find success at Riigikogu elections under Ossinovski's leadership. The main problem associated with Ossinovski is poor receipt of alcohol excise duties and the fact Estonians' alcohol consumption has not been curbed, contrary to the current chairman's forecasts.
No love lost
Saar and Mikser first criticized Ossinovski at the party's general assembly in early June, but dissatisfaction did not go beyond the inner circle at the time. Saar has tried to approach Ossinovski to talk about his legacy on several occasions since then but claims he has only received vague answers.
Ossinovski rather lacks a plan for Riigikogu elections in 2019. While Ossinovski has managed to appear alongside the social democrats' newest prominent member Marina Kaljurand since she decided to join SDE, fellow members of the party do not believe it could constitute decisive change.
Saar's camp hopes that despite his reputable supporters, Ossinovski lacks broad-based support to continue a chairman. It is also hoping to woo members who currently do not have confidence in Ossinovski but do not oppose him either.
Saar's strength resides in the party's regional organizations. Even though Ossinovski toured the regions after the general assembly, he did not meet a loving reception. Ossinovski's allies are well-known supporters and those who are interested in maintaining the status quo six months before elections.