Scrambling an exact science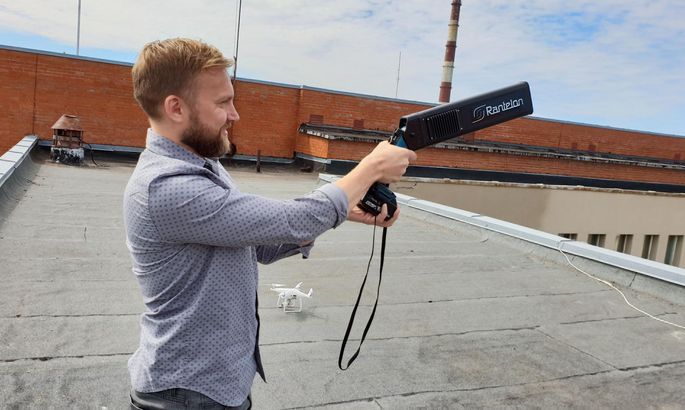 Tallinn's Mustamäe district has for decades been home to a little-known company the capacity of which ranges from bringing down unfriendly drones to scrambling all manner of aerial signals on the level of NATO.
The company, started by Tallinn University of Technology employees in 1995, is called Rantelon. It is one of the few companies in Estonia the activities of which are so crucial its employees need a state secrets permit. Rantelon has manufactured devices that were so potent they have been ordered destroyed after use.
"We have sold our equipment to Estonian, Finnish and Swedish security agencies. Our law enforcement structures used them to ensure the security of important guests during Estonia's recent council presidency. Our suitcases have ensured full "signal neutrality" during NATO summit meetings and saved our Defense Forces members from remotely controlled explosions on foreign missions," said Rantelon's head of sales Karl Taklaja.
Rantelon's products also include the DroneGun – a system that can not only discover drones but determine their heading as well as that of their pilots to effectively block remote control.
"When bomb scrambling for the Iraq and Afghanistan missions ended in 2012, we expanded our activities to other sectors where our skills were needed. Mobile communications, radio and now drone scrambling," Taklaja said.
Very clean signal
What does it mean to scramble communications. How does it work?
"Using a stronger signal to block the receiving channel. Just like you cannot hear the ticking of a clock when someone is yelling in your ear," said one of the founders of Rantelon, CTO Priit Kinks.
Talking about mobile communications, Rantelon can create such a strong signal on the cell phone's band to make the device unable to pick up on signals coming from the cell tower, rendering the device unusable. Perhaps older readers recall how the Voice of America was scrambled during Soviet Times.
"Scrambling needs to be very accurate. American and British intelligence gave us a range of frequencies that could not be disturbed at any cost in Iraq and Afghanistan, as well as bands most often used by insurgents to make their bombs explode," said founder and CDO Andres Taklaja.
What sets Rantelon apart from cheap Chinese competitors is that their scrambling signals are supremely clean and make it possible for users to maintain their own communication channels.
"Creating such signals requires quite a lot of engineering to ensure scrambling only in the necessary range of frequencies and the integrity of own communications. The effectiveness of scrambling lies in having a similar shape to the signal you're trying to disrupt," the scientist explained. "The scrambling signal needs to be amplified without distortion, and sometimes you need directional antennae to selectively scramble signals coming from a certain direction."
Scrambling of civilian drones takes places mostly in the 2.4 GHz and 5.8 GHz bands – the same bands used by Wi-Fi and wireless mice.
A device that alerts the user of nearby drones and determines the heading of the drone and its controller cannot mislead the security officer with signals from other sources. For that reason, neural networks are used to teach the device to tell drone signals apart from those used by other wireless systems working in the same band.
Drone detectors and scramblers are off limits for private users and have only been manufactured for security forces – both civilian and military. Rantelon's drone detectors-scramblers are special in that they can detect multiple drones simultaneously. They can determine the type of a drone based on its signal and find out where it is coming from as well as the heading it is being controlled from.
23 years of history
Rantelon started out next to the Skype center in Mustamäe back in 1995 in close cooperation with the university most of its founders are from and U.S. company MITEQ the president of which was Aksel Kiiss who was born in Alatskivi in 1927.
Its first products were filters for MITEQ for the American market that were followed by antenna amplifiers for the local market. The company still manufactures the latter for civilian clients. Next came communications propagation devices or repeaters for mobile operators, cable network amplifiers and connections and military equipment for foreign missions. The company has 35 employees, from scientists to assembly line operators.
The relative importance of military equipment in the company's production grew to 20 percent during mission years. Today, Rantelon mainly manufactures civilian products 72 percent of which it exports.
"Our products form a kind of whole: we both improve (repeaters) and disrupt (scramblers) signals," Andres Taklaja said. "Our engineers can not only offer clients theoretical solutions but also manufacture the devices themselves. We are a full-cycle company; this means that we are not just an assembly plant or an engineering firm but that we are a factory that designs and builds its own products."
Rantelon offers some 360 products on its website around 20 of which will be outdated within a year and be replaced with new versions. The firm's annual turnover is around €2 million. The company is currently working on repeaters for state wireless communications networks of Finland and Denmark.