State gives small residences grace period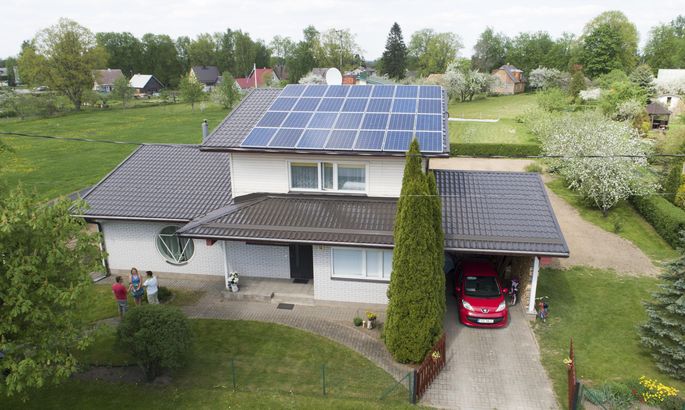 The Ministry of Economic Affairs and Communications, finding itself under fire from architects and contractors, has decided to take a step back in near zero energy requirements and give people building their own home a grace period.
"We are simply required to build houses with a favorable internal climate; however, the phrase "near zero energy" in the European directive has people spooked," said professor at the Tallinn University of Technology Jarek Kurnitski.
He added that the near zero energy requirement (A energy class – ed.) will not apply to all buildings from 2020 – smaller private residences (area under 220 square meters) will qualify for an exception. For some time, these buildings will only have to meet the B energy class requirement.
"Builders of small houses will get some extra time – these are the most common building permits – and we can hope [renewable energy] solutions will become cheaper in that time," the professor said.
It is not clear how long the grace period will be. "Changes like these usually have a five-year step and are not made without good reason," he added.
Necessary exception
The ministry has also included a clause that if the installation of solar panels is not economically feasible or is physically impossible, they will not be required. The professor said that the clause concerns situations where productivity of panels falls below 70 percent in ideal conditions.
"If solar panels cannot be set at the correct angle or exposed fully to the sun, their installation will not be required," he explained. "It is a necessary exception so as not to break the bank and force people to install elements that would not work," Kurnitski added.
Even though architects complained earlier in the year that the new requirements will make it impossible to construct buildings with wood stoves in Estonia, the professor says that is not true. "Required heat-recovery ventilation systems will be installed in all new buildings, and the requirement concerns ventilation, not wood heating," he said.
There is no plan to ban wood-heated houses and the form of heating has been included in the regulation. The professor does not understand architects' claim that stove heating is out of the question because it would disrupt ventilation systems. "Why should ventilation go haywire? Modern heating devices will be equipped with a separate air vent for incoming air," the professor explained.
He commends Estonia's decision to comply with the EU energy efficiency requirement that does not prescribe how to achieve the required level of efficiency. "You have to make the leap, but it is up to the contractor to decide which tools to use," he explained.
If the builder wants to use wood heating, they can but have to contribute more toward insulation for example. Because solutions in construction develop and become outdated quickly, Kurnitski believes it would be dangerous for the state to tell people how to build. "Right now, the state simply controls how much energy a building can use," he said.
Regulation not that bad
He's convinced that it will not result in major changes when private residences must correspond to new requirements. "Most houses constructed today correspond to the B energy class to which the renewable energy requirement will be added, meaning that you need a solar panel on the roof," Kurnitski said. The professor added that the Estonian construction market is moving in the right direction anyway as more people want and build houses sporting the B energy class. What turns a B-class house into an A-class house is the solar panel. "Things aren't as bad as they seem," Kurnitski said, referring to the new requirements.
The professor said that architects' reluctance might boil down to increased workload. "If the architect only concerns themselves with the artistic side and orders engineers to build a near zero energy house, there will not be optimal solutions and those that will be found might end up very expensive," he said.
Kurnitski said that the problem is not so much with cost or technical solutions, but people. "Whether they [the architects] can pull it off in a sensible fashion," he said.
The state also plans to change central heating coefficients as more environmentally conscious solutions have been adopted since 2013. Kurnitski said that the change concerns district where renewable fuels (i.e. wood chips) are used to a greater degree or that sport cogeneration plants that produce both heat and electricity. The professor said the change applies to all major central heating districts in Estonia – Tallinn, Tartu and Pärnu. "Laxer central heating coefficients will make it easier to construct apartment buildings," he said.
Kurnitski does not agree with architect Mihkel Tüür's claim that new requirements will become the main problem in constructing new buildings in smaller settlements.
"The market situation has hiked construction prices by nearly 20 percent in recent years, and energy efficiency requirements adding another 2 percent does not support that claim." The professor said that the reason is that construction prices are the same in Tallinn and Võru. They can even be higher in the latter as both the workforce and materials need to be transported. At the same time, people's purchasing power is not the same. "However, that is a broader concern that is not tied to energy efficiency," he said.
Clarity to arrive soon
The ministry's press representative Rasmus Ruuda said that the minimum energy efficiency requirements bill is in the final stages of preparation. "We have been meeting with professional associations in recent months and have worked through additions and exceptions with representatives of the sector," Ruuda said and added that planned changes first and foremost concern small residences. "Smaller buildings will have to meet laxer energy efficiency requirements," he explained.