New non-native species of crayfish found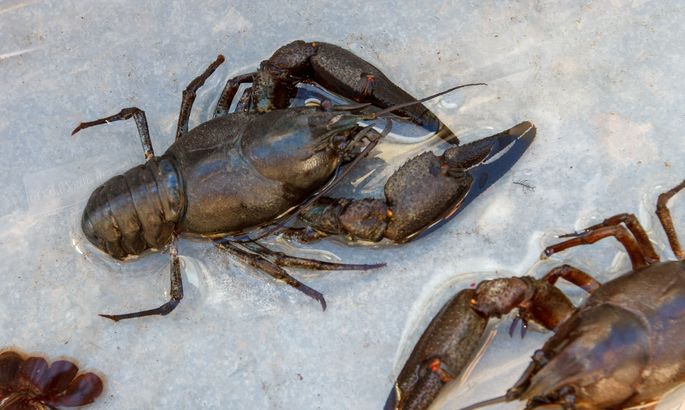 Researchers exploring the biota of the Gulf of Pärnu and Pärnu River were treated to an unpleasant surprise when they found nine specimens of the spinycheek crayfish when examining this spring's sample traps. Spinycheek crayfish look like the native European crayfish but are originally from distant waters.
"The original home of the spinycheek crayfish is in North America, while it is also common in the western part of mainland Europe," said Heli Shpilev, ichthyologist at the Estonian Marine Institute. Her office displays the nine specimens in a jar filled with alcohol.
Shpilev said that the spinycheek crayfish turning up in Estonian waters is no longer a bombshell, even though the fact more were found is hardly welcome news.
"The first specimens of the species were found in Pärnu River in fall of last year," Shpilev said. "This year, nine were caught in the section of the river passing through the center of Pärnu.
The spinycheek crayfish might look like the European crayfish to the untrained eye, even though it is smaller, with an adult length of no more than 10 centimeters. Nevertheless, the former has a number of advantages over the native crayfish.
"First of all, the spinycheek crayfish is many times as fertile as our European crayfish. It is also quick to adjust and mobile, making it capable of inhabiting new areas. However, what is even more important is that the spinycheek crayfish is immune to the crayfish plague that is fatal for the native species but still carries the pathogenic agent."
This makes the spinycheek crayfish yet another species ready to oust the European crayfish from its natural habitat.
Estonia has four non-native species of crayfish. They are the narrow-clawed crayfish, signal crayfish, spinycheek crayfish, and marbled crayfish found in the Narva River. The latter species is sometimes kept in aquariums and it is probable that is how they found their way into Estonian bodies of water.
"Regarding some non-native species, people have released them into the wild without any idea of how they will change our environment," Shpilev said.
Releasing new species into the wild is prohibited in most cases.