Social democrats convince Kaljurand to join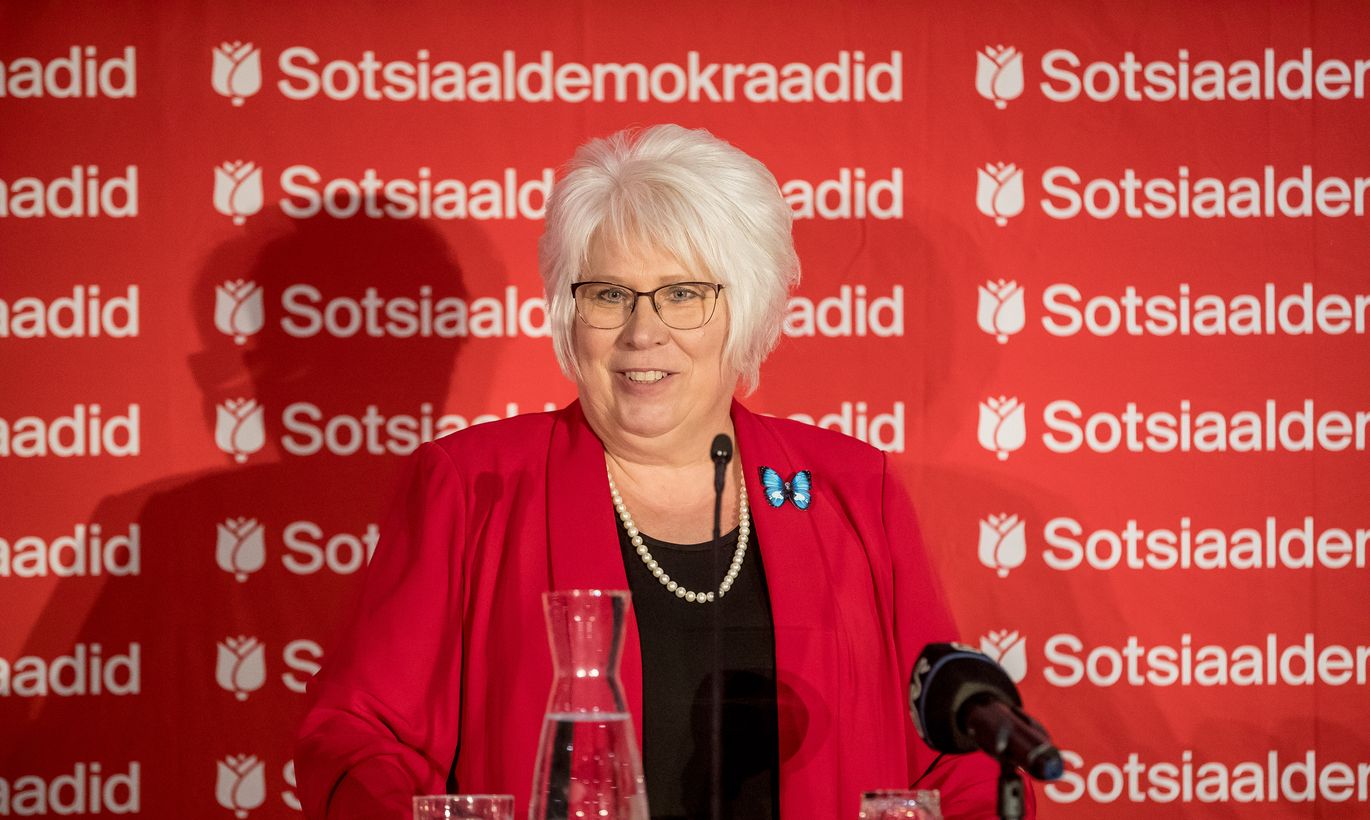 The biggest surprise of the politically prolific weekend came from the Social Democrat Party's (SDE) general assembly held on Saturday, where Marina Kaljurand announced she will be joining the party and taking part in the next two elections. Kaljurand, who was forced to taste defeat at the 2016 presidential elections, will likely become SDE's frontrunner for the 2019 European Parliament elections.
"There is no sense in telling lies or in glorification – politics can be cruel, politics can be unjust and ruthless. To change that, one must enter the fray instead of remaining a commentator or onlooker," Kaljurand said in her welcome speech.
The former foreign minister made it clear her flirt with parties has reached a conclusion in joining the social democrats. Kaljurand, who was the favorite of a part of Reform Party MPs for president in 2016, has probably set her sights on 2019 EP elections.
She said over the weekend that she will be running in the 2019 Riigikogu elections. It is likely Kaljurand will become a regional frontrunner for the social democrats even though the matter has not been decided yet.
Kaljurand's move comes as a partial mission accomplished for party Chairman Jevgeni Ossinovski who was expected to deliver at the general assembly. Ossinovski had to infect fellow members with enthusiasm for elections and surprise voters. He managed the latter objective.
Pro Patria is back
IRL held its general assembly in Viljandi at the same time as the social democrats. The name it adopted when the Pro Patria Union merged with Res Publica was changed to Pro Patria – a clearly nostalgic hint to the party's heyday during the time of Mart Laar's first government in 1992-1995. The party also approved a new ideological document.
The most surprising part of the assembly was probably the intensity of Chairman Helir-Valdor Seeder's speech. He said that even though some good points have been made in favor of constructing a pulp mill near Tartu and that using our own wood for higher-value-added products seems sensible, perhaps one does not have to be sensible all the time.
"Restoration of Estonia's independence also happened against all odds and recommendations. We have come to where we are by doing some pretty crazy things by ourselves. Why can't we be a little weird from time to time?" Seeder asked.
A third of Seeder's speech was dedicated to immigration that gave rise to one of the conclusions of the assembly: the number of Estonian-speakers must grow. Seeder said that the race is for the prize of the most progressive citizen of the world and that it is fashionable in Europe today to be a global creature with no clear religious, cultural, national, or gender orientation.
The other two conclusions of the general assembly suggest that, in addition to restoring the name Pro Patria, the party wants to win back positions. One such topic is security policy in which context it was found that Russia has become more dangerous.
The step is clearly meant to restore faith in Pro Patria regarding topics associated with right-wing forces and recently hijacked by the Reform Party for the 2015 Riigikogu elections. Reformist PM Taavi Rõivas dedicated a considerable part of his campaign to security policy while IRL concentrated on taxes three years ago.
Pro Patria also wants to take back reform's attitude toward the Center Party it maintained prior to the 2007 Riigikogu elections and the Bronze Night. Back then, IRL was seen as Center's fiercest opponent, largely as a result of history and mutual animosity between then chairmen Mart Laar and Edgar Savisaar.
That is why the third message of the general assembly was aimed at centrists: "Revoke your cooperation agreement with United Russia!" It is another question how believable it sounds in a situation where Pro Patria plans to remain in Center's government for the next nine months until elections. Still, they can follow the example of Andrus Ansip who hijacked the position from IRL in just a few months in 2007.
Pro Patria's future antipode the Center Party also held a council meeting on Saturday, even though its scale was much more modest than that of SDE and IRL's assemblies. However, important decisions were made there too.
Four-lane Center Party
For example, the party approved its ethics code PM Jüri Ratas promised to MEP Yana Toom last summer in exchange for the latter not running in Savisaar's competing list at the 2017 local elections.
The party also made a political statement to communicate that their goal will be to connect Tallinn to Tartu, Pärnu, and Narva via four-lane highways. "The development of national main roads must be a priority, and we should not be afraid to borrow to reach that goal," the statement read.
This Sunday saw the council meeting of the Conservative People's Party (EKRE); however, the spotlight was stolen beforehand by Chairman Mart Helme who delivered a speech at the founding of the party's Lääneranna district in Lihula last Monday. Local newspaper Lääne Elu wrote on Friday that Helme had lingered on the topic of the intelligence of black people.
EKRE reelected Paul Puustusmaa as council chair and found that Estonia needs a justice reform for its freedom, democracy, and rule of law to function. "The main aim of the reform is to restore democratic control of the justice system to avoid current rampant arbitrariness, abuse of power, and corruption," the council said in a political statement.
EKRE founded its Lääneranna district in Lihula on Monday. Chairman Mart Helme gave a speech at the event. "The number of niggers has grown explosively in Tallinn," Helme said. The chairman followed with a story he often repeats at speech meetings – about how he had to teach blacks as a university professor. "Listen – this is solid wood!" Helme said, knocking on a bar top. "But if you knock them on the head, it's hollow wood!"