Herkel elected Free Party chairman again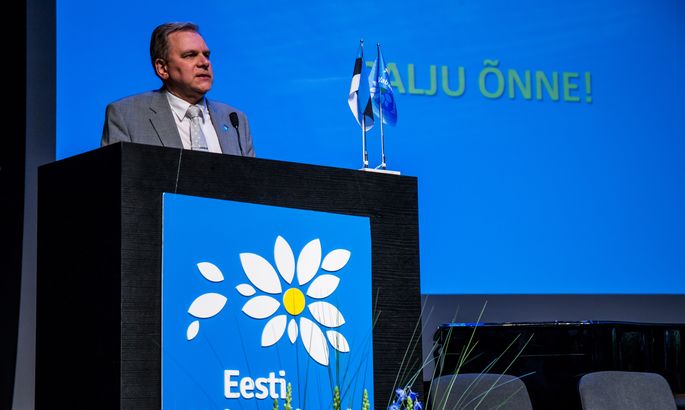 The general assembly of the Free Party elected Andres Herkel as its chairman on Saturday. Recent chairman Artur Talvik did not run for the position.
The party's board is made up of Lii Ramjalg, Monika Haukanõmm, Jaanus Ojangu, Jüri Adams, Kaul Nurm, Vahur Kollom, Ain Ostra, Enn Meri, Elo Lutsepp, and Vello Väinsalu. The assembly also approved the party's general program.
Members of the Free Party's court of honor are Katrin Hauk, Jako Kull, Eino Muruste, Taavi Simson, and Lembit Tuur and that of its audit committee Anne Hansberg, Külliki Kübarsepp, and Urmet Külaots.
We will come because we do not agree with political culture in Estonia that has become removed from the people and long since stopped representing their true expectations," Herkel harked back to the first sentence of the Free Party's manifesto in his speech. "From there, we have been phrasing different programs of furthering democracy and other programmatic documents, also several bills in the Riigikogu. Have these initiatives been considered? They have not! Our voice has been louder, but our bills bounce off cartel parties' collective defense."
Herkel added that state budget funding for parties has not been cut, the principle of open election lists that would consider the weight of a vote has been rejected, and MPs can once again sit on local government councils.
"Do they expect us to tire? Or that these things will be forgotten if they are not addressed? On the contrary – the fact that what led to the creation of the Free Party is still outstanding obligates us to call a new political mobilization," Herkel said.
In his speech, Herkel asked whether Estonia needs the Free Party or a political movement for which the Free Party is rather a carrier rocket.
"As chairman, I want to be a humble servant of our actions and goals. We are talking about a team. I do not want to divide members into supporters and opponents. It is not something a chairman should do; a chairman must be there for all members," he said.
Former chairman Artur Talvik said on social media yesterday that he has left the party but does not plan to leave politics.
"A free man's greetings! Short, but very interesting is how I would sum up my political career. A lot of food for thought in terms of what comes next," Talvik said via Facebook and thanked all of his brothers-in-arms.