Port promises strong dividends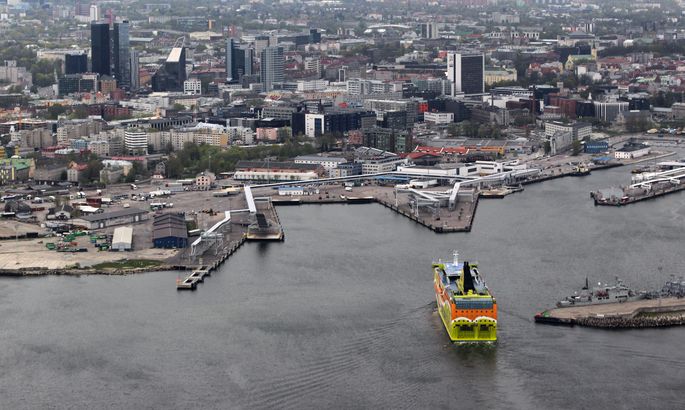 It will be possible to subscribe for shares of Port of Tallinn from May 25 for which there will be a price range. The company plans to pay generous dividends.
The share of Port of Tallinn will clearly be a dividend share, CEO Valdo Kalm said during a press conference yesterday. The first dividends will be paid out next year.
CFO Marko Raid said that the goal is to pay at least €30 million in dividends in the next two years and at least 70 percent of profit after that.
Raid said that the port will release the IPO's prospect to reveal the price range of the shares on May 25. Shares can be subscribed for starting on the same day and for two weeks after that. Shares cannot be bought today. Share distribution will be decided and share price fixed on June 7. Shares should be tradeable on the market from June 11.
Simson promises gains and transparency
Raid said that retail investors can subscribe for shares in the top half of the price range, even though the transaction will be made at a fixed price for everyone.
The main organizers of the IPO in Estonia are Swedbank and LHV, while it will be possible to subscribe for shares in all banks.
Minister of Economic Affairs and Infrastructure Kadri Simson (Center Party) said that Port of Tallinn will be listed for a number of reasons. "Firstly, so that Estonian private investors could benefit from such a profitable venture," Simson said. "In addition to involving shareholders, the move will result in greater transparency. We will also attract more attention for the Estonian business environment." Simson added that Eesti Energia subsidiary Enefit Green is also preparing for an IPO.
Proceeds from the sale of Port of Tallinn shares will go to the state's liquidity reserve," Simson said.
CEO of Nasdaq Tallinn Kaarel Ots recalled the time when Hansapank and Eesti Telekom were listed companies. Major companies are the ones bringing international money to Estonia, he said.
Most innovative Baltic port
Ots said that while not all companies should be listed, and therefore transparent, it is a necessity in case of state companies. Countries with well-developed capital markets simply do better," Ots explained.
"We want to become the most innovative port on the Baltic Sea," CEO Valdo Kalm said when talking about the company's future. He said that Port of Tallinn is the fourth busiest passenger port in Europe, with ice-breaking, carriage of goods, and the port's industrial parks playing their own role.
Kalm said that the port plans to grow regular passenger numbers for Helsinki, Stockholm, and St- Petersburg, and that there is considerable interest in passengers from Asia.
The port is in the process of renovating its passenger terminal and building a cruise terminal and is about to implement an automatic docking process. Servicing Scandinavian import and export is another strategic goal.
The company plans to list up to 33 percent of shares for which purpose it will issue new shares instead of selling existing ones. The company will issue 75.4 million new shares for the IPO. The state will remain in control of 67 percent of shares to have the final word concerning strategic decisions.
AS Port of Tallinn owns Estonia's largest complex of passenger and cargo ports that serviced 10.6 million passengers and handled 19.2 million tons of goods last year. Port of Tallinn subsidiary TS Laevad is in charge of ferry traffic between the Estonian mainland and major islands. The company managed a sales revenue of €121.3 million in 2017. Its EBITDA was €66.5 million and net profit €26.4 million.