Simson's freedom of choice only seeming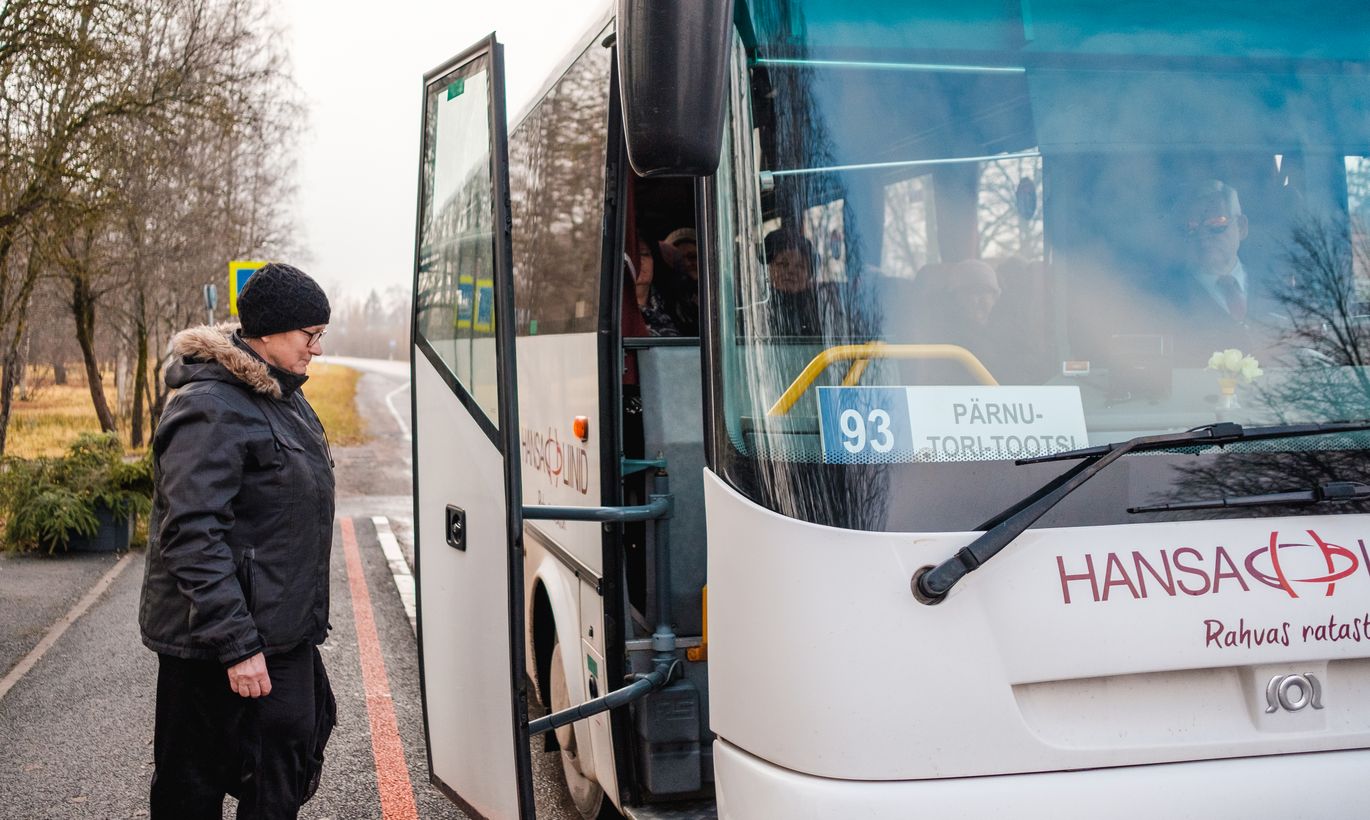 Minister of Economic Affairs and Infrastructure Kadri Simson's regulation from Monday turned out to be a curveball: even though the regulation seemingly allows county public transport centers to dictate their own ticket prices, lives of transit centers will be made unpleasant enough to discourage charging for tickets. It is not out of the question that exceptions sought by Pärnu and Harju counties are finished.
"I simply cannot believe my eyes in terms of what that paper says," head of Harju County Public Transport Center Vello Jõgisoo says on Wednesday. Minister Simson (Center) had dropped her plan of laying down a mandatory zero price for tickets on county coaches to meet public transit centers half-way just two days prior.
Jõgisoo now has two documents in his hands: the minister's regulation and Director of the Road Administration Priit Sauk's letter. The latter explains how the agency plans to interpret the minister's regulation. Putting two and two together, it turns out county centers' power to decide has melted with the spring snows.
"Even though everyone was to be free to decide ticket prices, the conditions do not really leave one with a choice," Jõgisoo says. He's not alone. His colleague from Pärnu County, Andrus Kärpuk, is just as disconsolate and does not rule out that their plan has been sent downriver.
The devil is in the regulation's fine print and details. Pärnu County local governments have been planning to offer free rides to students and pensioners in the city of Pärnu and the county with the state's help. The rest would be charged a symbolic ticket price.
Pärnu rural municipalities would have been able to keep resources currently spent on free rides for students which they would have given to the city. Pärnu's plan was to offer level conditions and ticket prices both in the city and the country. Local governments agreed on the plan in the form of a memorandum sent to the government.
Legal surprise
However, the regulation reveals that the state will only pay for free transport if it's free for everyone. Should centers decide to retain tickets, they will have to cost the same for everyone as the road administration cannot differentiate between passenger groups. In other words, if a local government wants free transport only for students and pensioners, it has to pay for it as the state will not lend a helping hand in that case.
"What this says completely rules out the kind of ticket system our local governments wanted," Kärpuk says. "It seems to me like a maneuver to make everything look legitimate on the outside just to have officials steamroll you without there being a clear culprit."
The regulation hides another reef public transport centers must navigate. It turns out that should counties lay down anything other than zero price for tickets, local governments will be obligated to retain recent volume of funding for the lines network. In other words: retaining tickets will be expensive as costs will have to be covered by local governments.
The latter came as a surprise to Pärnu County. Their plan prescribed giving ticket revenue to the state that would have covered other expenses in turn.
In the end, the state leaves the decision up to public transport centers while making sure they have nothing to decide," Kärpuk sums up the regulation.
Vello Jõgisoo says that it is not clear how much retaining tickets would cost Harju County. However, he is convinced that local governments the students of which commute to Tallinn and the municipality transport of which is based on public lines will lose a great deal.
"It is nonsense – it is compulsion! It is political corruption used by the Center Party!" Jõgisoo is emotional. "To put it bluntly, it is treacherous of the ministry and the road administration to act like this."
Neither public transit executive rules out that the aim of the said provisions is to discourage counties from choosing anything other than free coaches. A few other public transit centers are considering retaining prices, Viljandi County is one.
However, why bother with a fictitious option no one is tempted to take?
Minister of Economic Affairs and Infrastructure Kadri Simson told Postimees that the ticket price range and the decision to leave public transport centers with free hands was made with the road administration and the centers. The latter included those that wished to retain recent systems. Because every county was to have the possibility of a custom solution, the minister could not lay down common passenger categories for the entire country: for example, free rides for students and pensioners.
"Centers have three choices: to introduce free rides, offer cheaper tickets, or continue with the recent system and prices," Simson said.
Seeder keeping silent
The minister finds Pärnu County's plan expensive as well. "The Pärnu center wanted to create concessions on county and city lines. Unfortunately, there is no money with which to finance cheaper tickets on local government lines."
Simson said that Pärnu County local governments can transfer the cost of free rides for students to the city as things stand. "They would simply need to opt for free rides on county lines that would in turn free up local government resources," she recommended.
One of the opponents of mandatory free public transport, IRL chairman Helir-Valdor Seeder said that it is too soon to say whether Simson's regulation is acceptable. "I dare not say through the press that we now have a good solution and the minister has changed her mind," Seeder said.
He said that while the regulation might not have laid down mandatory free county coaches, it is not impossible the road administration will do so using subsidies.
"If subsidies will be made available on these conditions, I believe that common sense and pressure from local people will force public transit centers to switch to free county coaches," Seeder reasoned.
The chairman said that now it is necessary to wait and see what kind of proposals public transport centers will make and how the road administration will react. "We will be able to make our moves as politicians based on that."