Civil war: effects of losing 70 pharmacies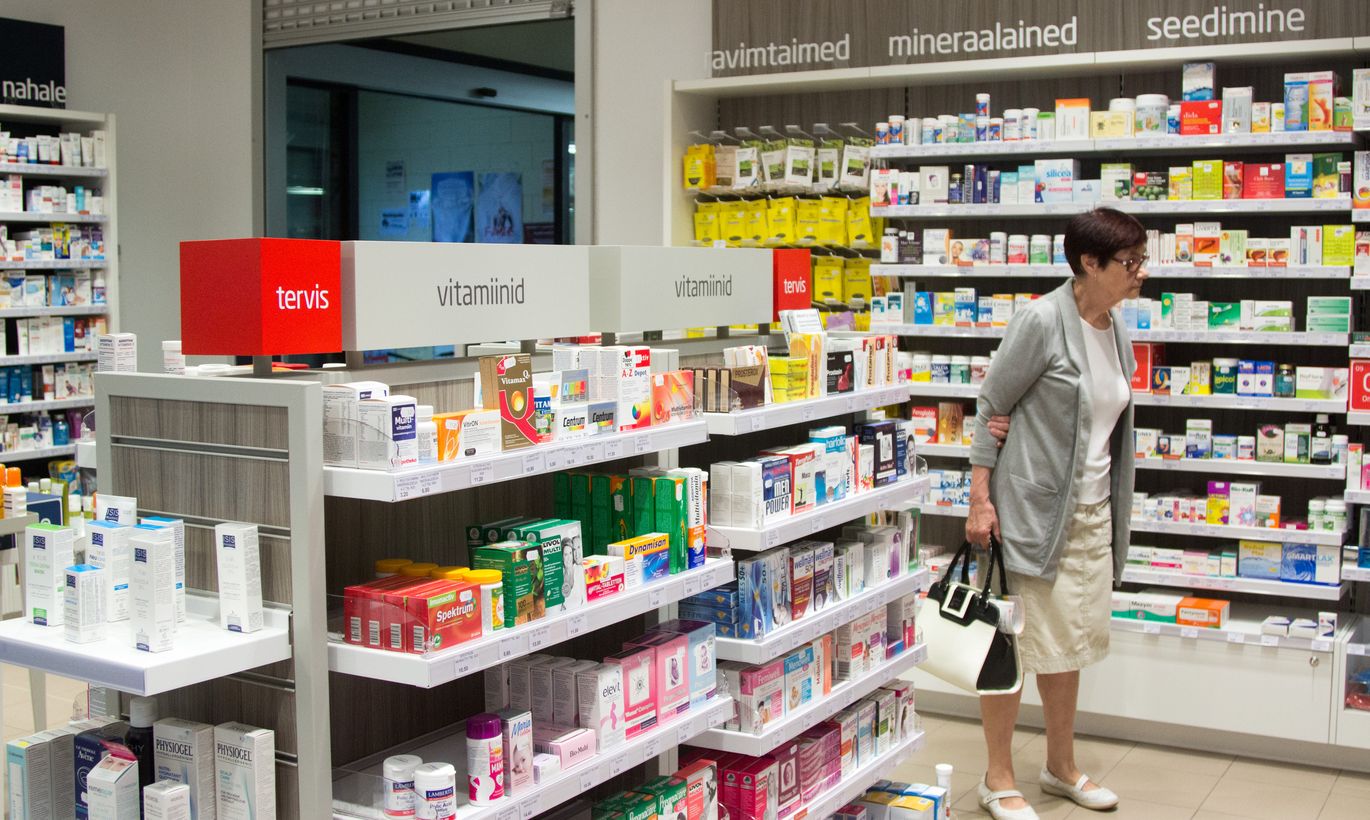 That up to 70 pharmacies will be closed all over Estonia inside the next two years is seen by one side as a long-awaited quality boost for the Estonian drugstore market and by the other as a blow to availability of medicines and a shameless steamrolling of market participants by the state.
The Estonian Pharmacies Association (EAÜ) that represents chain pharmacies is fighting the pharmacies reform, scheduled to be finished by summer of 2020, tooth and nail. The association finds that the reform will hit availability of medicinal products and leave current market participants over the barrel by forcing them to sell pharmacies for less than the market price. The Estonian Pharmacists' Union (EAL) that represents pharmacies owned by chemists is, on the other hand, wholly in favor of the reform – the union finds it is high time to make changes and that rules could be even harsher. Estonia has too many pharmacies and the sector is suffering from acute labor shortage.
Both sides are waiting for a decision from the government of whether to give pharmacies a longer grace period and postpone the entry into force of the reform from 2019 to 2020. The pharmacists' union is not opposed to the plan, while major chains hope they can challenge the necessity of the reform in that time. The EAÜ does not like the fact it has not received from the government an analysis of effects and risks, and that instead the state is concentrating on executing the reform.
What will change in the coming years?
The aim of the five-year reform plan is to boost the quality of Estonian pharmacies: to abolish branch pharmacies in settlements of at least 4,000 residents (by June 2019) that are currently operating next to general pharmacies run by chemists of which there are approximately 350 in Estonia. Branch pharmacies do not have to have a dispensing chemist present, they do not mix medicines, and can operate on smaller premises.
There are around 70 such smaller pharmacies in bigger cities. The state finds that maintaining such pharmacies is not sound, the quality of pharmacies could be more level and better. Branch pharmacies in smaller settlements would be allowed to remain. The latter number around 80.
The second part of the reform concerns owners of pharmacies: by April of 2020, chemists must have a holding of over 50 percent in pharmacies, whereas the remaining holding cannot belong to current chains. The measure is known as the vertical integration restriction the aim of which is to enable competition on the medicines wholesale market as wholesalers will have to start competing for orders from independent retailers.
The situation today is that branch pharmacies owned by major chains cannot simply be turned into general pharmacies – by hiring chemists and finding suitable premises – as all new pharmacies must already be owned by chemists and therefore independent from chains. Owners of existing ones have a little under two years to transfer their pharmacies to chemists.
The EAÜ is against the ownership restriction. Member of the board Timo Danilov said ownership restrictions will not achieve the state's goals, and that the association is unclear about the state's intentions with the reform in general. He pointed to a study, according to which 97 percent of people are satisfied with pharmacy services in Estonia. Therefore, it remains unclear what quality the state wants to boost. Additionally, the deadline is just two years away. This is too short a time in which to successfully execute the reform.
Because the Riigikogu set about amending the Medicinal Products Act already back in 2014, Minister of Healthcare and Labor Jevgeni Ossinovski (SDE) has been of the mind that pharmacies have been given a sufficient grace period for current or aspiring owners of drugstores to become chemists. The state has also procured additional study places for that end.
Chemists short on hands
The pharmacists' union, representing chemists as owners, disagrees. Chairman of the board, head of the Põltsamaa Uus Apteek, Ülle Rebane, said that it would be even better if 100 percent of pharmacies belonged to chemists. It would effectively solve the problem of who is allowed to own the other 49 percent.
"That way, all manner of scheming would be ruled out. That is the way it is in Finland and Germany for example – pharmacies are owned by chemists in full. It is commonplace for pharmacies to be subject to both ownership and geographical restrictions in Europe," Rebane said.
"There are a lot of pharmacies in cities. Sometimes, a single shopping mall can have several. Most of them are branch pharmacies, and closing a part of them will only benefit the pharmacy network," she added.
Rebane said that pharmacies are suffering from serious labor shortage: virtually anyone is hired, there is no choice. Labor turnover is great in Tallinn and Tartu.
"There are a lot of pharmacies that only have a single pharmacist and a single sales assistant, and that is obviously not enough. These two people cannot develop the pharmacy service in the area. There should be a dispensing chemist. Having fewer pharmacies would surely boost their quality. Stronger establishments will prevail," she said.
Rebane added that today a branch pharmacy often moves next to an existing chemist's pharmacy. This will make it impossible for the latter to maintain a wide enough selection of medicines.
"Pharmacies will not be able to maintain stockpiles like that. Too much money gets locked up in stockpiles, sell by dates come and go, and turnover remains modest. Branch pharmacies also do not mix medicines, despite there being demand. Having a pharmacy on every street corners makes it no more than a shop," she added.
Chains over the barrel
Timo Danilov from the EAÜ finds that number of pharmacies is not the only indicator with which to measure labor shortage. He said that a lot of chemists and pharmacists are about to retire, and that prospective buyers for pharmacies number very few.
"The dispensing chemist will have to own 51 percent of the pharmacy after which there remains the question of who owns the remaining 49 percent. It cannot be current owners. They have a choice between closing the pharmacy or selling it for peanuts. It is a choice between bad and worse," Danilov said.
The representative added that while the law allows a single chemist to own up to four pharmacies, it would be unreasonable to presume that is how many they will buy straight away. "Looking at all of these aspects, interest to buy is modest. It remains unclear how prospective owners will be funded. Potential buyers are largely older people which might affect whether they qualify for loans," he said.
The EAÜ finds the outlook for East Viru County to be especially gloomy. "We cannot say where chemists might be more interested in opening pharmacies, but we know that more than half of all pharmacies in Kohtla-Järve and Narva are branch pharmacies that could be closed," Danilov said.
Director of the State Agency of Medicines Kristin Raudsepp said that the nearest general pharmacies are within two kilometers (usually one kilometer) of branch pharmacies also in East Viru County cities. The furthest general pharmacy from a branch pharmacy in Narva is just 650 meters away. "The only place where the situation will change is the Oru district where the distance between the general pharmacy and an existing branch pharmacy is more than 10 kilometers," she said.
Raudsepp added that in several cases holders of licenses have already opened general pharmacies instead of branches or are in the process of doing so.
Rebane does not perceive a problem in finding new owners for rogue pharmacies: there are supposedly more than enough chemists with interest to buy.
"We have carried out studies and they've all suggested there is interest. We don't need so many. All new entrepreneurs must take loans. Where there's a will there's a way. The bank has offered to meet with our professional association itself. Closing most branch pharmacies is not a loss. Quality will improve and there is no need to fear pharmacy services will become less available," she said.
The head of the pharmacists' union explained that Estonia has 2,600-2,700 residents for every pharmacy, while the European average is around 4,500-6,500 residents per drugstore. The latter balance allows pharmacies to develop various services, like local vaccination or drug use analyses.
"There is a visible demand for chemists who would be willing to take over existing pharmacies. Naturally, it is much cheaper to open your own drugstore," Rebane said.
Danilov criticized the state over the fact market participants do not know how the reform should be executed and how groups will be compensated for damages resulting from having to close pharmacies or transfer them for less than the market price. That is why the association has calculated potential damages and is prepared to invoice the state. The EAÜ puts the value of pharmacies that will likely have to be closed at €53.6 million.