Toomas Asser elected rector of University of Tartu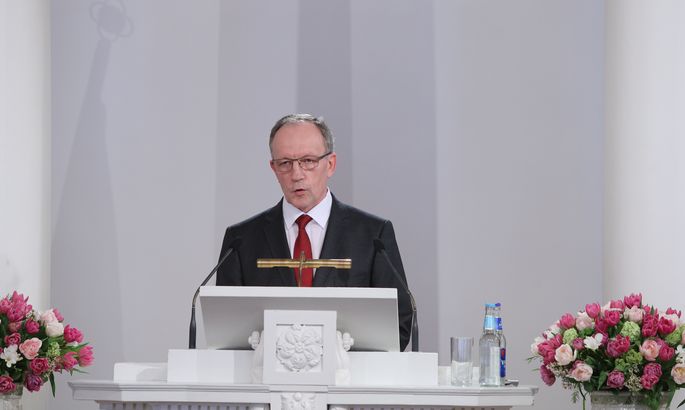 The 263-member electoral council of the University of Tartu on Thursday elected Toomas Asser, professor of neurosurgery, as the university's rector for the next five years.
The electoral council consisted of members of the council, the senate, faculty councils and the student council, as well as professors and lead research fellows whose workload at the university is at least 20 hours per week. Altogether 218 ballots were distributed to the electoral council members at the election meeting held at the assembly hall of the university on Thursday. All ballots were in the ballot box. Altogether 120 members cast their vote in favor of Asser, while his opponent, professor of practical philosophy Margit Sutrop received 95 votes. There were three unmarked ballots and no spoiled ballots.
The rules and regulations of the rector election of the University of   Tartu  stipulates that if neither candidate receives the necessary number of votes in the first round, a new voting round will be organized with the candidate who received the most votes participating. Therefore, Toomas Asser proceeded to the second voting round.
Altogether 214 ballots were distributed to the electoral council members in the second round, while 212 ballots were dropped into the ballot box. The prerequisite for being elected was that over half of the composition of the electoral council, that is 132 members, vote in favor of the candidate. Altogether 187 electoral council members voted in favor of Asser in the second round.
In a speech made before the beginning of the election meeting, Asser said that he is prepared to dedicate the next five years to serving the University of Tartu. "I have given a medical oath for life in this very university assembly hall, which I have now been irrefutably following for nearly 40 years. I am also prepared to give a rector's oath to be the rector for all of you," Asser said.
Toomas Asser was born on July 14, 1954 and graduated from the University of Tartu's Faculty of Medicine in 1979. He defended his doctoral thesis at the Moscow Neurosurgical Institute in 1987 and since 1995 has worked as a professor of neurosurgery at the University of Tartu. Since 1996, Asser has also been the head of the Neurology Clinic of the Institute of Clinical Medicine. He was elected member of the Estonian Academy of Sciences in 2011.
The elected rector is to assume office on August 1.