Pressure on state to let in more foreign labor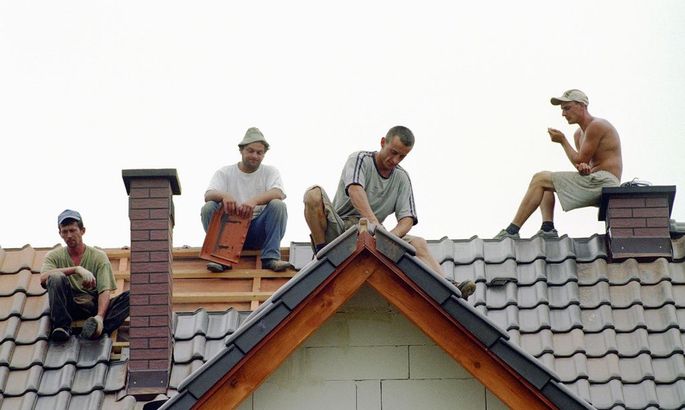 Enterprise organizations are putting increased pressure on the state to alleviate immigration quotas and make support available for the hiring of foreign labor in fields where labor shortage is most acute.
Today, only the IT sector and the startup landscape are exempt from the quota. The Ministry of Economic Affairs and Communications (MKM) has a €2,000 recruitment bonus for companies that bring in an IT specialist for at least a year since last week.
Estonia is already short some 7,000 IT specialists, and that number is forecast to grow to at least 8,600 by 2025. Shortages for industrial executives, wholesale and retail specialists, construction sector managers, industry foremen, truck drivers, and nurses are just as serious.
Labor shortage is growing by 110-210 people a year in all these fields. The Estonian labor market would need approximately 29,000 workers in the next decade, while statistics shows the number of school graduates is falling steadily.
Those are the circumstances under which the Estonian Chamber of Commerce and Industry recently made a proposal to MKM to support hiring of foreign labor outside the field of IT.
"We could help different sectors to ensure level competitive ability across the board," the chamber's letter reads.
Head of the chamber's policymaking and legal department Marko Udras explained that the motivation behind the letter is the fact that entrepreneurs need hundreds, if not thousands of workers also in fields other than ICT.
"If the state has decided to support employers to liven up recruitment of foreign labor, the chamber finds that it should not be limited to IT specialists, and that all employers who want to hire foreigners should qualify for the instrument," Udras said.
He added that many entrepreneurs would trade recruitment benefits for free hands in hiring foreign workers who would be eligible for residence permits.
"The annual immigration quota is almost full by today, and it is no longer possible to hire foreigners who have a residence permit this year. Therefore, businesses would prefer it if the state revised the immigration regulation and would allow more people to work in Estonia based on residence permits," he said.
Udras went on to say that the chamber has repeatedly suggested exempting all foreigners working for a trustworthy employer from the quota.
People who spend less than two years working in Estonia could also be exempt. The government has disregarded the proposals.
MKM representative Emilie Toomela explained that the ministry already plans to support hiring of other specialists from abroad.
"Bringing in foreign IT specialists is a pilot project. MKM plans to put the experience to use in working out other specialty support schemes," she assured.
Toomela said that IT was chosen as the test group mainly because addressing issues in the digital world would help solve many general economic problems. For example, by helping industrial companies digitize production and make better use of data-based approach in product and service development, and making use of other digital possibilities to boost Estonian companies' value added.
Labor shortage a major obstacle for growth
The chamber's proposal of opening the foreign labor taps is not the only one of its kind.
"The commerce and industrial chamber's proposals and observations are spot on. Only exempting the IT sector from the quota will not be able to solve major problems awaiting the Estonian economy in the coming decades," said Executive Manager of the Estonian Traders Association Nele Peil.
Commerce is the second largest employer in Estonia – every seventh salaried worker works in commerce. Data from Statistics Estonia suggests there are more than 12,000 executives in commerce. Some 4,000 in wholesale and 8,400 in retail. They include top executives, purchasing officers, commerce officers, store managers and other department head-level managers. There are some 24,000 cashiers.
The Estonian Employers Confederation has also pointed to labor shortage as an obstacle for growth on several occasions. The number of private sector workers, also known as taxpayers, is forecast to fall by 5,000 people annually until 2040. This will hit labor intensive fields, like commerce, the hardest.
"The IT sector plays a supportive role and requires relatively few people but receives a lot of attention and state support because of its popularity. The true major employers and locomotives of growth are industry and commerce. Estonia's four largest employers are COOP, Maxima, Rimi, and Selver," said Nele Peil.
"If we want to boost our prosperity and remain competitive, bringing in more foreign labor is inevitable."
She said that Estonia has a choice of whether to remain closed and stay on the recent level or to open up and become wealthier and more innovative – it is impossible to do both.
Broad-based support would water down the broth
However, there are also opinions to the contrary. Chief Economist for Luminor Estonia Tõnu Palm finds that the focus should only be on high-paying specialists and managers who bring necessary know-how for export development.
"Broad-based support would water down the broth," Palm said.
The economist said that a good migration balance requires Estonian wages to grow and move closer to the Eurozone average. That is why it would be sensible to prefer fields that pay higher than average salaries and contribute export revenue.
"Limited resources should be invested with a very clear focus on the said criteria. It is entirely sensible to prefer developing the ICT sector with a clear focus. ICT also contributes to other sectors' success stories by helping boost value added," Palm finds.
According to Palm, it is pressure on salaries that helps bring about positive structural change. "Only boosting income managed to turn around Ireland's out of control emigration and stabilize migration balance back in the day. Growth of productivity is key, which is why we first and foremost need highly qualified specialists for the exporting sector. Strong employment alone does not contribute to more level income," he added.
Estonia's immigration quota that regulates labor and enterprise migration from third countries stands at 1,315 people a year and will soon be full for 2018.