Baltics can rely on U.S. help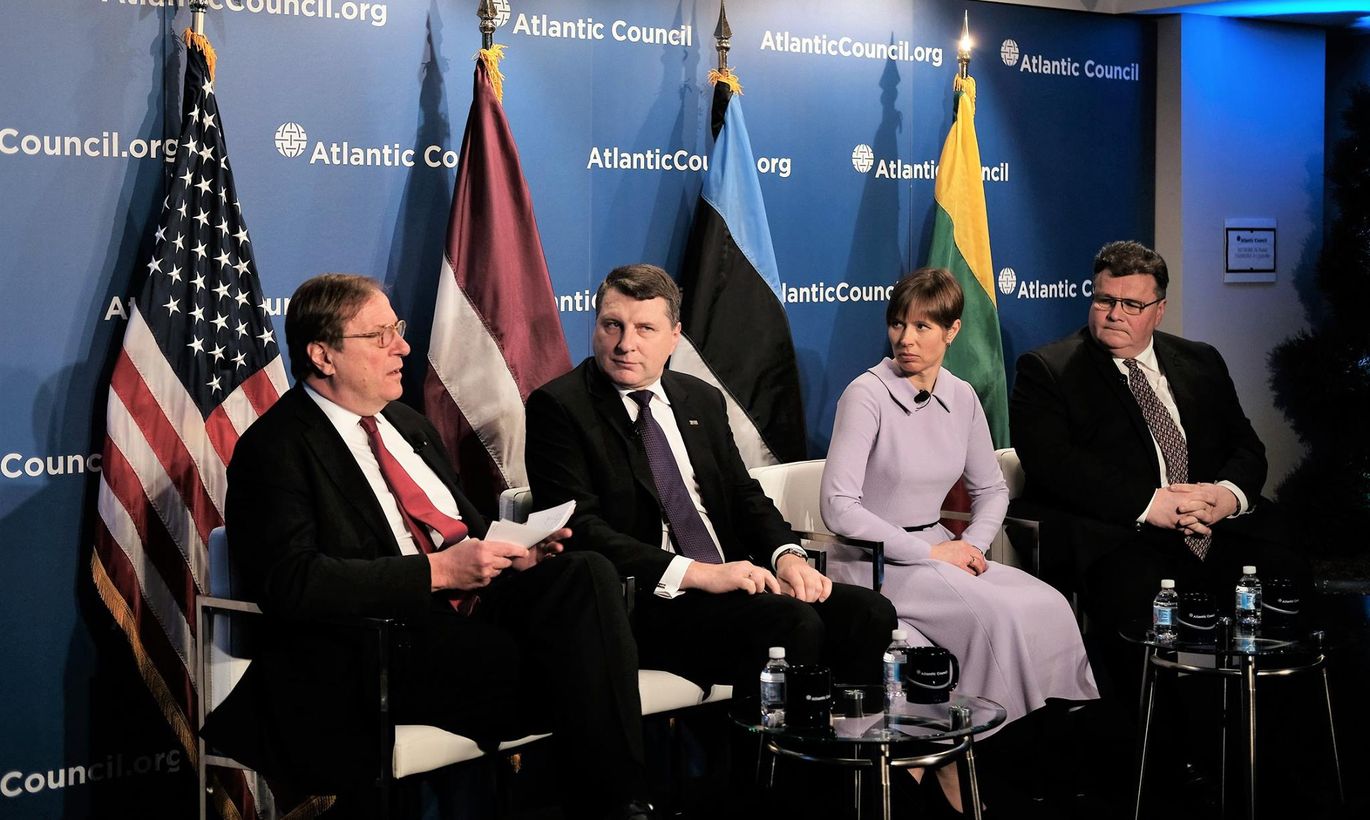 President Trump does not see red warning lights when looking at the Baltics that lie on NATO's eastern flank, right next to the Russian border, President Kersti Kaljulaid, who met with Trump together with her Latvian and Lithuanian colleagues the day before yesterday, told Postimees.
Kaljulaid expressed her satisfaction over the meeting with Trump when she said, both in the White House and in following interviews, how important Estonia's contribution to its security is, which is something Trump praised her for in his characteristically exuberant style. The Baltic countries serve as examples for states expected to meet the 2 percent of GDP requirement, Trump stressed on numerous occasions.
"It is actually somewhat regrettable we are lumped together with Latvia and Lithuania when it comes to 2 percent defense spending," said Commander of the Defense Forces Gen. Riho Terras who is also visiting Washington. "We have been honoring the commitment since 2011, while Latvia and Lithuania only caught up later," Terras explained. He added that our defensive will also motivates the USA to support us.
Terras said that he has met with heads of all branches of U.S. armed forces and all have confirmed their units are standing by in case help is needed urgently.
The joint declaration signed during the presidential meeting includes a forcefully phrased sentence, according to which both the USA and the Baltic countries declare their ironclad dedication to the principle of "one for all and all for one" stipulated in NATO Article Five.
New military aid
U.S. military newspaper Stars and Stripes wrote that NATO and US-Baltic summits have discussed the proper allied presence in the three countries ever since Russia intervened in Ukraine in 2014.
Some analysts are convinced that U.S. presence is currently too modest and that more troops should be stationed in the region to stop the enemy from simply overrunning the allies in the Baltics in case of a potential attack. Stars and Stripes reports other analysts as saying that boosting presence is pointless considering Russia's immense geographical advantage in the region.
An analysis by the Carnegie think tank from late March proposes the USA station an additional battalion in the Baltics (the current allied battalion battle group is 1,200 strong – ed.) to be divided up between the three countries. At the same time, Carnegie warns that stationing anything over a battalion in the region would constitute excessive provocation of Russia.
Even thugh nothing specific was decided in terms of number of troops and weapons at the Washington summit, the White House pledged a total of 170 million dollars (€138 million) in military aid to the three countries. Stars and Stripes wrote that it was still unclear whether such a present would be made to Baltic presidents on the morning of the meeting.
Weaponry was discussed in the White House following Lithuania's initiative. Vilnius wants the USA to station Patriot missiles in the Baltics either permanently or at least for the duration of joint exercises, Foreign Minister Linas Linkevicius said during the Baltic leaders' discussion at the Atlantic Council think tank after the White House meeting. (President of Lithuania Dalia Grybauskaite sent Linkevicious in her stead for unknown reasons – N. R.)
Defense as an ongoing process
The think tank event saw more plain-spoken discussion of potential threats looming over the Baltics than the preceding summit, several attending diplomats said. While President Trump took an interest in a wide range of topics, from national defense to Estonia's tax system, the conversation maintained a brisk pace. Trump asked the questions and decisively moved onto the next topic whenever answers took too long.
One diplomatic source said Trump reads his morning security briefs, or rather short summaries of the latter, in much the same way as he is not fond of long texts. However, the president did get an overview of Baltic affair, the source added.
The Estonian president was also more candid during the Atlantic Council event, compared to her meeting in the White House and when giving interviews later. Asked what security-related concerns keep her up at night, she said they include the question of whether allied help could be flown in quickly enough in case of a crisis.
There will always be gaps when it comes to the defense of small countries, Gen Terras also said, confirming that counter-air defense was also discussed in the White House.
President Kaljulaid said the delegation did not travel to Washington for concrete promises of aid. Allied relations need to be seen as an ongoing process, not a one-off attempt, and the security conversation between Estonia and the USA is constant, she said.
The keynote speaker of the Atlantic Council event "USA-Baltic 100" was President Trump's National Security Adviser Lt. Gen. H. R. McMaster who will be forced to quit this weekend. Trump notified the lieutenant general that his services will no longer be needed via Twitter. Trump has named somewhat more militant John Bolton as McMaster's successor.
McMaster said, in what was his last public appearance as national security adviser, that the Russia threat was the underlying current of the USA-Baltic summit, no matter how fervent later attempts to refute that.
He talked about the threat more openly than his commander in chief had in the White House earlier in the day. Trump held to his recent line of not criticizing Russian President Vladimir Putin in any way.
Trump's example of how tough he is on Russia came off boastful and humorous in this light. "We expelled 60 Russian diplomats [after the attempted poisoning of double agent Sergei Skripal in the UK] when France and Germany only evicted four!" Trump said, hinting at Russian spies masquerading as diplomats.
As a pragmatic businessman who sees his extraordinary skill at negotiation as one of his greatest strengths, Trump said that he might develop a very good relationship with Putin, while he also might not. "You'll see soon enough!" Trump said.
Lt. Gen. McMaster said in his speech, summing up his 34-year public service career, that the West has failed in holding Russia accountable for its aggressive actions.
In the name of the next 100 years
"Russian aggression bolsters our decisiveness and confidence. We can all help Mr. Putin understand the serious mistake he has made," McMaster added, listing a number of steps proving Russia's aggressive stance.
He gave the example of hybrid warfare tricks being employed in the vicinity of Russia, skillful social media integration, spread of propaganda and weaponization of information, espionage, and cyberattacks.
"Russia employs complicated strategies to reach its goals without going as far as to provoke a direct military response," McMaster said. He believes a lot of Western countries have tried to turn a blind eye to Russia's conduct for too long which has made the Kremlin increasingly bold and encouraged it to stage new operations to undermine allies' determination and mutual trust. It has to end, McMaster said.
After McMaster's speech, I asked Minister of Defense Jüri Luik what we could call the era we are currently living in. The Cold War, a largely ideological confrontation between the USA and (Soviet) Russia is over, while there is talk of a new one.
Luik said that a new confrontation is clearly visible, with the threat of terrorism as a new element in the global security situation. The minister said that while the situation has not been given a name yet, one might be found in historical treatments of the era.
As former ambassador to Moscow, Luik said that the new confrontation between USA and the West in general and Russia is once more ideological. Putin represents and spreads a clear ideology centered around a strong leader and state, but also the Orthodox faith and private property. The Russian president has said as much.
"It is clear that Francis Fukuyama's idea from the 1990s, according to which the rivalry between systems of government is over, and liberal democracy – represented by the USA – has defeated totalitarianism which effectively signals the end of history, was wrong," Luik said.
Fukuyama has admitted that a correction is in order as his 1992 idea of the end of history has not materialized. Talking about American political philosophy, Samuel Huntington's at times ridiculed claim that we in Estonia are located on the border of clashing civilizations has been largely vindicated.
The Washington summit largely took place in service of protecting that border. Or like President Trump put it: so that Estonia, Latvia, and Lithuania could start the next 100 years.