Foul play at squirrel's nest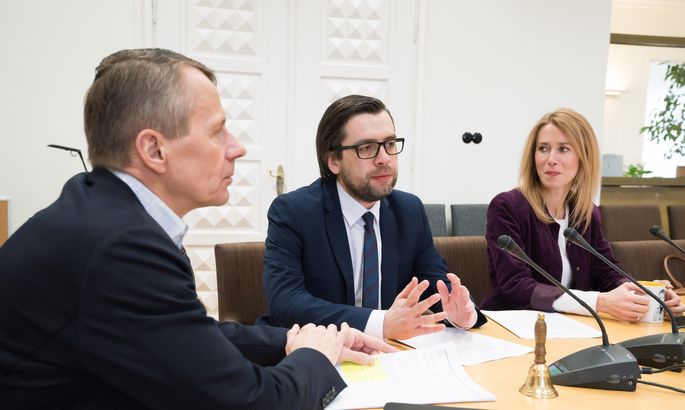 Efforts to keep current chairman Hanno Pevkur out can be seen a month before chairman and board elections at the Reform Party.
Political power struggle is always ugly, especially its in-house variety. Chairman of the Reform Party Hanno Pevkur experienced it all firsthand last week – he was to come off as a lame duck who has ruined everything, from the party's financial situation to management ethics.
Should these attempts bear fruit, it will be complicated if not impossible for Pevkur to be elected deputy chairman a month from now. Pevkur might even have trouble making it to the board at all as every vote is measured in gold.
Pevkur's sworn enemy in the Reform Party, Kristen Michal, knows this full well. Looking at the list of candidates, both Michal's team (for example Keit Pentus-Rosimannus, Laine Randjärv, Yoko Alender), and the so-called innovators (i.e. Maris Lauri, Anne Sulling, Aivar Sõerd) can hope for a third of seats on the 16-member board, with the remaining third going to candidates who can still be swayed.
Candidates number 26, making ten of them superfluous. And while it might seem unlikely today, Pevkur might be among those left outside the door. All that is needed is constant negative media attention. This required certain conditions that were met last week: Reform's outgoing leader's image came under fire.
Even though the press was only made privy to half of the party's gambit, it was enough to produce news of colossal debt, outgoing secretary general Tõnis Kõiv's generous golden parachute, and the so-called datagate – how a member of the party with ties to Pevkur processed other members' data.
All three criticisms were baseless. The party's loan burden has been bigger in the past and depends on election expenses. Secondly, the secretary general's fixed-term contract was from the time of Michal's reign so to speak and served as the basis for a huge bonus also for the party's previous secretary general Reimo Nebokat.
Pevkur changed the obligation last summer, but it did not save him from accusations as we now know. And finally: the so-called datagate turned out to be a technical procedure and nothing more.
That is to say the status quo of Estonia's leading opposition party persists. Pevkur and Michal cannot fit in the same room and are having trouble fitting in the same party. Pevkur's post explaining the circumstances of Kõiv's golden parachute on Facebook only gathered 18 likes in the first eight hours of the day yesterday. Hanno Pevkur has 3,600 Facebook friends.
It is a minor detail that nevertheless suggests the atmosphere that seemed calm after Pevkur announced his resignation has once again become tense in the Reform Party. Remedying this situation will require a magic trick from incoming chairman Kaja Kallas one of the key assistants in which will be future secretary general Kert Valdaru.
The former interior ministry migration officer and current head of the Astangu Vocational Rehabilitation Center is known for his sharp tongue – probably the reason for Valdaru's love of Kurt Vonnegut. However, opinions differ when people are asked about Valdaru's leadership credentials.
Some consider Valdaru to be someone who just wants a fancy office while others see in him a visionary. Some believe he carries a marshal's baton in his knapsack and that taming him will prove devilishly complicated for eminence grise Michal. Others are convinced his inexperience in big-league politics is a weakness Michal is sure to exploit. Michal met with Valdaru on several occasions before the rest of the party learned the new secretary general's name.
Hanno Pevkur's situation is not looking good as Valdaru has criticized him on numerous occasions on a social media account he shares with his friends.
At the same time, the party needs Pevkur as a vote magnet. Cutting the former chairman off completely would look like political repression that might not benefit the party's reputation at elections.
Kaja Kallas therefore finds herself between a rock and hard place. In a situation where she has made a kind of deal with the Michal wing with help from her father Siim Kallas she must find a way to avoid the party splitting again.
Valdaru is the first and instrumental link in that chain. Time will tell whether he will turn out to be a black horse or a high stakes poker bluff.
The Reform Party will elect a new chairman and board on April 14.