I thought I wouldn't be cheated in Ämari!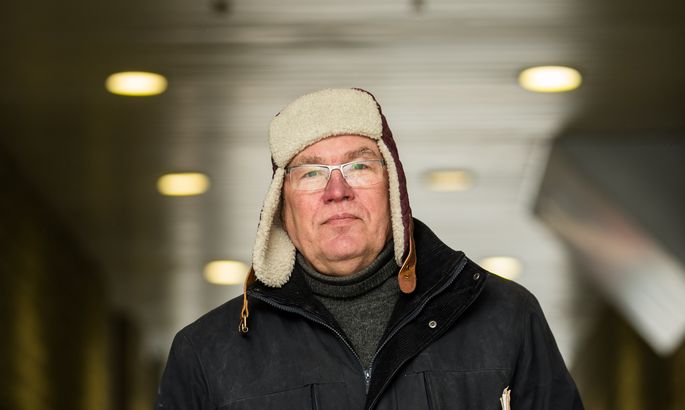 The designs of a new staff building being constructed on the Americans' dime in the Ämari airbase are so secret that they cannot be described in a newspaper. A contractor comes out and says that it doesn't matter to him whether he is constructing an apartment building or a NATO airbase, and that what happened was typical of Estonian construction sites – workers didn't have contracts and are now lamenting missed wages.
Bricklayer of 40 years Heiki Tomson worked on the new staff building from December to February. Without a contract, he admits.
"No one understands, including the tax board, that if you are not willing to accept payment under the table, you will not get paid at all. That is the situation of masons today. I've worked for eight companies, and salary always comes in an envelope. Everyone believes promises, there are no contracts," Tomson said. "You can see for yourself, no one is afraid of anything," he added.
Tomson got a job at Ämari after he phoned main contractor Astlanda Ehitus. He was given the contact information of subcontractor Marico Ehitus OÜ. "I thought to myself that Ämari is an exciting site, and that I wouldn't get swindled there."
The Defense Forces ran a background check on Tomson before he was allowed on the construction site. It was a formality after which work could begin. Without a contract.
Tomson passed the security check every morning virtually as a stranger. When the work was finished, it turned out he was not an employee of Marico Ehitus at all – Tomson was supposedly employed by MI Betoonitööd OÜ that was a subcontractor for Marico Ehitus of which prime contractor Astlanda had no knowledge.
"I gave my name and information to Marico. As far as I know, the company was the contractual partner of all bricklayers," Tomson said. However, it doesn't matter as the construction worker did not have a contract with any of the companies.
Construction and demolition
Things quickly went sour on the site, Tomson claims. "Men show up who simply do not know anything about construction. When I got there, there were two guys who were laying bricks one day and tearing it all down the next."
Tomson wondered why Astlanda didn't simply find a new subcontractor upon finding out the men did not have the required skills. "Everything was crooked, the measurements were all wrong. Two of the handier fellows simply left when they realized what was going on," he described. Tomson added that having to tear down completed work is commonplace on Estonian construction sites. "Masons have poor training, there is a shortage of skilled workers; however, you can't just give a couple of random blokes a trowel and tell them to get on with it."
Work that had to be demolished sent the whole operation into chaos as the men whose sections had to be torn down also wrote down the hours they spent repairing the work as billable. "There was no accounting whatsoever!"
When the main contractor voiced its displeasure, the subcontractor started threatening the men with deductions. "The deal was that payday was on the 15th, and I was due 81 x 13 euros for work done; instead we saw random deductions," Tomson said. He has been paid a few hundred euros for work done and has lost all hope of seeing any more.
"Marico and its men would have been sent packing the next day had this been Finland. However, we are over the barrel as we are short on skilled masons and everyone moves with impunity," Tomson said.
"I cannot comment on matters of contract. More so as an Ämari airbase building is somewhat of a special object; even more reason I cannot comment directly," said foreman at Astlanda Ehitus Rene Sütt. He added that he also cannot comment on the activities of the subcontractor. "How subcontractors treat their workers and pay them is up to them," the foreman said.
Member of the board of Marico Ehitus OÜ Ricardo Bortkevitš told Postimees that the company has several subcontractors in Ämari. "I shouldn't really be divulging this information; that someone just calls me and…" Bortkevitš remained tight-lipped at first.
Told that the staff building was an object of national importance, Bortkevitš said that "for us it is an object just like any other".
"We take them seriously, fulfil our contracts and perform obligations. If someone had a problem with their employer, it shouldn't be my problem. They should be able to work it out," he said.
If at first Bortkevitš couldn't say for sure whether Heiki Tomson worked for Marico, he was convinced that he did not by the end of the phone call. "He has definitely not worked for Marico Ehitus!"
A moment later, Postimees received a call from someone named Jaanus Peet who said that Ämari masons are employed by MI Betoonitööd. He promised that the object would be handed over this week after which Marico Ehitus would pay MI Betoonitööd, so it could pay the men. (This had not happened by yesterday, Tomson told Postimees.)
Peet admitted that no contract has been signed with Tomson. "Let's say it is not signed… The contract is still in the shelter. He was busy, and then I was busy, but a verbal contract is also a contract," he said. The representative added that the men cannot be paid before the handover.
Main contractor in the dark
Member of the board of Astlanda Ehitus Kaupo Kolsar told Postimees that the company has no information to suggest their subcontractor used a subcontractor in turn. Therefore, Astlanda lacks an overview of Marico Ehitus OÜ's subcontractors whom Ricardo Bortkevitš says there are several in Ämari.
"All workers in charge of Marico's work have been registered in that company's name," Kolsar said. "If some of them belong to its subcontractor or are there based on other kinds of service contracts, that is information we do not have," he emphasized. Kolsar added that background checks are mandatory for those on the site.
"Only around 30 percent of workers registered by subcontractors have passed the security check and been given clearance. No illegal persons can access the site," the Astlanda board member said.
If Peet and Bortkevitš admit there have been some quality issues at the site, Kolsar claims blunders have been unimportant. "In addition to regular checks by the subcontractor and main contractor, we have Ämari and American supervision engineers checking the work daily," the businessman described. Kolsar promised quality checks would be stringent.
"All planned methods and materials need to be coordinated with a special NATO department in the United States, and a US engineer will oversee quality and work safety control, in addition to local supervision."
Kolsar explained that the only problem they've had was with "sections that did not meet tolerance requirements". "However, these were nothing we haven't seen before and were immediately remedied by the subcontractor. Having to redo poor quality work constitutes additional expenses, and it is natural that it will be covered by the contractor in charge of the work. Astlanda does not have an overview of whether the expenses have been docked from the pay of workers or whether the company is seeing additional cost," head of the main contractor said.
Heiki Tomson takes the explanations with a grain of salt and says that the pace of work is very different in Estonia and Finland.
"In Finland, you have a helper, a mixer on standby, working conditions are completely different. No one invests in things like that in Estonia if they can just hire a couple of Ukrainians. There is no efficiency. Tools are used in Finland Estonians know nothing about, because here you can get it done cheap and under the table."
"In Finland, construction workers have an identifier, tax certificate, safety exam… The foreman comes every 30 minutes to check whether you know what you're doing – if you don't, you get a pat on the shoulder and are asked not to come in tomorrow."
Tomson said that with things as they are, there is no chance Estonian construction workers will return home from abroad. "Finland's level of mechanization would see salaries go up. Price dumping by Ukrainians coupled with the fact Estonians are paid under the table means that the price of a square meter of masonry has come down from €15 to around €5-8 in Estonia."
Because the Ämari project tender, project management, and funding all come from the Americans, the US embassy wrote in its brief comment that the US Army Corps of Engineers (USACE) has undertaken seven projects in three years to boost NATO and Estonian security, including several construction projects at Ämari.
USACE said via the embassy that contracts are performed based on standards and local laws. However, the embassy also said that all manner of accusations will be taken very seriously.