Lauristin sees fault in poor communication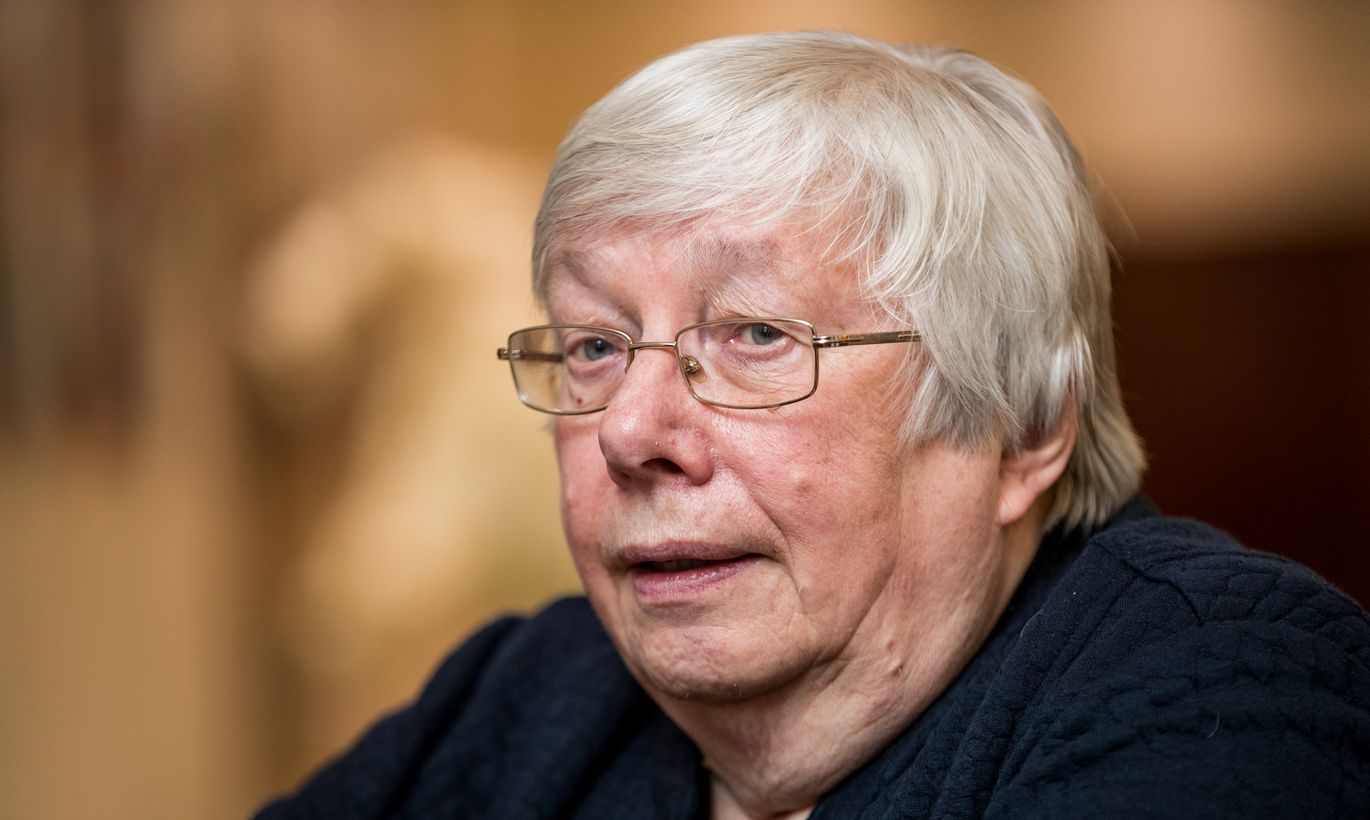 The Social Democrat Party's lowest rating in years – 11 percent – gives members reason to take a long hard look in the mirror prior to Riigikogu elections in 2019. Despite everything, the party has no reason or intention to even discuss changing chairmen, finds founding member, board member, and Tartu city councilor professor Marju Lauristin (77).
The social democrats are largely associated with state alcohol policy today. How have we come to a situation where public alcohol policy seems to be a single party's project?
These attitudes are peculiar and inexplicable: alcohol and healthcare policy are what the social ministry does. Fiscal policy is something else. That has been the case in all governments: the purse strings are held by the finance minister, not his colleague in charge of social affairs. When I was social minister, my finance minister told me: you're after the budget like a worm in an apple. The budget and corresponding agreements where his domain.
Today, the entire problem is that Minister of Healthcare and Labor Jevgeni Ossinovski has done his job: to protect public health. The finance minister (IRL's Toomas Tõniste – ed.) on the other hand has perhaps been weaker in his and been left in the background for some reason.
Where was the real mistake made?
Because it has almost become a proverb today that a government that hikes the price of beer will fall, the entire government should have given alcohol policy more thought. The effects of alcohol in traffic, violence, medicine is not news. Doctors have been saying and promoting that for years. And when a young minister who takes this advice seriously comes and sets about doing something about it, they are clearly not prepared for the kind of flak they're going to take.
Of course, it must be said that Ossinovski did ride a white horse onto a minefield by his lonesome when he started the alcohol war, and that is what has cost him and the party. The government should have had a common strategy in this, and I believe that is where the dog lies buried.
Secondly, the social ministry should have made sure health promoters, who pointed to these problems in the first place, were on the front lines to explain things to people in detail before sending the minister off to war. It would have been possible to see the best options in that case.
It is not the first time we see such practice. That is just the problem of Estonian governance: every ministry is like a lone silo tower, every minister alone in their field. The government is not a team acting as one. Which is something we had – looking back at Estonia's development – in Mart Laar's first and second government. Common responsibility, talking major things through on the government level was standard practice, and the government did not act like a temporary association of competing groups but really was a united team.
Let us talk about ratings. Are you worried for the party?
We all know that we have little chance of being the prime minister's party after the upcoming elections, even if we manage a stellar result. The rating is a problem for the social democrats. We would like our rating and election results to be far better, and we are in the middle of critical self-analysis.
Some say there are members of the party who also do not understand the board's decisions?
Of course there are! And it is a serious problem for in-house communication. I also think that 80 percent of people do not understand the government's decisions. Kaja Kallas talking about how we'll start developing digital economy is another thing 85 percent of people cannot grasp. That is a major problem – how to explain things to the people.
The government's problem is that while it should spend 95 percent of its time explaining decisions and 5 percent making them, what we have is the opposite. This was created during our [Mart Laar's] first government – when we really were in a hurry. Today, we should find enough time to explain and discuss all new decisions.
So why didn't we see a single social democrat trying to explain matters to people who drove to Latvia to protest the government's alcohol policy?
That is a valid question. Our people simply weren't ready. And perhaps they have been somewhat startled by what has happened. To come under public attack – it is not what people are used to, nor is it pleasant. That said, it would hardly be possible to explain the connection between public health and alcohol policy and who is responsible for what in the government in such an atmosphere.
You mentioned Kaja Kallas. Do you see prime ministerial material in her?
I do. I have worked with Kaja in Brussels for three and half years now. She is hardworking, energetic, optimistic. Her problem, that she is very much aware of, is that she has never led anyone. Leading the entire country as your first attempt is something similar to what Mart Laar had to do.
Could replacing the chairman help social democrats overcome their low rating?
I do not believe that replacing a very good chairman with an equally good one would somehow change SDE's policy. Our policy is set in terms of its main values and priorities and will continue as such.
Jevgeni has led the party based on values. We would be hard-pressed to find another chairman which such a clear vision and critical mind. However, small things can become stepping stones for big things, and I'm not sure daily communication that is a problem for our chairman and party can even be called a little thing. I always tell Jevgeni he should not forget to smile when he has a public appearance.
So you recommend the party to meet the elections under Ossinovski?
It is clear: as I see it, the party has no reason or intention to discuss replacing its chairman.
While we're on the subject of the social democrats' values; what happened with the vote of no confidence against Minister of Justice Urmas Reinsalu (IRL)?
This is my personal "fault". We discussed the matter in the board, and I said that if we go along with the vote of no confidence, the government will fall. We cannot afford to meet the most important date of our republic in a government crisis. I said I was personally against it. And the board agreed with me in that we would not like to cause this kind of pain and embarrassment for Estonia's centenary – it will lie heavy on our conscience.
There were those who were equally adamant about expressing no confidence in Reinsalu as it really was improper how he expressed himself. I wholeheartedly agree. What I don't agree with is the battue we're seeing regarding anniversary of the republic celebrations, the NO99 performance that has less to do with its artistic level and more with venting of social frustration.
Which party do the social democrats perceive as their biggest competitor in the 2019 elections?
On the populist front, we have the rise of the Conservative People's Party (EKRE) at the expense of all others, except for the Reform Party that has its own headwind that blows whichever way cash flows: enterprise, economy. The Reform Party has turned itself into a manifestation of that cash machine in a sense. It has long since ceased being the kind of liberal party it was during the days of Siim Kallas.
The thing with EKRE is that all emotionally frustrated people in Estonia have found in them an empathetic channel swimming in which you don't have to take responsibility for anything yet or think about what kind of policy to pursue, but where it suffices to "be opposed". That is always the path of least resistance.
Personally, I would even like to see a government of the Reform Party and EKRE. I would recommend to Kaja Kallas to form a government with Mart Helme.
And the social democrats would join in?
No, we would not in that case. However, it (EKRE and Reform coalition – A. P.) could be very cathartic for the Estonian people.
Who will win the Riigikogu elections, and what kind of marriages could we see?
It seems it will be the Reform Party. In which case they get to choose. It is possible things will change in the coming year. It would be charming for Reform to form a coalition with EKRE. It would really put their liberalism and EKRE's conservatism to the test.
If Kaja Kallas can lead the Reform Party down the path she defended in Brussels – 21st century policy and digital revolution – being the trailblazer in Europe – they will not find it easy in cooperation with either the Center Party or EKRE as neither subscribe to that approach. Talking about a trio capable of taking e-Estonia to the vanguard of Europe, it could be the Reform Party under Kaja Kallas, with Ossinovski's social democrats, and the Free Party. Another possibility is the very practical option of a Reform-Center duo that has also been discussed.
Should the Center Party win, the current coalition will maintain its course for a Nordic welfare state, and IRL will have to choose based on its result. And the Free Party will likely also have a choice. We'll see whether they'll be in or out after the elections. If they are in, they will have to be stronger, and if they'll be out, they'll be out.
What will be the social democrats' elections result?
I'm sure we'll manage our standard result (10-15 seats in the Riigikogu – A. P.).