Ott Tänak: words count for nothing. Driving matters!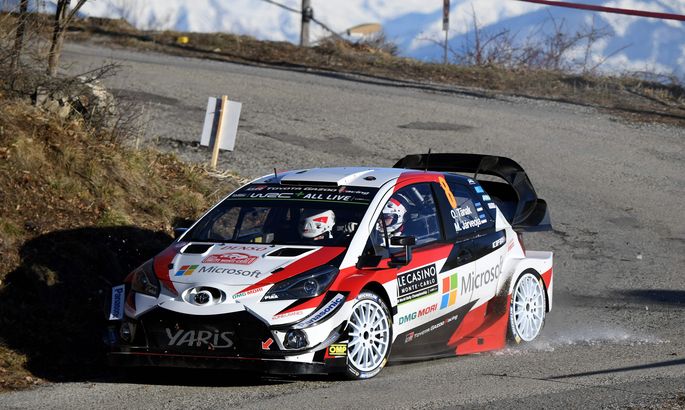 The start of the Monte Carlo Rally today will mark the end of a period of suspense for Estonia's best rally team Ott Tänak and Martin Järveoja. How have the men adjusted at Toyota? Was it the right choice to change teams? How fast is the Yaris?
Tänak-Järveoja managed the third best time at a test stage held near the city of Gap, losing 0.5 seconds to Hyundai lead driver Thierry Neuville. The Estonian pair piloted the fastest Toyota as teammates Jari-Matti Latvala and Esapekka Lappi came in sixth (losing 0.8 seconds to Tänak) and eighth (+ 2.1 seconds) respectively. "The test stage means nothing. However, I felt good in the car, and I'm excited," Tänak said.
Off to a positive start
After a short break, the Estonians took to the stage again twice in the dark, once more managing quick times. "The shakedown was positive. Surprisingly positive. Everything that had to happen did happen. It was a good start; everything was in order – we had no worries. Every kilometer adds to the routine," Järveoja added.
Tänak's co-driver has learned a lot over the past year. Järveoja, who made his WRC debut at the Monte Carlo Rally last year, recalls that he had a much tougher time back then. "If today, we were ready to go by around four thirty in the afternoon, last time we were still assembling the car at that time. Everyone had new cars back then," he recalls. "Some of the roads are already familiar this year. Yes; even though we have a new car this year, too, I can take it a little easier."
Both men realize that one does not become the world champion overnight, and that both the drivers and the car need more time. Tänak said that the new car's setup requires more getting used to. Järveoja added that even the view out of the car is different.
"There are a lot of details that are different. Even the seat is different, the view, switches – everything is different. But it is nothing that bothers me," Järveoja says. "I suppose this rally will be a little different. It will be interesting to see how quickly and successfully we'll get adjusted to the car. The rally will tell where we are," Tänak says.
The Estonians are being thorough. Järveoja was still discussing the car's behavior with engineers when teammates were already eating and Tänak was giving interviews. It does not bother the co-driver; rather it is one part of adjustment. "Some things need to be pushed before they can happen. They will be sorted," he explains without going into detail. Järveoja adds that every day is a new lesson for the Toyota team despite the fact it already has one season behind it. "Everything is working; however, there is always room for improvement as long as one is not the world champion. Details can always be improved."
Neither Tänak nor Järveoja were willing to guess how fast they will be in Monte Carlo. Tänak said that test stages have been for getting to know the car, not racing. "A test is a test. Racing is for when
the rally begins," he said. The driver added that rather he will try to make the car comfortable for himself – its ability will be up to the engineers.
Last season's number three and crowd favorite Tänak will obviously aim for world champion but remains modest. "There is no sense in entertaining high hopes as disappointment might hurt later. Right now, we must be professional and get the show on the road. Words count for nothing here. Driving matters!"
The first day of the rally will start at 10.43 p.m. when the drivers take to the 37-kilometer opening stage. Postimees will cover the rally in its live blog, and each day of the rally will be summed up on Kanal 12.