Vesterbacka kicks off Tallinn-Helsinki tunnel party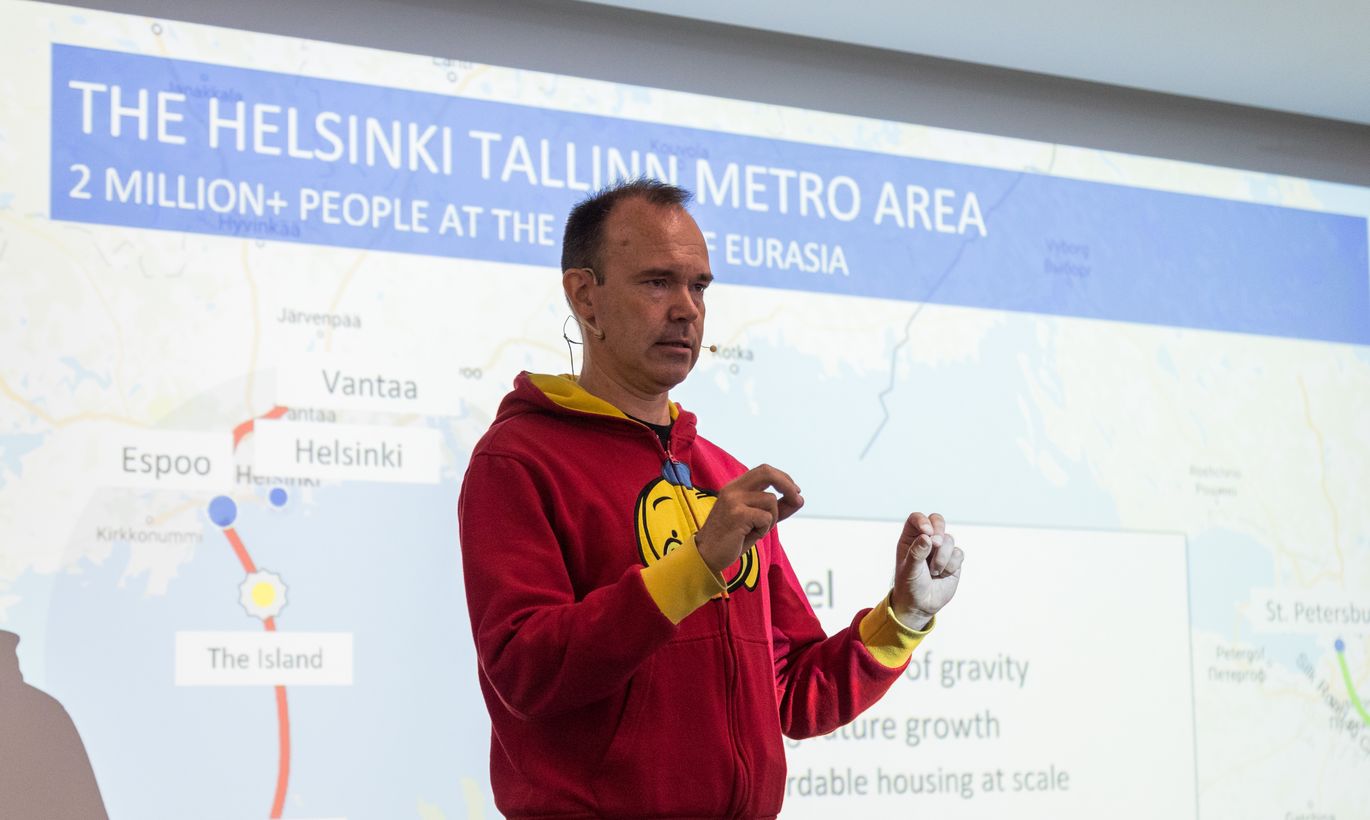 Finnish visionary Peter Vesterbacka hopes that the Tallinn-Helsinki tunnel will make Estonia and Finland the coming decade's pioneers in European transport. Experts commend the Finn for pursuing the tunnel project but say it could be tripped by several unseen obstacles.
Like with every proper party, the main act is preceded by warm-up performances. The same logic was followed at a three-hour presentation of Vesterbacka's tunnel project held at the Öpik House in Ülemiste City yesterday morning. The impressive sales event was packed with roughly 150 guests.
"I'm glad to see so many people here – I wonder why," said director of Mainor Ülemiste Margus Nõlvak with a wry smile. "Today's event concentrates not only on the tunnel project, but three much greater topics. They are innovation, thinking big, and Estonia-Finland cooperation."
The prime minister's digital affairs advisor Marten Kaevats, who spoke next, said that a direct connection between Estonia and Finland was talked about by then president Lennart Meri already in the 1990s. "Several alternatives have come alive in the past year – whether we're talking about a hyperloop project or Vesterbacka's tunnel plan – and it is no longer a purely government project," he said.
Finnish Ambassador Kirsti Narinen added that the number of people traveling between Tallinn and Helsinki is growing. The Port of Helsinki serviced 11.8 million people last year, making it one of the busiest passenger ports in Europe.
"Every contact with mainland Europe is a priority for Finland," Narinen said.
After a half-hour warmup session, it was time for Peter Vesterbacka to address the crowd. The Finn started by recalling how the idea began. When the tunnel plan came up again during the Latitude 59 event of 2016, he just said let's do it. "We started working on it, and here we are."
The tunnel is not a thing in itself for Vesterbacka, but rather a tool with which to redefine the Tallinn-Helsinki area, create a single metropolitan area based on two cities. He has previously said that the 100-kilometer tunnel will be completed by December 24, 2024 – in seven years' time.
He believes it would be possible to build it in five. Vesterbacka said that he is troubled by the fact it took 20 years to construct a far shorter tunnel that passes through the Alps. However, experts from a Finnish geology institute convinced him that five years would be enough time as building under the sea is much easier.
"We can handle the drilling in a year or two, meaning we could start construction from both ends simultaneously. Therefore, from a technical point of view, building the entire tunnel in five years is entirely feasible," Vesterbacka said. The tunnel would be made up of two parallel pipes with a diameter of 17 meters each and a third smaller tunnel between them for security.
Vesterbacka's plan has been criticized due for lack of clarity. Only two things are certain at this time: that the tunnel will be built, and that the €15 billion it requires will be raised with ease. The Finn plans to get 70 percent of his funding from Chinese investors and the remaining 30 percent from Scandinavian and Baltic pension funds. Details remain obscure.
"The project will start moving along much more quickly now, and a lot of details will become clear as the work progresses. As soon as we have them, we will share the information with the public," Vesterbacka promised. It has been said that the visionary does not waste time on cost-effectiveness studies as he is already convinced the tunnel will pay.
Vesterbacka said they are working with the FinEst Link initiative that is financed by the EU. "We are not in a hurry but want to move along quickly," is Vesterbacka's motto.
Just like Finland's national airline Finnair, Vesterbacka believes Helsinki and Finland are not EU periphery but rather its heart, helping mediate traffic between Europe and Asia. Because real estate prices have skyrocketed in Stockholm, he sees great potential for Tallinn and Helsinki.
"We expect explosive growth," Vesterbacka said as the reason why he believes the tunnel will be successful. He says that economic growth of 5-10 percent could become natural in a very short time. Vesterbacka also says the Tallinn-Helsinki area could become the new Silicon Valley.
"We need to create normal living conditions to attract talent," he said.
Concern has been expressed regarding funding from China. Even Vesterbacka's countryman, European Commission Vice President Jyrki Katainen told Postimees a few months back that while the visionary's idea is valuable, funding from third countries should be taken with a grain of salt.
Peter Vesterbacka says that China is one of the few countries in the world that has experience with infrastructure projects of this magnitude. Both Finland and Estonia have good relations with China.
The Finnish luminary is convinced the tunnel project will make Estonia and Finland trailblazers of the European transport sector inside the next decade. "I believe this project gives us the possibility to determine the future of mobility."
When several questions pointed out that Vesterbacka has no idea how long it can take to secure building permits required for a project of this size, the Finn said they are treating the transport project like a startup. "We will solve problems as they arise," he explained.
Vesterbacka added that their analysis has found they need to apply for at least 30-40 permits for the tunnel in Finland alone. He hopes to launch a dialogue with the Estonian environment ministry based on talks with its Finnish counterpart that have lasted nearly a year. The mayor of Helsinki is scheduled to visit Tallinn in the coming weeks.
"I would very much like to hope the project has reason to prove successful, but I'm old enough to be a little skeptical," said Estonian businessman and transport expert Raivo Vare. He said that he sees no problems with the project's technical feasibility or even funding. "All those details can be sorted out."
"However, because it involves so many interest groups, it would result in a great decision-making and practice shift in the public sector, a lot of private interests hidden behind beautiful words of its public counterpart. Breaking through all of that, basically introducing a new model… Damn, I would like to see that done in such a short time," Vare said.
Deputy Chairman of the Estonian Association of Architects Indrek Allmann said he hopes the tunnel will be finished by the promised time and said he is willing to contribute. "In truth, we should measure these kinds of projects in time – the faster we realize them, the cheaper they will be on the one hand, and the sooner we will reap the benefits," he said.
Allmann said that the original task might change if the planning stage is dragged out – as has happened with Rail Baltic, the current trajectory of which no longer reflects the initial goal. "As Estonians, we are against major projects. It does not matter what it is, we will still be against it," he described.
The prime minister's digital adviser Marten Kaevats agrees. "If he can launch the digging sooner than national planning agencies imagine possible, it alone would be a significant victory," he said.
Kaevats added that Vesterbacka's tunnel initiative has let air into what was a stuffy room. He said that for the past 25 years the tunnel has been talked about in a single key – that Estonian and Finnish governments or the EU do not have to invest in it as it is sufficiently lucrative for the private sector.