System leaves people to own devices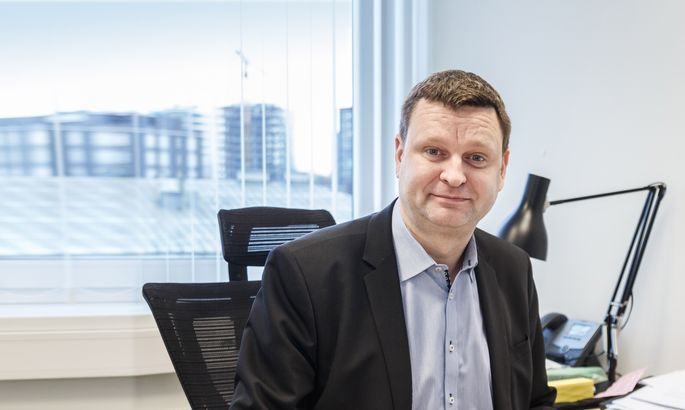 Rain Laane (46), who has been in charge of the Estonian Health Insurance Fund for 100 days now, says that the health insurance financing model is too rigid, and people caught in the system's gears often don't have the time to wait for lifesaving change.
Late last year, you managed to establish yourself as a strong leader and force Minister of Healthcare and Labor Jevgeni Ossinovski to heed your opinion. On the other hand, you gave in to dentists and changed the dentures benefits procedure. How come?
We learned a lot from the adult dental care benefit. Dental care prices that were laid down in July last were clearly not in accordance with actual costs. We listened to dentists and adjusted the prices once we realized they were suppressed.
I'm sure several politicians would like to get pointers from you on how to convince Ossinovski to back down.
The first thing is to listen. If both sides can point out concrete arguments, pros and cons, then we can listen to one another, speak calmly, refrain from getting emotional. Doing the math together also helps. Numbers always help.
We all have our responsibilities, and it is always possible to clearly define those of the health insurance fund and those of the policymaker. Because the fund has a budget to observe, we proceeded based on what we could afford.
A business desk colleague of mine cannot help but wonder how the financial results of major hospitals easily rival those of very successful companies. How is that possible?
People can still imagine what you can buy for €100,000, while €3 million seems astronomical.
The fund's loss came to €30 million in 2016 after which a respected journalist suggested it is clear the director has not done his job well. I would propose doing the math. How big is the mistake we are talking about in a situation where the organization's turnover is €1.2 billion and loss €30 million?
How to explain to John Smith that the fund is €30 million in the red, while a leading hospital turns a profit of €8 million? Where is that money coming from?
That question should be put to the head of that hospital directly. Because I've had contact with the construction sector, I was able to understand why windows had been replaced on one side of the building, but not the other when I visited Viljandi Hospital recently. Because no ventilation ducts have been designed for one side of the building. I'm very glad they did it as otherwise the hospital would have been overtaken by mildew.
What has been the greatest surprise during your first 100 days?
Healthcare is a matter of choices, and we have drawn ourselves a rigid framework to which we are holding for dear life. However, real life has moved on since then.
What I do not wish to settle for is the pace at which change happens. It is difficult for me to understand why, when we get a problem, we aspire to solve it a year from next. Coming from the private sector, I know it can be done faster.
The law prescribes the rules today; however, abandoning recent procedure could lead to a situation where the rules change along with the government.
I have seen people caught in the gears of the healthcare and social system in the past month. It is difficult for me to watch us spend thousands on a medical problem only so the system could starve the person to death after they are discharged.
I'm talking about a man on a stoma diet whose treatment cost tens of thousands of euros, but who was only paid €300 a month in social support in a situation where the only formula he can eat costs €500. He tried to ration two months' supply over three months but collapsed and was brought to the emergency room.
Having to amend the law to address this situation means it will take a very long time to address. It should be possible for the health insurance fund or the social board to make exceptions in cases like these. We have seen people die waiting for the system to overcome internal conflicts.
It creates a situation where patients who are better represented in the media, people suffering from cancer for example, get more exceptions than schizophrenics who do not dare appeal to the public, even though they also require modern medicines.
That risk exists. People who make decisions are responsible for those decisions, and they must always be able to explain why they made them. Laws and regulations help us, but it's the person who makes the decision in the end.
An acquaintance of mine who works in a major hospital says that some rooms are empty because there is no health insurance fund contract. Small hospitals don't have enough patients and are even forced to bring in doctors from Tartu. Aren't we spreading our already scant treatment money too thin?
When one lives in the city, one naturally thinks everything should be handled by major hospitals. I've visited 19 hospitals, and the picture is quite different there. Here we have the question which is cheaper for the state – dispatching a doctor from a major hospital to the county hospital for a day, or transporting 12 patients from a county hospital to a major hospital. Networked hospitals have managed quite successfully so far, with both options employed at different times.
A businessman I know was recently baffled when accompanying his wife to the hospital: when he buys a multimillion-euro piece of equipment for his company, he makes sure it is working three shifts, while hugely expensive equipment is only used for a few hours and spends the rest of the day idle in major hospitals.
CT machines do not operate in three shifts, but they are also used on the weekends. Which is to say the situation is not that bad. However, if you live on an island that is cut off from the mainland for dozens of days a year, you cannot split hairs as we're talking about saving lives. However, it is a valid point if two hospitals are 25 kilometers apart; there are ways of streamlining these processes, especially if the hospitals have the same owner.
When will the fund require all doctors to use computers and the e-health system?
I think we have six family physicians who do not have an email address. I've been told it is a problem time will fix. We had two good family doctors in one of our county centers, while we had a hard time finding a third. Finally, they offered a Finnish doctor's pay, which led to the two existing physicians wishing to drop their practices to run for that position.
I suppose it is the brilliant work done by the cancer treatment fund "The Gift of Life" that has led several of my acquaintances to feel that the health insurance fund will not pay for rare drugs.
People remember individual cases from the media; for example, the story of little Annabel, or the requests of Agu Uudelepp, because the aim there is to find a common enemy. That enemy is usually the health insurance fund. You do not write about people who have been administered expensive drugs in the hospital. I don't know whether you cannot find those people, or you just don't want to write about them because it doesn't produce clicks. I would suggest that in cases where people are willing to talk about their illness, journalists turn to the eesti.ee portal to check how much money has been spent on treating them.
In most cases, doctors have prescribed new drugs. In Annabel's case, the drug came on the market in 2017, and even if we do everything quickly, achieve a sensible price agreement – whereas we do it confidentially as a public contract would see us pay the same as Germany – the drug will make the list in 2019. No one writes about it then, or it is said that it happened only because of media pressure. We are wronged in this matter.
Head of "The Gift of Life" foundation Toivo Tänavsuu has proposed the health insurance fund could take over financing in cases where experimental drugs work. I watched an end of the year interview with him on ETV, and I gather you have not found the time to meet?
Another puzzle piece being ripped out of context. It is true that we have not found the time to meet – Ossinovski, Tänavsuu, and yours truly. We are working on finding that time. I think we talk once a week on different topics; however, it is not always about cancer treatment. We are looking for a solution; however, were it as simple as the fund taking over financing after the drug has worked for a few months in the conditions of current legislation, it would have been done long ago.
It is natural for cancer foundations to only talk about positive experiences. We also deal with cases where a person's treatment has been funded and every avenue exhausted to no avail. The papers do not write about those cases.