Russian network could have determined winner of Tallinn election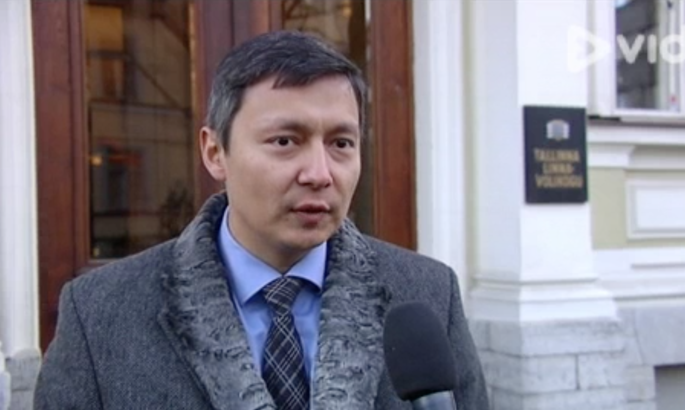 Programs procured on the Perviy Baltysky Kanal (PBK) using Tallinn taxpayer money left Russian viewers no doubt – they must vote for the Center Party's new star Mihhail Kõlvart and his party. The Russian voter was intimidated by suggesting that an end to Center's hegemony in the capital would be the worst thing that could happen, a recent content analysis of PBK programs suggests.
Journalist and publicist Oleg Samorodni who lives in Hiiumaa had already seen it all. It was approximately five years ago when he first got the impression programs Tallinn buys on PBK are propaganda and advertising for the Center Party.
"It is your opinion, your impression; nothing can be proven because it doesn't exist," was the authors' reply when he raised the issue in opinion articles back then. That is when Samorodni started recording Tallinn's programs on PBK and wrote a book based on analyzing their content.
This summer, a few months before local elections, he started recording three programs Tallinn city government procures from PBK. Samorodni's recent analysis suggests that Center's propaganda is alive and well on PBK but sports a new lead character.
"The hero has changed – Edgar Savisaar has been replaced by Mihhail Kõlvart. The impression one gets is that everything revolves around Kõlvart," Samorodni says. Kõlvart got nearly 25,000 votes as the frontrunner for Center in Tallinn's Lasnamäe borough.
During the period Samorodni looked at before the October 15 elections, Mihhail Kõlvart appeared a total of 31 times in two months on the "Our Capital", "The Russian Issue", and "Good Morning, Tallinn" programs the city buys from the network.
Kõlvart was not only a guest and interviewee, he was also portrayed. "Our Capital" aired reportages of how Kõlvart helped restore full Russian-language education to three Tallinn schools and how he supports national minorities that "have found it difficult to preserve their language and even cuisine since Estonia regained its independence".
The best-loved boy on TV
Kõlvart was also the most frequent guest on the 45-minute talk show "The Russian Issue" that concentrates on the situation of minorities and connections to everyday politics during the pre-election period. The program does not have a fixed air date but is produced on demand.
The program is on the air more frequently before elections. For example, if during the first seven months of 2017 "The Russian Issue" barely aired once a month, the program was on air eight times during the August-October election campaign period.
"In terms of form and concept, the program is a miniature copy of political talk shows aired on Russia's federal networks," Samorodni describes. "Most guests agree with one another. Sometimes they have a single opponent whom they all attack, including the host who maintains a clear political position he tries to convey to the viewer using everything at his disposal."
The correct idea of viewers was phrased on air by editor of "Our Capital" Aleksandr Zukerman: "If the Center Party will not achieve an absolute majority, as it has in recent years, they will have to look for coalition partners, and it cannot be guaranteed everything the Center Party has achieved in the capital will be allowed to stand. That is why a lot depends on the activity of Center's voters at elections."
Even Mihhail Kõlvart himself called Zukerman out on one occasion: "It seems to me, Aleksandr, that you are defending the Center Party. We do not need defending."
The topic of free public transport held a prominent position in the pre-election statements of centrists. Emotions were stirred up with hints of possible abolition of free transport should Center not win the election.
When no members of the Center Party were present in the studio, guests could deliver direct recommendations. For example, President of charity foundation Blagovest Ljudmilla Gans: "When we go to vote, we will not be voting for a party – we will be voting for people who have proved to us that they do so much for Estonia, that they are not corrupt, that they cannot be accused of greed, and that the future is theirs. /…/ I have seen a person work hard for so many years without going to the Riigikogu, even though they have tens of thousands of votes and a bright future. There is a lot he can get done," Gans said, pointing to Kõlvart.
The previous star of centrist media Edgar Savisaar fell from grace before the previous local elections.
Savisaar nowhere to be seen
The former mayor was allowed a single short sentence on "Our Capital" before elections. Arguments used against him told of Savisaar having joined a coalition of businessmen following financial considerations as his bloc could not afford to pursue a campaign.
The campaign against Savisaar was succinctly summed up by Kõlvart himself: "We have to consider that Savisaar runs in a competing list the principles of which clash with centrist ideology. /…/ Edgar Savisaar finds himself on the other side of the barricade."
Samorodni says in the conclusion of his analysis that while heads of the Center Party claim procuring programs on PBK is necessary to inform Estonia's Russian-speaking population, what they really are is Center Party propaganda. This is reflected most clearly during election campaigns.
The bulk of guests on PBK programs procured by the city are Center Party members or supporters. Representatives of the opposition are avoided as it causes problems.
Representative of Center's coalition partner in the central government IRL, Siim Kiisler, got into an argument with Kõlvart on "The Russian Issue" on October 7: "IRL is in the same coalition as the Center Party, and what centrists say in coalition meetings differs from what Russian-speaking centrists say about citizenship and official language on the Russian air," Kiisler said.
Marko Mihkelson who also appeared on "The Russian Issue" says he only agreed to go on the show to bring Estonia's foreign and security policy positions to Russian-speaking people.
Are the programs used to influence viewers with Center Party propaganda? "Based on "The Russian Issue" I can say that it is unfitting of a ruling party of a EU member state do pursue such propaganda. Support can be maintained or gained in more honest ways. It would be first and foremost in the interests of a more cohesive Estonia PM Jüri Ratas so eloquently talked about in his start of the year interview," Mihkelson said.
However, to what extent is Ratas even aware of what the procurement of centrist power in Tallinn is feeding to the Russian viewer?
It turns out that when Ratas said in front of the Riigikogu on December 20 that he sees no problem in using PBK to inform the Russian-speaking part of the population, he had at his disposal no content analysis of PBK programming that could hold a candle to Samorodni's.
The government's Communications Director Urmas Seaver said Estonia is keeping an eye on Russian media and is up to speed on news PBK procures from Russia. The program PBK procures from Russia is one thing; however, there is little wrong with shows PBK produces in Estonia.
Unlike with Sputnik, there have been no conflicts with PBK journalists where the prime minister's words have been distorted to serve propaganda interests. PBK has been interviewing ministers of all governments since 2002. The central government also procured programming from the network only a few years ago.
The best way to save lives
"Of course, we must keep an eye on developments. However, I do not support denying PBK journalists access today," Seaver said. "In a situation where an expert of the Rescue Board tells us advertising on PBK is the best way to save lives, I will not ban said advertising."
Estonia has spent years trying to explain to the West and emphasize at home that Russia is forcefully promoting its foreign policy interests in the information space, also by making use of television.
"There is a strategic communication dilemma here. We can't deny that," says Martin Jaško, adviser of strategic communication of the government's communication bureau.
"It would be naïve to think it possible to boost the credibility of the Republic of Estonia in the eyes of Russian viewers on Russian networks. The idea is that our words and actions form a whole. That is why this matter will have to be resolved one way or the other. Today, we have different opinions in the media. I have no silver bullet," Jaško admits.
Host of "The Russian Issue" and editor of "Our Capital" Aleksandr Zukerman said yesterday that he is on holiday in the Caribbean and does not wish to answer questions.