This was revenge for Veerpalu's victory
15. December 2017, 2:18 PM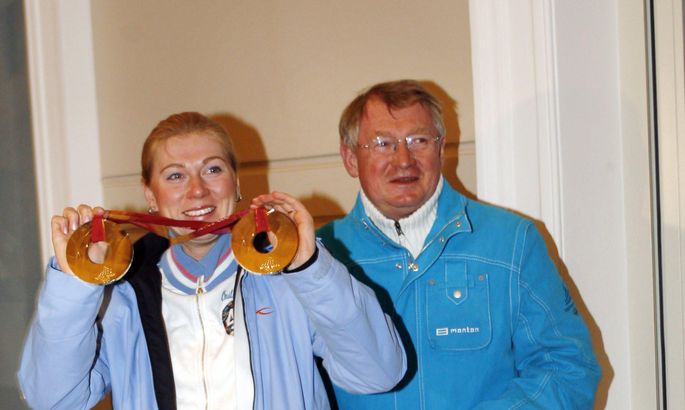 Skiing coach Anatoli Šmigun, who recently celebrated his 65th birthday and whom most people simply know as Tolik takes a seat in a hotel in the Austrian skiing mecca of Ramsau. Thick snow is falling behind the windows. Tolik puts one hand's fingers around the others', looks me straight in the eye and says: "Finally it is all over. It is now possible to talk about things."
Anatoli is currently in Austria to help Estonian biathlon skiers. He has skied the very same trails countless times with his daughter Kristina. Ramsau is also where Kristina Šmigun got her first two medals in 1999 – a silver and a bronze.
In addition to suspicions of doping that befell his daughter, Anatoli Šmigun's reputation as a coach has also been in jeopardy in recent years. He can now breathe easy, following the decision from two days ago, according to which all procedures tied to the retesting of samples from the 2006 Turin Winter Olympics have been concluded and cases closed. Even though he was convinced of the entire team's innocence from the first.
Anatoli Šmigun, when did you learn the case had gotten a happy ending?
A few days prior. Kristina called on Monday. We did not have time to talk, so I simply asked her to tell me whether it was good or bad. She said the following day would bring full clarity, but that there was nothing to worry about. It took an extra day in the end.
Did Kristina express emotion on the phone?
Like I said, we only spoke briefly. But she was in good spirits. They will soon go on holiday; we'll probably be able to meet face-to-face after that, probably in the new year.
As a father, what effect did the uncertainty of the past four years have on her?
She did not let on much. She wanted me to be able to concentrate on my work and steered clear of the details. However, I'm sure she always took it hard. This is a great relief for her.
It was hard on all of us, even though I knew why this fiasco was staged and how it would end all along. It just took too long. I don't know what they were expecting. Was it because Maria Sharapova's case cut in?
Why was it organized?
I have a simple explanation of which I'm quite convinced. Losing the Andrus Veerpalu case cost the World Anti-Doping Agency (WADA) a great deal. A lot of US pro league athletes use growth hormones. Because these contracts are worth millions, it was a serious blow for WADA.
So, it was decided to punish tiny Estonia. Kristina was the victim. Give me one logical reason why of the 350 follow-up samples of the Turin games the first six that were opened were hers. Why?
I can also tell you that after the Turin 10 km race, Kristina went straight to the Olympic village with the doctor, where she was supposed to give a sample to the International Olympic Committee. At the same time, WADA controllers came to us and asked about Kristina's whereabouts. She was asked to come to a different location. Once there, they took Kristina to the Olympic village again. Why the charade?
What's more. They wanted to take her blood twice that day. Mihkel Mardna had to tell them their own rules did not give them the right. How is one supposed to make sense of that? Are they playing games, or are they really that stupid, while thinking they're the smartest?
In your opinion, what ensured your victory in the end?
First and foremost, that we were clean and honest of course. However, we also made a very wise decision down the road: we turned to the international human rights court instead of the sport arbitration. The court decided quite quickly that human rights had been violated, which was it. Case closed.
We would absolutely have lost in CAS (Court of Arbitration for Sport – ed.). Why? Because IOC, WADA, and CAS form one big happy mafia. A sports mafia that is willing to destroy anyone for money. Everyone knows and can see that, while they turn a blind eye in exchange for power and money.
Was the dispute more legal or substantial?
I cannot say. It was more legal than medical. We needed to prove Kristina was mistreated. I know that controllers violated procedural rules, among other things. The athlete or one of their representatives must be present when a sample is opened. Even a follow-up sample cannot be opened without their presence. And yet it was.
Can you say why Kristina came in front of the Estonian people in 2014 to say that her sample had included a "bad analytical find".
I really cannot comment on that. I didn't know she had said anything on the matter. I was in Sochi at the time and heard the news there. From the Russian coach, who told me that we'd had another incident. I thought: who could it be this time?
It was only later, when I really thought about the details that I realized it was simply decided to punish tiny Estonia. To force it to its knees. At whatever cost. But it didn't work. Common sense won in the end.
Four years of anticipation and suffering. Can we finally say everything has a happy ending and the case is closed?
The most important thing is that the decision is final. I do not know whether Kristina will demand compensation for suffering. It is up to her. However, I believe there will be a new trial. I would commend that step.
On the one hand, four years is a very long time. On the other, every year that passed left us thinking: they have nothing. The punishment would have been carried out immediately otherwise. Instead we saw desperate attempts at finding something. But they didn't. And they are still not commenting. How could they admit they made a mistake?