Simson's plan not in line with statistics
29. November 2017, 4:53 PM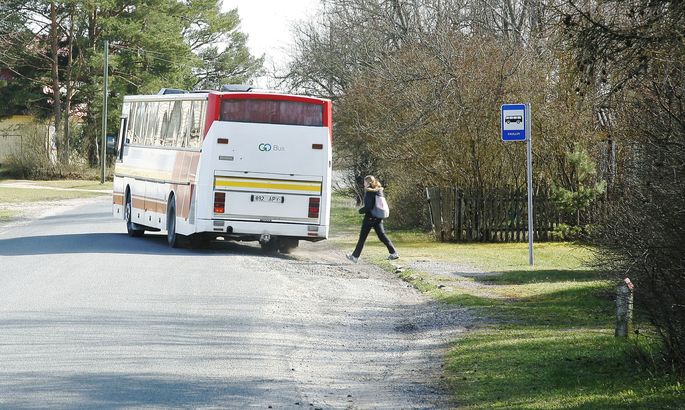 Free county coaches would benefit up to 18,000 working people and some pensioners. All others would participate in the plan as taxpayers. The tiny village of Vinso in Põlva county is an ideal place for a real-life experiment: a test of whether free coaches are a magic wand for the future or just a political fairytale.
Vinso lies a few dozen kilometers away from the cities of Põlva, Võru, and Räpina. All are centers where our hypothetical Vinso resident Paul – whom the free coaches plan is meant to cater to – could work. That is what Minister of Economic Affairs and Infrastructure Kadri Simson (Center) said: a lot of people don't go to work in cities because they would have to spend too much of their salary on transport.
Vinso is a blessed place: buses depart seven times a day. One half-hour trip to Põlva costs 90 cents. A monthly pass would set Paul back €33. A minimum salary in Põlva would see Paul spend 8 percent of his salary on transport.
There is no effects analysis for Simson's free coaches plan. What we have are a few statistical claims from the ministry. For example, that transport makes up 14 percent in the total expenses of Estonian households, which is more than in neighboring countries.
Buses take time
Turning to Statistics Estonia, one learns that the actual percentage is 12.2. And even this is hocus-pocus. Transport expenses are high because – surprise, surprise – people use cars.
"The only way to save time in the country is to drive a car," said Vinso resident Eda Volkov, who lives next to the bus stop. Her neighbors also drive. All of them are eligible for free public transport from July. Would they take the bus?
"I cannot even imagine taking the bus to work anymore," Volkov says. "I could get to Põlva in the morning and back in the evening, but it is time-consuming. Taking the bus for 45 minutes versus driving for 10 minutes also translates into cost," she says.
Those who do not find Vinso a sufficiently extreme example can look at Tõstamaa in Pärnu county. It is one of the more remote places in Estonia as it lies 40 kilometers from the nearest center. Deputy Rural Municipality Mayor Anu Peterson says that people go to work in the Pärnu Hospital and private companies. Mainly by car, while some also take the bus. The bus to Pärnu costs €2.40, while the monthly pass is €50. The trip takes an hour at best, an hour and a half at worst.
"The drawback is that the coach takes more time: while it takes over an hour to reach Pärnu by bus, you can get there in half the time if you drive," Peterson says.
Free coaches have not raised pulses in Tõstamaa. It is not a matter of more frequent departures. "I believe that those who can afford to drive, will continue to do so. The difference in the time it takes to get somewhere gives people pause," the deputy mayor says.
What do people in rural areas really need and spend their money on? Postimees turned to Statistics Estonia to try and put together an effects analysis of the plan, which is something the economy ministry has so far deemed unnecessary. The results were surprising to say the least.
A car as a means of work in the country
It turns out that the average Estonian spends 12.2 percent of their total expenses on transport, and that the figure has hardly changed in the past five years. The figure is 14.4 percent for rural areas and has been in slight decline since 2012. The average rural area resident spends €79 more on transport annually than their city-dwelling counterpart.
Those who believe that money is spent on bus tickets are mistaken. Only 1.4 percent of all expenses are spent on bus tickets in the country. The rest is spent on cars – gasoline, lubricants, repairs, insurance. Taking the bus is cheaper in the country than it is in the city because of state subsidies.
Last year saw approximately 17.2 million county coach trips. Some passengers can already ride for free – students and children under the age of seven. The taxpayer already pays for around 70 percent of regular services costs. Adults must currently pay full price, with concessions in place for pensioners.
As peculiar as it sounds, it is impossible to measure the occupancy rates of coaches. It is commonplace for the same line to have three buses of different size in the same week, making occupancy rate calculations immensely labor-intensive.
Data from 2016 suggests 134,800 people take public transport to work in Estonia of whom 86 percent, or 116,100 people, live in urban settlements. Only 14 percent, or 18,700 people, take the bus to work from rural areas. Therefore, free county coaches could at best benefit around 18,700 people since the figure includes those who take the train and whose number is unknown.
Another figure is even more telling. No fewer than 69.1 percent of people in rural areas take their personal or company cars to work instead. Public transport is the antepenultimate means of getting to work for people in the country, ahead only of walking to work and working from home.