Swindler uses exotic e-residents as straw men
22. November 2017, 2:20 PM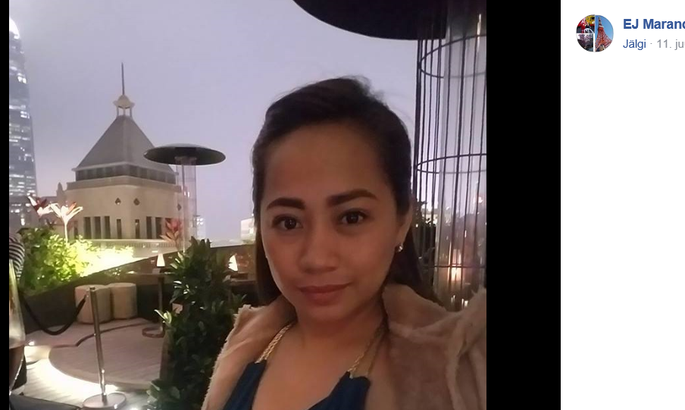 Several independent tips, trials, charges, and cases have put Postimees on the tacks of a criminal scheme. A man apprehended in the Philippines and convicted of fraud in Estonia changed his name and started using Estonian e-residents for the purpose of liquidating companies.
In July of 2014, Harju County Court convicted Urmas Sääsk (39 at the time) of fraud and several other violations, sentenced him to a year and five months in prison, and ordered him to pay Swedbank €270,000 in damages.
Sääsk was released from prison instead. He had been avoiding criminal proceedings since 2008 until he found himself in trouble in the Philippines on February 6, 2013, where he was arrested and handed over to Estonia more than a year later. Therefore, he had to remain in custody until his trial.
That is history. Recent developments show that old habits die hard.
The first signals of the new and surprising scheme reached Postimees in April of this year: it turned out that the fraudulent Crazydeal portal that repeatedly ignored precepts by the consumer watchdog had gotten a new and colorful executive manager.
A woman living in the Philippines called Erza Jane Maranda Gasoc. Journalists wondered at two things in April: firstly, that the woman has an Estonian personal identification code that clearly suggests she is an e-resident, and secondly, that she seemed to be the sole board member of two other Estonian companies. However, because businessman Keith Piibemann was no longer counted among the portal's managers so he could not be held responsible, the state's investigation followed its own path, while Gasoc could not be contacted the thread ended there in April…
Restaurant's board vanishes
… until this weekend. Saturday brought news that Gasoc was at it again. She had suddenly become the sole board member of the Bollywood restaurants in Tallinn's Old Town and Viimsi. We consulted the business register and were treated to one surprise after another.
First, the case of the restaurants. Information from the register suggests that their operator India Gate OÜ ran into problems and was succeeded by Eastglory OÜ that also took over its 33 employees. Tax arrears owed by the company under its new name amount to €21,260.
The solution? On November 7, the entire board abandoned the firm: Kadi-Liis Tamm, Andrus Ränne, Swapan Kumar Mitra, Arno Mossin. One of the owners, Tarmo Tamm, had already left in July.
What happens next is curiously like the case of Crazydeal: the only activity of owners seems to be liquidating companies and hiding recent board members. In the recent case, the right to receive documents goes to Gigabld OÜ, while Corporate Services International OÜ becomes the new owner.
The new executive manager of the restaurants is none other than Southeast Asian straw woman Erza Jane Maranda Gasoc. Liquidator. Recent executives of the company do not respond to letters, while the head of the new owner believes we have the wrong address.
"It seems your letter was meant for someone else," reads the reply of founder of Corporate Services International OÜ Fred Rikk to the letter we sent to the firm's official email address.
We had lunch at Bollywood on Monday to see whether the restaurant is still open, as well as the name of the company on the check. We learned that turnover is now sent the way of a third company: the check for Postimees' soup of the day (that was delicious and authentic, by the way) was issued by India GT OÜ, created by Andrus Ränne.
However, let us forget about the restaurants; it is to be hoped these cozy places sporting fine cuisine will continue catering to the people. Because the real surprises begin when we dig deeper in the flood of information offered by the business register.
Gasoc's activity in Estonia has grown explosively. She is no longer on the board of just a few companies but has by today become the only member on the management boards of 110 Estonian firms. Clues also lead to Gasoc's countryman Jann Leigh Javellana Lope, who also has an Estonian personal identification code and around 100 companies to run.
Neither shadow executive of companies clearly in trouble that have lost their recent managers answer a single letter. The only reply we get from Gasoc on Facebook is a cheery "Hi!" and "Hello".
Enters Vest a.k.a. Sääsk
However, there is one more thing all these companies, the Filipinos, and schemes have in common – Alexander Vest. Born on October 21, 1975, active in the field of liquidating companies, according to his website vest.ee, Vest has taken control of an even greater number of problematic companies than the two Filipinos combined. He is also the manager of the holding company of the new owner of the Bollywood restaurants.
It turns out Vest uses a company registered in Hong Kong called JGB Ltd. to hire Filipinos, liquidate Estonian companies, and exempt their recent boards of responsibility.
No sooner had we mentioned this in our online piece on Monday than we seemed to hit a nerve. We were contacted by several people who have suffered because of such management board schemes. It turns out several court cases have been initiated, applications filed with the police, and…
… seemingly in passing, materials of one court case reveal that Alexander Vest is none other than Urmas Sääsk. The man has simply changed his name after he was caught in the Philippines and convicted in Estonia and seems to be in a whole new business, in addition to insurance fraud.
We write to Vest to ask for a comment on several occasions. His reply comes from one of several email addresses we tried – vest@vest.ee
Vest writes that both Lope and Gasoc are very much aware of their activity in Estonia and adds something remarkable. "Your guesses as concerns everything else are rather fiction than fact," he writes, referring to the information concerning Bollywood published on Monday.
Therefore, we have independently established how Vest a.k.a. Sääsk has craftily made use of far-away Filipinos to make the boards of at least two problematic companies – Crazydeal and Eastglory – disappear. But we have also arrived at the conclusion that there have been hundreds upon hundreds of such cases.
When in debt, find a Filipino
Among others, we are contacted by Lembit Tedder, sworn lawyer at law firm COBALT. He tells us a very familiar story: one of his clients filed a bankruptcy claim against a company called Secco Shop
OÜ in October. Rent and other claims against the shop had grown to more than €29,000 by later summer.
However, in addition to ordinary bankruptcy proceedings, Tedder has another suspicion: is it possible Secco's insolvency has been created knowingly and serious management mistakes made, the latter qualifying as a crime in Estonia?
The scheme was near-identical: as the company sank deeper into debt, former owners and board members of Secco Kärri Rästas and Urmas Linnamägi transferred their holding to JGB Ltd. in Hong Kong that in turn appointed Erza Jane Maranda Gasoc to serve on the board. Alexander Vest pulled the strings using JGB. The company gave Vest power of attorney.
"All this points to circumstances that should, in addition to the court, actively interest the prosecution," Tedder said.
Information available to Postimees suggests the police received an application in October, describing how two Filipino e-residents are used to liquidate problematic companies in Estonia.