Free coaches plan verges on absurdity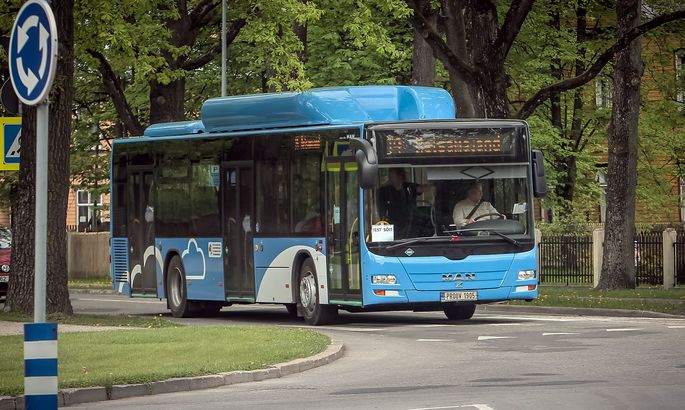 The government's plan of offering free rides on certain long-distance coach lines is taking flak from carriers and leaving officials perplexed.
"We do not know what will happen yet. We had a meeting with the Road Administration today (yesterday – ed.), and even they don't know what is happening. We are all reading about it in the paper. No one can tell what's coming," said Enn Randmaa, member of the board of Go Bus. The government has allocated €13 million for free county-level bus transport for this year, with the sum scheduled to grow to €21 million after that.
Even though Minister of Economic Affairs and Infrastructure Kadri Simson (Center) wants to offer free rides on "less popular" state-subsidized lines from July 1, it would result in a peculiar situation where rides would also be free on some long-distance lines. There are a few dozen subsidized lines that cross county borders.
"It is not entirely normal," said Go Bus board member Andrei Mändla and gave the example of the company's Haapsalu-Tartu line. "The bus is sold out on Friday nights. How will it work when it's free – the bus will pull into the stop, and then what?" he asked.
The subsidized line passes through Põltsamaa on its way to Tartu. "Our Tallinn-Põltsamaa-Tartu-Otepää-Antsla line also passes through Põltsamaa around the same time. Considering developments, we should exclude Põltsamaa as a stop on that line," said Jan Landrat, operations chief for Taisto Liinid. There would be no sense in competing against a free coach.
Coach companies perceive populism
Landrat said that even though carriers and the administration have discussed free bus connections for some time, a plethora of questions remain unanswered. Among those is the question of booking.
"Bus station operators have suggested that while tickets could be free, redeeming booked tickets could be subject to a fee," Landrat said. However, his primary concern is still the potential effect of free public transport on the performance of Taisto's long-distance lines in situations where the free bus and the commercial bus depart around the same time.
Rail carrier Elron is concerned for its popular western lines to Keila, Riisipere, and Paldiski. The company's trains would have to compete with free coaches in Saue and Keila.
"I'm sure we will see falling passenger figures in some places, especially where coach traffic is busier; for example, Keila and Paldiski lines," said Mariis Adamberg, head of marketing and communication at Elron.
Randmaa said that he sees no need for free things. "I'll be frank. It is populism. We all need to pay for it in the end; however, if that is what politicians have decided, we'll have to live with it," he said.
Information available to Postimees suggests the road administration also perceives risks and wants several questions answered.
Mändla said that should some lines see more passengers, it may call for larger buses that have a higher price per kilometer. Subsidies would have to be hiked.
"A lot of rural lines will probably see no change. However, people should have to buy tickets for all long-distance lines, including those that are subsidized," he said.
Owner of Mootor Grupp, that operates Lux Express and Simple Express coaches, Hugo Osula said that it is important to retain the carrier's responsibility to count on ticket revenue and leave passengers the chance of voting with their feet.
"As soon as the state takes away carriers' motivation to take an interest in ticket revenue and that of passengers to vote using their wallets, we will have poor service and dissatisfied passengers," Osula said. He added that underbidding following administrative-bureaucratic reasons will do away with the client relationship.
"A competition should be held to give lines that cannot be maintained with ticket revenue to a carrier willing to operate them for the lowest subsidy, instead of burying taxpayer money into paying for all of it," the businessman said.
More convenient transfer
Taisto Liinid's Jan Landrat said the company would rather see additional funding used for more frequent departures. "What use is a free line when it only departs once a week?" he asked.
Adamberg said it is too soon to assess the effects of free coach transport as conditions remain unclear. "That said, we do believe it would be sensible to pay more attention to connecting train and coach networks for the interaction of free bus and rail traffic for it to realistically improve mobility," she said.
Head of the Road Administration's public transport department Kirke Williamson said that instead of free county lines it would be more sensible to find better ways for passengers to transfer from county coach lines to long-distance lines or trains.