Nordica promises profit this year
9. November 2017, 12:39 PM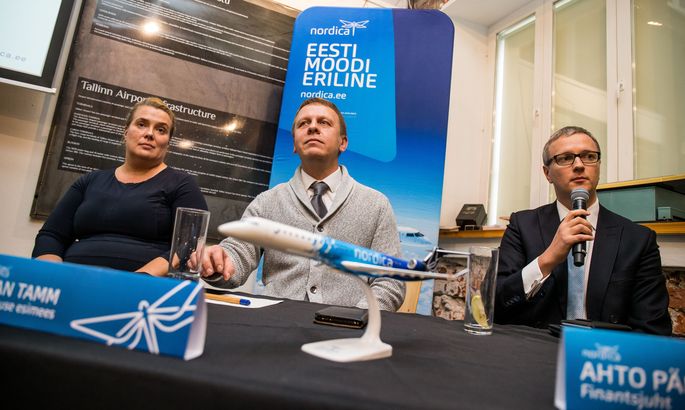 Estonian airline Nordica has had such a successful year that the company is looking at a profit of a few hundred thousand euros this year, instead of a previously projected loss of €6 million. However, the good news comes on the backdrop of frequently canceled and delayed flights.
CEO Jaan Tamm admitted that 2017 was a difficult year for Nordica, albeit one of extraordinary growth. «I would not like to characterize our growth as too fast, while it has been much faster than we anticipated,» Tamm explained.
News of looming profit was all the more sudden considering the airline's €14.4 million loss last year. The company»s financial plan prescribed a loss of €6 million for this year and €3 million for next year. Nordica was forecast to reach a modest profit in 2019.
How was it possible to conjure up a profit in such a situation? The main factor is probably growing number of passengers in Tallinn. The airline has reported a 60-70 percent increase in passenger figures almost monthly. This is the result of new destinations, but also general economic upturn and increased prosperity, Tamm offered.
CFO of Nordica Ahto Pärl also said that the projected profit is not the result of accounting tricks but rather arises from improved operating results across the board. Pärl confirmed that flights from Tallinn contributed the most.
Both executives also mentioned success on foreign markets. Nordica is a subcontractor for some European aviation giants, an exporter of Estonian aviation. A good example of this is a six-year contract with SAS the company signed in spring.
Both men emphasized that Nordica's plans have manifested much more quickly than they had anticipated. The profit forecast remains conservative despite the good news. The company projects a loss of €3 million for next year. Pärl said this reflects conservative budget planning based on the existing business plan. Should the company do better in the end, as it did this year – even better.
If the airline»s first two years have been characterized by rapid growth, the goal next year is to settle down and concentrate on performing contracts and boosting flight quality.
Next to joyous financial results, Nordica was forced to admit it had a lot of problems with flights in the second half-year, especially September and October. For example, the company canceled no fewer than 12 flights in just two days in early September. «I admit that such abrupt change and tight flight schedule tied to Estonia's Council of the European Union presidency has affected the quality of our service over the past few months,» Tamm said.
In addition to the presidency, Nordica launched subcontract flights for SAS and was forced to move some of its aircraft during the same period. Because the already tight schedule became even more frenzied, the company»s staff was put under pressure. Delays were also caused by the fact airline staff rest periods are strictly regimented.
Tamm mentioned problems with Bulgarian and Romanian airlines the aircraft of which Nordica rented for the presidency period. «We flew with Romanians and Bulgarians, but we had trouble with them,» the CEO initially said.
Tamm mitigated his statement later, saying that partners were up to the task despite their work and service culture that Estonians might find unfamiliar.