Palo pulls carpet from under local governments with 20-million hat-trick
26. October 2017, 3:56 PM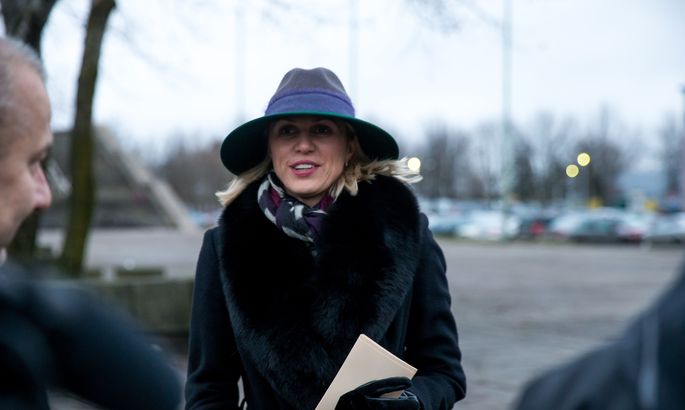 Minister of Enterprise and Information Technology Urve Palo (Social Democrat Party) has made an about-turn to take away €20 million promised to local governments for high-speed broadband investments when the social democrats came to power. It is possible Elektrilevi and Telia will be given the funding instead.
Minister Urve Palo and social democrat MP Tanel Talve have spent at least the past year urging local governments all over Estonia to band together and launch joint projects to take high-speed broadband cables to homes and companies in rural areas using state financing.
"Because telecommunications network investments require a lot of capital, which means the private sector is concentrating on high-density areas, local governments must come together and find a way to offer high-speed internet with the state's help," Palo said when meeting with Pärnu county local governments earlier in the year.
Palo's promise has been concrete: the government has €20 million for the next two years to which local government companies and final consumers would add two-thirds. For a total of €60-million worth of last mile solutions – grand.
Rural municipalities seized the day: Pärnu county municipalities created the Digitee project, Harju local governments founded Digimaa, while Digikond was born in Rapla and Lääne counties. Local governments demonstrated never-before-seen ability to cooperate; a realistic chance to bring people high-speed internet was knocking – something big was coming.
Residents were asked whether they would join the network and the first companies founded for the creation and future maintenance of fiber optic infrastructure. Investments were made and money spent.
All ISPs were supposed to be given equal conditions for offering digital television and internet services using the new cable network. Cooperation memorandums were signed with Eesti Energia subsidiary Elektrilevi as its communications networks could be used to house the cable.
Local government heads: where is clarity?
It turned out rural area residents are interested in broadband and prepared to pay a sensible access charge as thousands upon thousands of applications were received. Months passed, projects went down their own paths, but steps to allocate funds that would go beyond promises did not follow.
Heads of local governments ran out of patience last week when Palo and Minister of Finance Toomas Tõniste received a letter from dozens of local government representatives.
"Local governments lack clarity in whether the Government of the Republic will keep to its plan of allocating assets for the development of county-level communications network infrastructure, or whether it is looking for alternatives. This has caused concern over equal development opportunities in rural areas," local government heads wrote.
The address reads that local governments have launched a number of projects and invested considerable sums following the ministry's recommendation: advertising campaigns, applications to join, preparations for the realization of the project.
There is no clarity regarding future activities in a situation where local governments have invested in the project and promised residents that networks will be developed. Uncertainty is first and foremost created by plans of state-controlled Elektrilevi, as well as the ministry's preferences concerning networks," the letter states.
Enters Elektrilevi
The letter begs the conclusion that information available to local governments suggests their government-inspired projects have an unexpected competitor – state-owned Elektrilevi.
The very company that had signed a cooperation memorandum for internet infrastructure with the Digitee project of Pärnu county local governments … which it later unexpectedly and unilaterally terminated.
Why the sudden change? Head of product development and services at Elektrilevi Taavo Randna's answer leads to a single conclusion: the company will go into the fiber optic cable business for itself.
"Cooperation in the Pärnu project was dropped because Elektrilevi does not support fragmentation in the form of creating several network companies but rather perceives the possibility of developing the network in greater volume when it is done centrally and sporting synergy with the power transmission network," Randna told Postimees.
He also said that the company's supervisory board has just decided to launch its own pilot project to use overhead transmission lines for developing the broadband network.
"Using the power transmission network to develop broadband is a widespread practice everywhere in the world. As the largest owner of transmission infrastructure in Estonia, we have the capacity for constructing and maintaining a substantial network. We find that common use of infrastructure is effective and creates value in society," Randna added.
While the law requires Elektrilevi to allow its infrastructure to be used for all manner of cables, a source told Postimees that local governments have not been able to make use of the fact due to restrictions laid down by the network operator – one outstanding issue was who would pay for damage to utility poles and cables.
Palo's about-turn
And what did Urve Palo do – earlier inspiring calls were forgotten as a press release with a surprising announcement arrived from the ministry on the morning of October 24.
The idea of the press statement is that the €20 million will not be divided between local government projects. Instead, the state will hold a competition to find a company that will be in charge of last mile solutions everywhere in Estonia.
The reason: county projects have sparked interest in service providers, and to make sure the money would have maximum effect and as many people as possible would get access to high-speed broadband, "we have decided to hold a nationwide competition".
"Instead of supporting individual local governments, the support scheme will follow the European Commission's group exemption rules, meaning it will be open to all market participants and its goal will be to support the construction of an open network accessible to all service providers," Palo explained. "The advantage of a nationwide open support measure is that it does not require a state aid permit from the European Commission that would take approximately a year, meaning it will be possible to invest sooner."
Palo also hopes to save money with the new plan. "The initial plan – supporting individual local governments – would have required us to invest several times more. I wish to take this matter to the government in the near future," Palo added.
Palo also hinted that leading ISP Telia might also be interested in the €20 million.
To sum up, local government projects have come to nothing – it is utterly unclear what will become of the work local governments have pursued over the past year and residents' letters of application. Will Elektrilevi take over?
Palo promised what couldn't be delivered
The Ministry of Economic Affairs and Communications (MKM) also told Postimees that direct support for local governments would not have been in accordance with European Commission rules and would have required a state aid permit. That would have taken a lot of time – nine months on average – whereas there would have been no guarantee the permit could have been secured.
There is no competition notice as things stand as the ministry is waiting for Palo to sign a corresponding regulation. Next, so-called white areas where internet speeds fall below 30 Mbps will be mapped. After that, there will be public consultations regarding which mapped areas communications companies plan to invest in themselves.
And only then will a public competition be held for the fiber optic cable network on the condition that all ISPs can use it to offer services. The process is estimated to kick off early next year.
Why did the plan to support local governments really fail?
After the first draft of the state aid bill was sent out for initial coordination, it turned out, in cooperation with state aid experts from the finance ministry, that the economy ministry's planned measure (where support would only be available to local government projects) did not fully meet group exemption regulations.
Draft legislation would have limited who could participate in the competition. Unconfirmed information suggests Elektrilevi and Telia, that had developed an interest in offering services in the so-called white areas, told the ministry as much.
Next, the economy ministry contacted the European Commission that confirmed what experts had said. This all took place in August of 2017 after which preparations were launched for applying for a state aid permit.
Talve: I very much hope MKM can get it done
Chairman of the Riigikogu e-Estonia support group Tanel Talve said that there is a misconception that the ministry wants to take money away from someone. "Rather we find ourselves where we were
two years ago when we said the problem needs to be solved nationwide. The only question is who will do it and how," Talve said.
Information available to Talve suggests 50,000 residents of rural areas have expressed their desire to join the broadband network as a result of county-level projects. "People's hopes are high, and I very much hope the ministry can make sure the cable will reach every Estonian household and company as quickly as possible."
Talve said that all applications people have sent in will be counted. "There can be no question here; a lot of work has been done," the MP said.
Talve added that the e-Estonia support group and MKM will hold a joint sitting on November 6 to discuss the most effective way to proceed in a situation where new circumstances have come to light.
"The important thing is for people to have an internet connection, not whether it is being provided by a nationwide structure or by someone else," Talve added.