"We are not pulling anyone's leg – there is enough forest"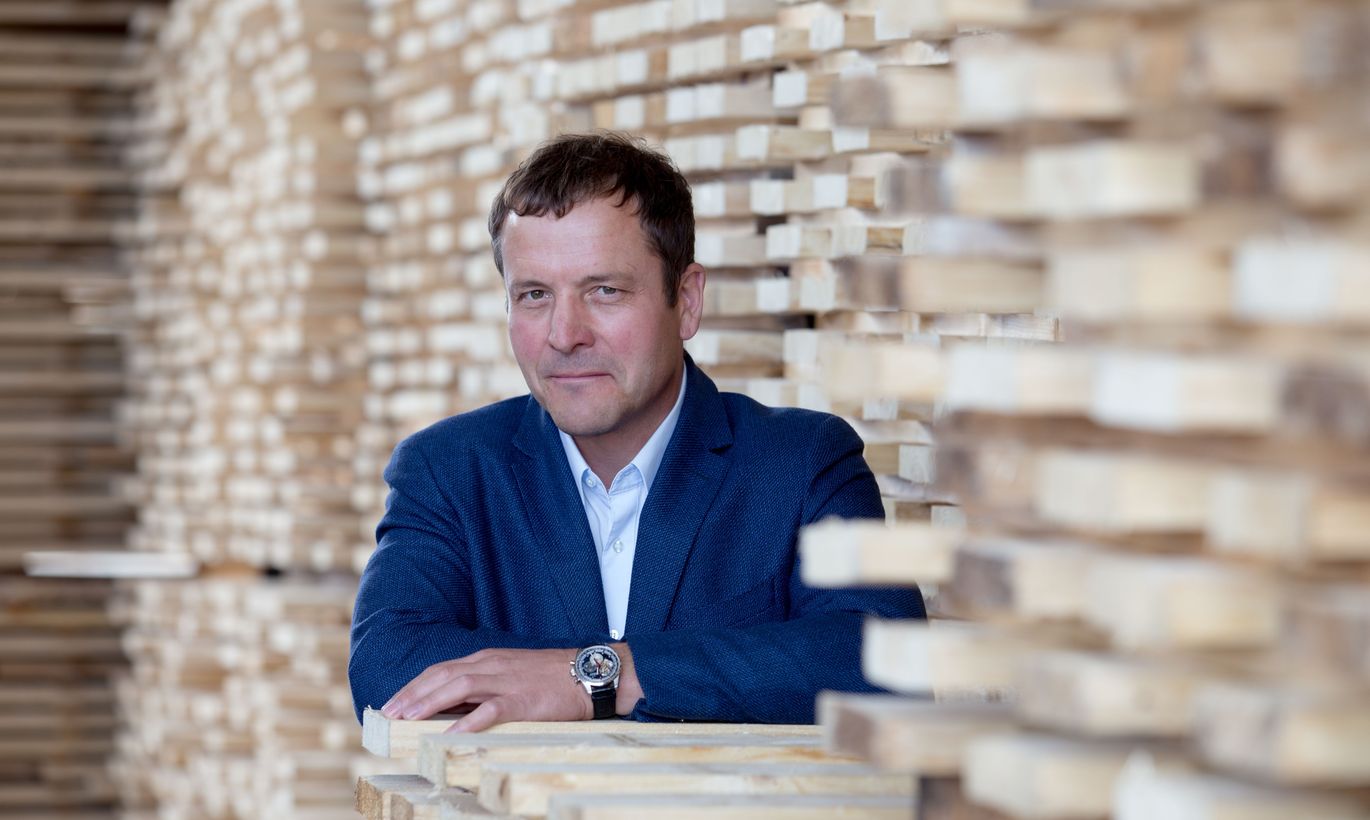 CEO of Lemeks Grupp, known for its export success and precision investments, Jüri Külvik says that people should believe forestry professors whose work confirms Estonia has enough forests.
Külvik, who recently announced a modern plywood factory to be constructed in Jõgeva County, says that new timber processing companies will create a situation where Estonia can export more valuable products than simple roundwood.
Lemeks is among the founders of the controversial Est-For biorefinery project. If today, a considerable part of Estonian timber is sold to Nordic countries for a pittance, constructing a major timber processing plant in Southern Estonia will boost the well-being of Estonians, Külvik claims.
How is Brexit affecting your company in the United Kingdom?
There have been some setbacks; however, there is more emotion involved than it's worth. We sell all over England and Northern Ireland and are first and foremost affected by the pound. We have two subsidiaries in the UK. One sells our products to local suppliers, the other is an online shop.
Land and gardens are very expensive there. We did very well in London with a type of building meant to serve as a home office. To escape rush hour traffic, a family man bought a garden house and then walked there with his briefcase in the morning and back in the evening. We believe in the UK and are committed there.
A remarkable amount of roundwood is being shipped to China in containers. Have you taken advantage of that fact?
Hauling timber to such a great distance in containers is curious. We have sent a certain amount of timber to China through the port in Riga. However, the same is being done from Latvia, Lithuania, France, Germany. We try to ship less valuable timber there, like asp and alder logs. Occasionally also birch logs. The Chinese use it to manufacture veneer, plywood. They use every splinter.
Sale of roundwood only makes up a fifth of our volumes. It is largely pulpwood sold to Finland and Sweden very cheaply to be turned into real value there. The higher value of these products allows our neighbors to pay their firemen and teachers better salaries.
Is the Estonian timber industry immature because it is shipping roundwood overseas?
It is true concerning pulpwood that is basically being given away. That is also the reason why Lemeks decided to become one of six investors of the Est-For biorefinery. We want high value products to be manufactured here and for cheap timber export to stop.
The construction of the biorefinery is in the research phase, and time will tell whether it will prove possible. The entire project must develop openly, in dialogue with interest groups. As an investor and a resident of Tartu, I can assure you that should the project be deemed uncertain, we have other plans of where to invest.
What will you do in a situation where you have compromises with all interest groups except one that is still accusing you of destroying the environment?
You cannot reach a compromise with everyone.
What is the most critical aspect of the cellulose factory?
We are not building a cellulose factory because it wouldn't be able to compete as just that. Est-For Invest wants to construct a modern biorefinery that would have next generation technology that allows timber to be turned into a plethora of useful and renewable products.
The only project that compares to ours is Metsä Group's bioproducts factory that was opened in Äänekoski, Finland this summer and is the most modern factory of its kind in the world. Ours will be ever better and more environmentally-friendly.
I will try to explain the main risk. Such factories are being built in Europe, for example in the Nordic countries, Austria, and Germany that share a similar cultural environment with Estonia, and they are found to be acceptable by the population. Environmental regulations allow such factories to be built next to rivers that are much smaller than the Emajõgi. Are the Estonian state and society ready for it? Will it work here? Should the environmental impact assessment conclude the factory would not be suitable – I can assure you that investors are united in their unwillingness to risk an environmentally unsuitable refinery.
Is the plan of looking to Latvia should the factory be found unsuitable for Estonia still on the table?
Is Latvia prepared to welcome it?
Things haven't progressed far enough for us to be able to say. However, investors have confidence.
In a situation where the biorefinery would be constructed in Latvia, would the Estonian timber industry be among its suppliers?
Definitely. However, that would leave us where we are now. We would simply be selling our cheap product to Latvia instead of Finland and Sweden. Latvia would gain in value added. Constructing the plant in Estonia would make Latvia one of its most important suppliers. Lithuania and Belarus are also potential suppliers of timber.
Why did you fail to mention Russia?
While Russia exists, we are not including that fact in the project's calculations. Timber from Russia will come if it will come; however, it is not sensible to include them in plans.
Whence the idea to build a plywood factory in Viruvere?
We have been visiting different factories to look at their technology for years. We were inspired when Metsäliitto chose Pärnu as the location for their factory. Had the Finns come to Tartu, our investment would not have happened. Southern Estonia can facilitate our factory in terms of availability of raw material, and Jõgeva is the optimal location also with Northeastern Estonia in mind. We have also not met with sharp resistance from Viruvere residents as the manufacturing process takes place indoors and is not very noisy.
Is it possible Metsäliitto could move its entire plywood production to Pärnu, in addition to the final phase of the production process they have there now?
I would not rule it out; however, I have no knowledge of their plans.
What would you have built instead of the plywood factory had competition with the Finns made the latter impossible?
Our group has 28 companies that can be expanded. We have plenty of plans for development. Veneer and plywood pose an interesting challenge considering Estonia's resources as value added can be taken very far – there are a lot of different plywood quality classes. Plywood is used to manufacture aircraft floors and walls of LNG-tankers. Its field of application is constantly growing.
We have a fair amount of investment capacity right now. Our equity capital level allows for considerable investment. There are also those interested in investing in our group that would boost our capacity further. We cannot rule out such a solution regarding the plywood factory. I would, however, refrain from naming specific partners as negotiations are still underway.
Have you considered the stock exchange?
I would not rule out a listing someday, while we do not have such plans for the near future. Even though we are often referred to as a family business, I am the only one in that family who has ever been paid from the company. We strongly resemble a stock market company when it comes to management and structure. We would not have to make many changes to facilitate a move to the market.
We really are open, follow fixed procedures, and aim to adhere to stock market regulations. It means we are competitive. Not all entrepreneurs have found a pot of gold at the end of their listing in Estonia.
Things could have gone in any number of ways for a company that started in the 1990s… How have you managed to grow and reach your current so-called forced expansion stage?
We started buying cutting areas forest factories were not using and were putting up for auction in the 1990s. We built them up, secured export contracts, loaded the timber onto railcars, and shipped them to Finland. We did this for two years.
A year and a half after founding the company, we started making efforts to give Estonian timber added value and invested in the first sawmills. Great value added has been our vision from day one. 98 percent of our value added comes from processing, not sale of raw material.
We reached the forced expansion stage many years ago. We have never grown too abruptly compared to startups that head for the stars. We have grown by 30 percent in some years, 20 percent in others. We have not taken excess risks. We have maintained our value-based management culture so we wouldn't slip. The success of a company is determined first and foremost by its people, making sure they are valued, that both responsibility and success are shared – that is key.
We do not live in Russia or Kazakhstan where the earth is full of riches. We need to come up with technology, a products portfolio, and market for what our forests naturally yield every year.
Having studied forestry, I can see quite a lot of wood rotting away in our forests. From what I've learned, the voices that are saying Estonia will be cleared of forest in the name of industry are mistaken.
So why is it that a popular movement produces a scientist who claims forest companies are fooling people, and there is talk of the narrative of rampant growth of woods in the temperate zone being greatly exaggerated?
Companies are not pulling anyone's leg. People who have studied birds or animals in the forests know them the best. Professors who have studied Estonian woods can evaluate quantity and have specialized in silviculture – what they say has more weight when it comes to abundance of forests.
These things have somehow gotten turned around in Estonia lately, with people speaking up on matters their expertise does not cover. For example, how different estimates put the age of the infamous Haabersti white willow at 85-350 years.
Do these kinds of opinions not based on facts and knowledge pose a threat to your industry; for example, as concerns the biorefinery?
Different opinions are a natural part of society. They must be voiced instead of shelved. However, competent people must seriously consider and evaluate them in the end.
It needs to be kept in mind that Estonia has 110,000 forest owners who have families. The forestry industry gives work to 50,000 people 85 percent of whom work outside of Tallinn. It is the largest employer outside major centers, and our average salary is considerable at €1,400 – it is good pay in rural areas.
If the Estonian forest and timber industry is doing well, Estonian families who own the forest and those employed by the sector are too. This should provide an alternative view of our industry and its position in rural life and society in general.