Digital summit to bring European leaders
September 22, 2017, 12:38 PM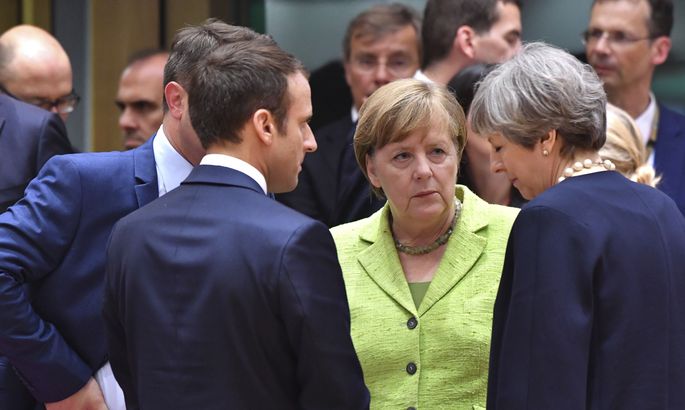 Information available to Postimees suggests Europe's entire political elite, led by Angela Merkel, Emmanuel Macron, Theresa May, Jean-Claude Juncker, and Donald Tusk, will convene in Tallinn in the second half of next week to discuss digital agendas with the heads of 25 other EU members.
While Merkel's participation in the high-level and informal summit depends on this weekend's election results in Germany, her victory is held likely.
If the Tallinn Digital Summit the official program of which prescribes discussing far-reaching digital and innovation visions is scheduled to take place on Friday, European leaders will arrive in Tallinn on the previous day.
Leaders will arrive on Thursday for an informal dinner with President of the European Council Donald Tusk. A record number of rooms are rumored to have been booked for bi- and trilateral discussions next to the official program.
Old Town restaurants have not been taking reservations from ordinary people for Thursday and Friday of next week for some time. Downtown traffic will basically be shut down over the two-day period. Several leaders will be visiting military bases and other institutions with ties to their country in Estonia.
Why is the Tallinn digital summit paid so much attention? On the one hand, the topics themselves are important: the future of governments, the economy, and society; Europe's survival in global digital competition, EU-level cybersecurity matters, copyright.
On the other, a statement from the European Commission yesterday leaves no doubt: it is also a matter of billions of tax euros collecting of which from internet giants, such as Google and Facebook, is a definite short-term plan for the EU. This matter has all but become one of the most burning topics of Estonia's EU presidency, attracting global attention.
"Political discussions between member states will continue at the Tallinn Digital Summit on September 29. As announced after the ECOFIN meeting (EU finance ministers in Tallinn last week – ed.), the presidency will continue working toward clear positions in the council by the year's end that will in turn become the EU's positions in international deliberations of taxation of digital economy and a foundation for future work on the common market," the Commission's statement read.
Finance Commissioner Pierre Moscovici said in Tallinn last week that the coming digital summit is the first place where a solution will be sought for a situation that presently satisfies no European country.
The issue at hand is that technology titans Google, Facebook, Netflix, Amazon et al. have grabbed a substantial part of the European digital advertising and services market, pushing aside local service providers in a situation where taxes on their activities are collected either in the United States or a few European countries in which the corporations have a physical presence, like Ireland or Luxembourg.
The European Union wants taxes paid where revenue is generated, even if companies do not have local offices or employees in relevant countries, which is standard practice for digital enterprises.
If the European Union has so far opted for consensual decision-making in tax matters, there is pressure not to apply the veto ban regarding this matter so smaller members couldn't block the plans of larger countries.
The role of Estonia, as the presidency, has been noteworthy so far. The finance ministry, under Deputy Chancellor Dmitri Jegorov, presented very clear proposals of how to tax digital giants to European countries a few weeks ago. Estonia's position is that instead of a company's physical place of business, what is important is its permanent virtual location – it would serve just as well for accounting of turnover and taxes.
Jegorov told Postimees that confirming a company's virtual permanent place of business would mean nothing other than its substantial digital presence on the market giving the state the right to tax its profits. Estonia's proposal for a long-term solution was welcomed by more than 20 member states.