Catalan independentists fall for fake news by fake Estonian
September 22, 2017, 9:03 PM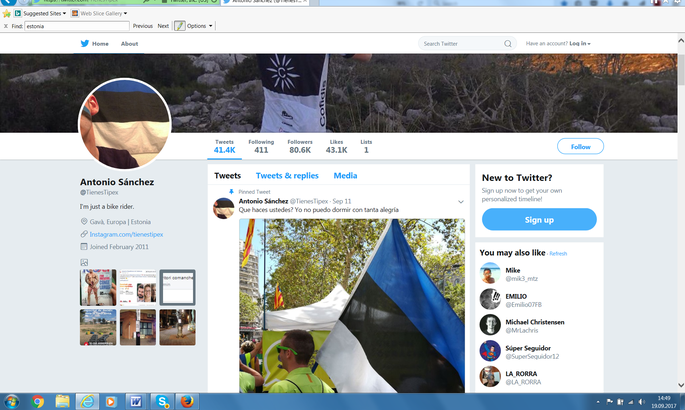 Last weekend an eccentric, referring to himself as Estonia's Olympic standard-bearer and government representative, proved on Twitter how easy it is to spawn a piece of infectious fake news on a politically volatile subject.
Last Friday night, a Twitter entry in Spanish was published in which the author claimed to be citing Prime Minister Jüri Ratas: «Catalonia has the right to determine its own future; we were able to do it, why should we deny them that right?» The tweet was illustrated with a photograph snatched from the website of Government Office depicting Ratas during his recent US visit.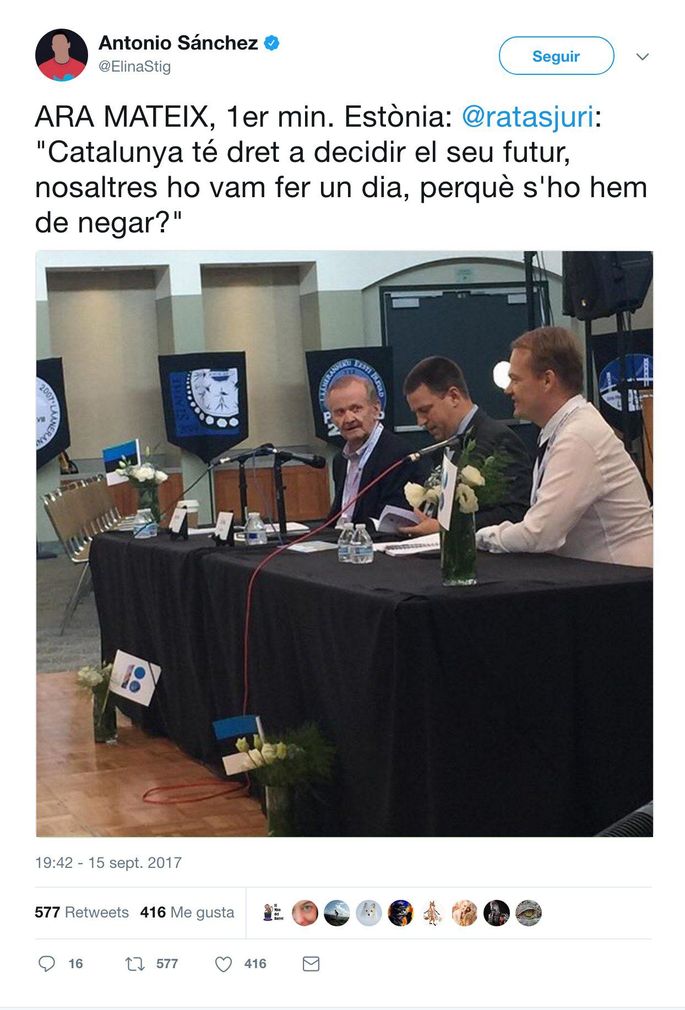 The author of the tweet was one Antonio Sanchez. His profile description in Catalan reads that Sanchez is the bearer of the Estonian Olympic standard and a representative of the government of Catalonia.
In the tweet, the author presented himself as the representative of the Estonian government, while the account he used was verifyed by Twitter as the official account of Estonian Eurovision artists Elina and Stig. The account had nearly 5,000 followers, mostly Catalans, many of them displaying independence flags as their profile pictures.
In less than 24 hours, supporters of Catalan independence had retweeted the post with the fake statement by Ratas more than 1,400 times as a good signal from the EU presidency. This during a time when the Catalonia's regional government has declared that they hold an independence referendum on the 1st of October that is illegal according to both by the laws of Spanish state as well as by local laws of the autonomous region and the organization of which is rather reminiscent of the «referendum» held in Crimea rather than one following good European practice.
Happy retweeters included SNP delegate of the Scottish Parliament Christina McKelvie. Comments of the post reflected the joy of supporters of Catalan independence and included greetings to Estonia, mixed with concern that Estonia will not remain the presidency forever.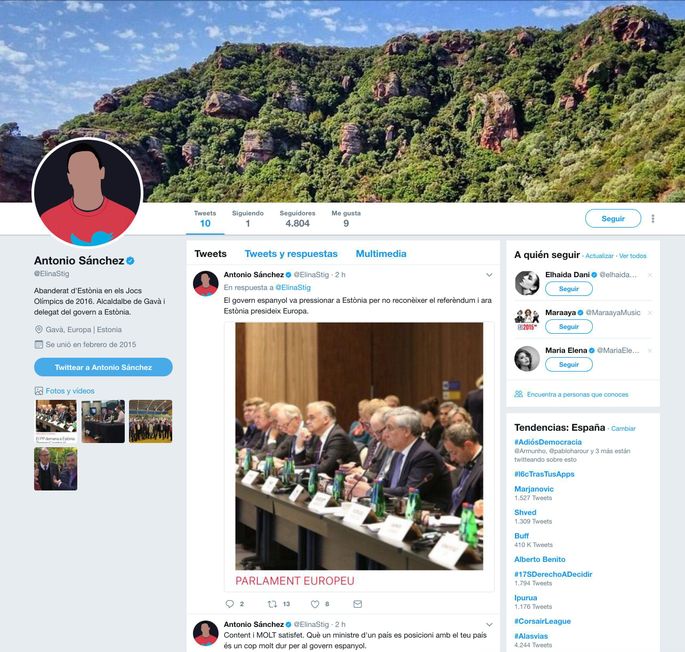 A sobering message came late on Saturday evening when Spanish fake news and propaganda watchdog La Buloteca posted the official comment of the Estonian government.
«In the matter of Catalonia, the Republic of Estonia fully supports the territorial integrity of the Kingdom of Spain and its sovereignty. Spain is a democratic country, an EU member, and our close ally in the EU and NATO. All domestic matters need to be solved in accordance with Spanish law,» the government's media adviser Triin Oppi wrote in the response.
«It seems to be a fake Twitter account; we are not aware of such a person, and these posts are twisted,» Oppi said, regarding the account the owner of which had announced a few days before that he, as a representative of the Estonian government, PM Ratas, and President Kersti Kaljulaid were about to make a major announcement.
David Fernandez, who obtained the government's comment for La Buloteca, told Postim
ees that they stumbled on the fake statement because the suspicious message quickly spread beyond Twitter, reaching some pro-independence forums and websites.
Asked how many people the post could have reached on Twitter, Fernandez pointed to the number of retweets by the time the hoax was unmasked, which was 1,400. «The average Twitter user has approximately 208 followers, meaning the statement could have reached 290,000 people,» he suggested.
«A lot of accounts that retweeted the message belong to well-known pro-independence activists, which means it is possible the fake news reached a lot more people,» Fernandez said. «Considering there are 7.5 million people living in Catalonia, it is possible a considerable part of them saw it.»
Design elements of the account dedicated to Sanchez, including posts by «the Estonian government's representative» disappeared completely approximately one hour after La Buloteca's comment. All that remained were individual posts regarding Elina and Stig, with the site's design reverted to its musical theme.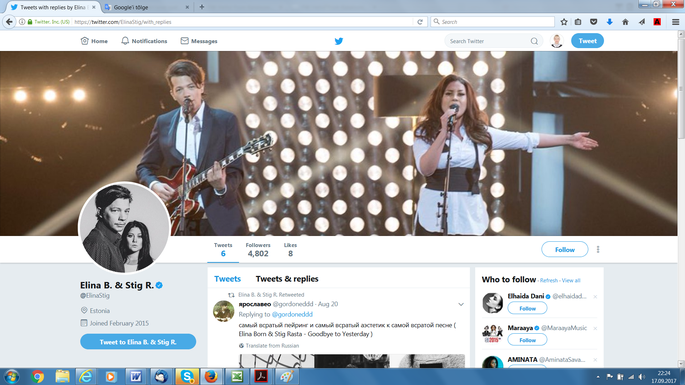 Recent intense activity was now reflected only in tweets and comments that displayed the user's previous interactions with other accounts. For example, that Sanchez had shared the statement he himself had made up with Julian Assange. The coauthor at Russian propaganda site RT and founder of WikiLeaks has recently become an active supporter of Catalan independence.
Sanchez' previous message to Spanish PM Mariano Rajoy: «Prime Minister, I am a representative of the Estonian government. I have received the support of the Estonian government. Pay attention in the coming hours» was also still visible.
On September 5, the account was used to send a message to the so-called foreign minister of the Catalan government Raül Romeva: «As a delegate of the Catalonian government, I will donate my monthly wages. Together we can!»
Being exposed on Elina and Stig's account did not motivate Sanchez to cease his activities. Having reverted the account to its musical form, he moved on to his other Twitter account Tienes_Tipex. The latter has more than 80,600 followers.
On Saturday night minor changes were made to that account  as well. The link to the account of Elina and Stig as belonging to Sanchez disappeared, as did claims of him being the Estonian Olympic standard-bearer and representative of the Catalonian government. All that was left of Sanchez' profile description read: «I'm simply a cyclist.»
He posted La Buloteca's revelation that his post has been deemed fake to the other account himself. Next to it he wrote: «Our revolution cannot be stopped. Estonia with Catalonia.» The following posts suggested Estonia was forced to release its official statement and is highly dependent on Spain for security.
Disappointed supporters of Catalonian independence added other thoughts, comparing Estonia to Turkmenistan, referring to it as a latrine country of a dirty people, and a fascist medieval SS-empire.
The Estonian embassy in Spain first heard of Sanchez, relating to the Tienes_Tipex account, in March. They were contacted by the Estonian honorary consul in Andorra who reported a threat Sanchez had sent to the region's pro-independence President Carles Puidgemont's Twitter account.
«The owner of the account claimed to be Antonio Sanchez (a common name in Spain) and presented himself as «a councilman of the Ciudadanos (Citizens) party in Gava, IT specialist, cyclist, Estonia's representative with the Spanish government» ,» described Kersti Luha, Estonian Consul in Madrid .
Posing as a member of anti-independence Ciudadanos party, Sanchez posted to Puidgemont's account: «This is just the beginning. Be prepared for when we will rule: you will be removed from office and your Romanian wife deported.»
Luha said that the embassy explained to its contacts and on Twitter that the person is in no way connected to representing Estonia. «It seems that many have reacted to the person's tweets – in spring, somebody had posted to the account that Sanchez has no connection to the local government of Gava,» she added.
The media revealed that Sanchez is not a member of Ciudadanos. The Puidgemont incident does not seem to have stopped Sanchez from collecting tens of thousands of pro-independence followers, while dozens of pictures of him waving the Estonian flag at secession rallies and his communication with representatives of the extreme left CUP party and its youth organization Arran can be seen.
Sanchez is also no stranger to Postimees. He contacted the paper after the terror attacks  in Barcelona, offering comments as a half-Estonian and half-Catalan. He appeared again a few weeks later wanting to comment on the October 1 independence referendum. The letters were written in English.
When Postimees finally wrote to Sanchez and asked about his connection to Estonia, he replied he is a 20-year-old IT specialist from Barcelona. «Seven years ago, when I was a schoolkid, I fell in love with Estonia because of its culture and language,» he wrote.
«Since then, the country has changed a lot about who I am. I have studied its entire history and culture, I'm learning Estonian in my free time, and I have friends in Estonia (in Otepää, Tartu, Jõgeva etc.),» Sanchez continued.
«Officially, I am not a delegate of the Catalan government to Estonia as Spanish law prohibits Catalonian embassies in other countries. It is my goal to support the Catalan government one way or another by spreading Catalan culture and promoting Estonia in Catalonia,» he claimed.
Although it goes against not only Spanish law but also international rules, Catalonia's current pro-independence government has hired a person it refers to as a delegate to the Baltics and Poland. That delegate is a Polish person called Ewa Adela Cylwik. Even she managed to cause her fair share of bafflement when she visited Tallinn. Namely by failing to answer what right does she, a Pole, have to speak for Catalonia.
Representative of Elina and Stig, Kristjan Vardja, told Postimees that even though Twitter has veryfied the account as official, it has nothing to do with the agency's artists, nor have they authorized anyone else to create such an account. «It seems to be a Spanish-speaking person who has acted willfully,» he said.
«I can confirm that the posts cannot in any way be tied to Elina Born or Stig Rästa; it is not their official account, and we do not, nor have we ever had control of the account,» Vardja added.