App to help IT professionals find better offers
September 20, 2017, 1:26 PM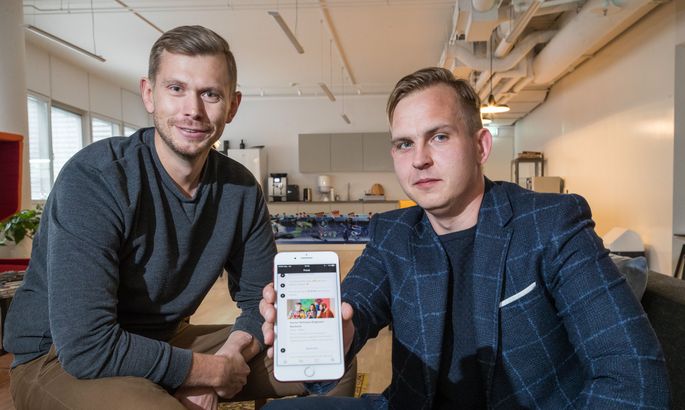 Estonia, like all Nordic countries, is in big trouble as all IT-proficient people have long since been recruited in a situation where satisfying clients' needs requires increasingly substantial software development. Two options remain: to find new people from outside Estonia, or offer existing specialists better pay and working conditions.
The latter is at the core of a new Estonian application called MeetFrank. The aim of the app is simple: to bring together specialists who already have a job and entrepreneurs willing to offer them a better deal.
The solution is attractive because it allows employees to look for a new employer totally anonymously until direct contact is made, while all offers include salary information. This means people can look for a new employer while at work.
"There is no longer sense in manufacturing general job offers aimed at the masses – they simply do not work. Our main client is not the company, it's the application user – we care about their wishes and outlook," said one of the founders of MeetFrank Kaarel Holm.
Holm referred to job ads that make no mention of salary and cause job seekers to spend weeks going to interviews during the workday only to discover the pay on offer to be utterly inadequate as completely redundant. "We make sure people's wishes and what's on offer are balanced from the start."
A job seeker only needs to take a few minutes to answer questions and list their skills, the reason why they want a new job, their current employer's profile, and current salary when using MeetFrank.
From there, algorithms go to work analyzing the user's capacity and skills to notify the sides once they find a potential match. Only then will the job seeker and potential employer meet for the first time and the former's person is made known to the latter.
Holm's partner, Anton Narusberg, said that the undertaking also has another goal: people will learn their market value and the demand for certain skills. An overview of what companies are willing to offer people is created.
"We are not urging companies to go to war over employees or the latter to find a new job; we want to offer people information on the labor market's possibilities. A satisfied employee will not be convinced to take a new job on account of higher salary alone," Narusberg said.
The test period has seen a number of well-known companies join MeetFrank, including Monese, Taxify, LHV, Proekspert, and Tele2 – for a total of nearly 25 firms. The highest-paying IT-sector job available in the app offers a salary of €7,000 a month, while the average job offer promises pay of €3,500.
The app, that has only been available for a week, has seen around 100 new users every day. "These figures alone show there is considerable interest in the app. Many join out of curiosity: could there be an employer out there willing to offer me more," Kaarel Holm said.
He does not believe it likely the app could offer employers candidates who do not really want a new job. Holm said it is a much bigger problem that traditional wanted ads do not reach the right people.
"If a company is looking for a Java developer, it is vital the ad reaches all qualified candidates," he explained.
The application's biggest shortcoming at the moment is the fact the user is married to their device, meaning that a new MeetFrank profile must be created every time the user buys a new device.
MeetFrank was created by a team of five; the company plans to expand outside Estonia and broaden the selection of jobs on offer soon. MeetFrank won the StartupSauna competition in Tartu a week ago.