Real estate more profitable than railroad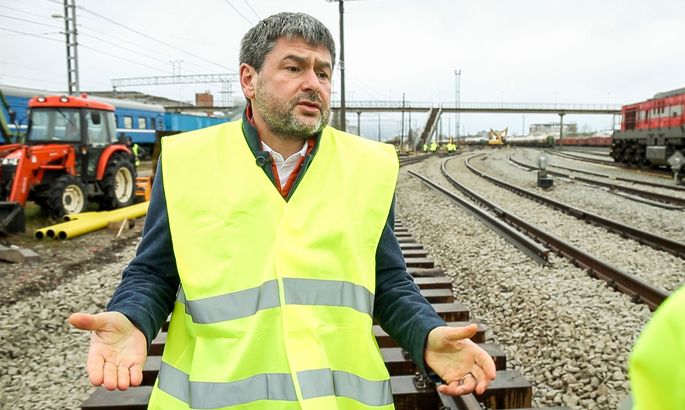 One of Estonia's wealthiest entrepreneurs, Oleg Ossinovski, is about to take money he has used in the railroad business into real estate, hoping to earn more by building apartments in the center of Tallinn than he does in the declining Estonian railroad business.
You have three real estate businesses. What is your strategy for developing them?
The strategy is very simple: we are constructing residential buildings and selling them one apartment at a time. I honestly do not see a viable alternative here.
We have not constructed rental properties. Only salons or restaurants on ground floors of residential buildings are for rent. For example, Skinest Center owns a restaurant and massage parlor in a residential building on Suur-Patarei street. It was our building, we sold all the apartments, and Skinest Center is only active in servicing there.
Skinest Development is constructing four architecturally identical buildings on lots between Reidi road and Tuukri street for the same purpose.
We have one apartment on Kentmanni street and are in the process of selling apartments on the corner of Falgi rd. and Toompuiestee.
Why have you opted for selling downtown apartments, while Hillar Teder, for example, is developing major office space in the nearby Porto Franco?
Renting of business space does not seem like a promising avenue as people increasingly work from home and do not need major offices. It is possible to create an environment where people can marry their professional and daily lives in the Kesklinn borough. One does not have to commute to the office to be productive these days.
Why are some objects owned by Skinest Center and others by Skinest Development?
At first we wanted to have each company in charge of a single object; however, things did not go according to plan, and that is the structure that has developed by today.
Under what considerations are you investing in real estate in Estonia?
My main business is the railroad; however, the sector is dwindling in Estonia. That is why I am constricting my participation in the Estonian rail business and investing more in real estate instead. Please do not interpret this as an exit from the railroad business; this only concerns Estonia. I'm doing very well both in terms of cars and locomotives elsewhere in Europe.
Where are your real estate investments headed?
Today, I only deal with real estate in Georgia and Estonia. For example, I'm, not in real estate in Latvia where the railroad is doing just fine. I do not rule out new objects, while I would like to finish outstanding projects first.I prefer to invest in high-value assets in downtown Tallinn, like the Tuukri and Reidi rd. properties. I will not be developing cheap real estate in the suburbs.
What makes Tuukri st. so valuable for you?
I see it as somewhere I would like to live. I'm not ruling out buying an apartment and moving to Tuukri st. once these buildings are finished. First of all, it is located at the heart of Tallinn, where departments, shops, restaurants, and theaters are a short walk away. You can go straight for a run or bicycle ride along Pirita rd. It would be difficult for me to imagine a better living environment.