Reps would restrict high school attendance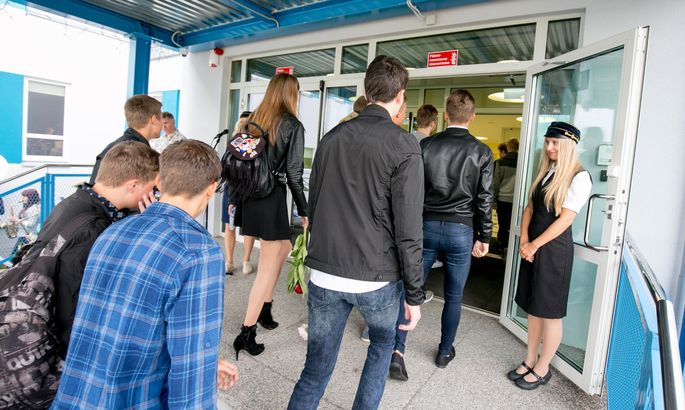 Minister of Education and Research Mailis Reps (Center) proposed a grade average threshold for basic school graduates who want to attend high school yesterday. Those below the grade average would be forced to attend vocational school as the idea also prescribes mandatory school attendance until the person's 18th birthday. Heads of some schools welcome Reps' initiative, while others criticize it as strongly.
The plan was born of the realization that adults with general education are not competitive on the labor market, the minister explained. The cabinet discussed the proposal yesterday.
Reps said that the initial plan did not prescribe a numerical threshold. "However, when we compared the past five-six years, a grade average of 3.75-3.85 would have a negligible effect," she explained.
A school with two sets of classes (60 students) would only have a few students unable to make the threshold in each grade. "There are schools where a third of students would not be able to meet the grade average; however, these are usually smaller schools that accept all students, not just the more capable ones," the minister said.
So people would find work
Reps said it is important for young people to make feasible choices. "Young people who settle for general education after high school should rather go to vocational schools and learn an interesting trade; it is also possible to attend university with vocational education," Reps said. "More than 2 percent of those 26 percent of students who attend vocational school go to the university today. It is clear that higher vocational school attendance will also boost college attendance."
Reps said that people with general education are the least able to compete on the labor market. "Having a trade is definitely beneficial if you cannot obtain higher education or have to do so one course at a time. Those papers will come in handy then," the minister said.
Reps said that the reputation of vocational education has not improved despite a decade of campaigns and soft measures. "We have showcased professions and exciting laboratories, yet only a small part of basic school graduates opt for vocational school, and we still have young people who attend high school just to see what it's all about."
Reps believes that a threshold would not mean vocational schools would get less capable students. However, that is how the proposal is seen by vocational education providers.
Director of the Tartu Vocational Education Center Andrus Mõttus said that a threshold would not be a good idea as no employer wants less capable students from vocational schools. "It is probable that a mandatory grade average would increase the number of uneducated people," Mõttus said.
The principal would only agree to a threshold if one was laid down for those looking to attend vocational school as vocational education also needs gifted students. Mõttus said that almost half of people who attend vocational schools do not graduate.
"Those who drop out are people who have counted on the myth that vocational school is for those who cannot be bothered to study. The idea of a threshold only fuels this mindset," the principal said.
Director of the Jakob Westholm High School Rando Kuustik said that while he understands the need for education reform, he believes every school can manage with in-house criteria, and that standardization would be excessive.
"The ministry has long since been saying schools need greater autonomy. Laying down an entrance threshold reminds be of the policy of another country we were once part of," Kuustik said. He added that he does not believe a threshold would be effective.
Kuustik also doubts the plan of extending mandatory school attendance. "I feel that keeping people in school will only provide artificial results. It is like a five-year plan - so things would look good," he said.
The headmaster said that students and their families should have the right to choose what to do after graduating from basic school. He recommends complementing and developing the vocational education system instead of forcing it on people.
"Young people have different abilities that need to be developed in basic school. Giving students a solid basic education that would allow them to compete in whichever schools should be paramount," Kuustik explained.
Boys often have poorer grades than girls in basic school in which situation a threshold could give the latter an undeserved advantage. "A grade average requirement could create a situation where high schools will have two-thirds girls. Injustice breeds inequality. "It is doubtful we will achieve anything with these kinds of artificial thresholds," Kuustik reasoned.
He said decisions like that should not be made in the silence of ministry offices but instead in cooperation with intellectuals. Such a fundamental decision should be thoroughly discussed with those it concerns.
Unsuitable vocational schools
Principal of the Gustav Adolf Grammar School (GAG) Hendrik Agur believes a threshold would be fitting. Agur feels, however, that it should be based on basic school examination results as opposed to the grade average. For that, the latter should correspond to the same standards as high school examinations.
The director said that is also the reason GAG, along with three other Tallinn schools, has been holding independent entrance examinations for the past decade. "We generally do not trust basic school graduation certificates as they do not reflect a student's academic prowess," Agur said.
The grade point average of most basic schools cannot reflect the graduate's true ability in the eyes of stronger schools. "Kids who have attended some basic schools, and their parents, have been given false information about their academic ability and level of knowledge and skills for years," the principal said.
Agur said it would be sensible to make sure high school would only have students who have potential and motivation to attend university. "It has long been a fact that high schools where there is no competition teach poorly motivated students who go there to extend their carefree childhood. This does not constitute sensible use of time for the student or sensible use of education spending for the state," he said.
Agur believes that students who are not fit for high school should learn a trade in vocational school instead of barely graduating from high school after which they cannot get into universities and do not have a trade.