Simson: entrepreneurs too hung up on tax incentives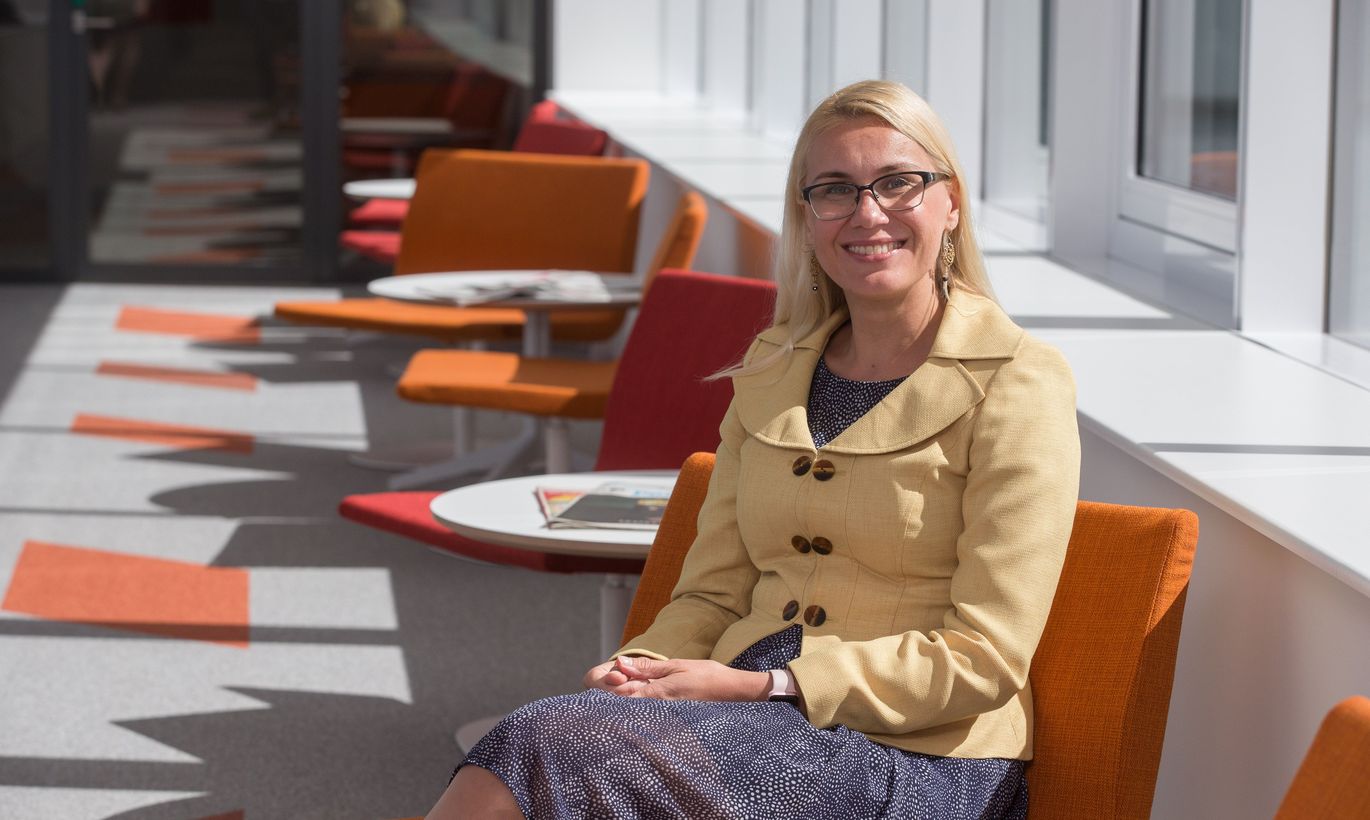 Minister of Economic Affairs and Infrastructure Kadri Simson (Center Party) says in an interview that Estonian entrepreneurs have over the years been brainwashed into thinking the Reform Party is the only force that represents their interests. Companies should realize that what is important is not tax incentives but a strong state and happy employees.
You moved into the so-called superministry building a few weeks ago. How are you liking it?
I don't. It has several inconveniences, like forced ventilation and windows that do not open. The entire tower only has three elevators, which is why one must climb a lot of stairs during the day. It was much easier to get around in the previous building. However, I have found a good shortcut to Toompea over the roof of the National Library. A person can choose where they live but not their workplace. When it gets so unpleasant one can no longer work, one needs to find another job.
That is why you want to become mayor of Pärnu?
Indeed, I have promised to take office as mayor should I win the local election there. I tried four years ago but fell a few hundred votes short then. I believe support for me has grown in Pärnu. I have warned PM Jüri Ratas of the possibility.
Is the post of Pärnu mayor truly more desirable than the economy minister's portfolio?
There is no doubt a minister stands higher than a mayor. However, it is not always about the hierarchy. Some things are just closer to the heart. There are a lot of challenges in Pärnu. The city will merge with Tõstamaa, Audru, and Paikuse parishes after the administrative reform. It will become the largest city in Estonia. It is the job of the new mayor to make it all work.
When you became minister, you said you have no specific metrics for the work but added you hope to restore economic growth. Is growth satisfactory today?
The 4.4 percent growth earlier this year was very positive; however, it is nothing to be settled for. The important thing is to make sure growth reaches people. If we can maintain current growth pace, we can move closer to the Nordics in terms of everyday life.
That said, should it be the goal of the Estonian economy to move toward the Nordics, or should we compare ourselves to more rapid economies, like China or India?
It is an interesting idea; however, neither India nor China can be compared to Estonia as the magnitudes are just too different. We can manage the Nordic model that ensures every member of society with dignified subsistence while attracting additional investments.
You have met with a lot of entrepreneurs during your time in office. Has your worldview taken on right wing components, become more appreciative of value added?
I have always believed entrepreneurs to be crucial in terms of pushing the economy. At the same time, Estonian companies cannot be successful if their employees are unhappy or if their state doesn't work. Entrepreneurs gain the most if the state can function as one and if it has the necessary tax base. As concerns my worldview, it is clearly developed. No office can send it reeling.
Talking directly to entrepreneurs, are they as cross with the state's economic and tax policy as they are in the media?
On the contrary. I have come across positive entrepreneurs who commend us for talking to them, unlike the previous government ministers in which believed wisdom and the monopoly of truth were confined to their tiny heads.
A lot of businessmen tell us tax changes we have pursued have benefitted them. Accommodation providers are glad we decided to cancel their VAT hike. There are entrepreneurs who believe raising minimum income exempt from tax is very important.
You make it sound as though everything is peachy; however, why are they so critical when they speak to the media? Why is trust in the government at an all-time low?
It only takes a few people to raise a storm in the media. The wailing is loudest among employees of enterprise organizations who have been given their orders. One such is the head of the Estonian Food Industry Association; whose utterances make it sound like Estonians consume next to nothing but beer and lemonade.
That said, it is clear the respect of entrepreneurs needs to be earned. They have been told for years how the Reform Party is the only political force to stand for their interests. A calm look at what the current government has introduced could pacify their defiance or even turn it into recognition. It would be a step toward Europeanness were entrepreneurs able to look beyond tax incentives to a pleasant environment for their workers sporting good infrastructure.
The government's tax package is largely made up of tiny taxes many of which have been dropped over the past six months. Should you have opted for a single tax?
None of these taxes were a goal in themselves. I would have preferred classic progressive income tax. The contribution of people earning high salary is modest in Estonia. People who make several times the average salary are prepared to contribute more. If a few years ago such a person was an exception, there are more and more of them today.
Name three major things you would like to get done and be remembered for as economy minister.
The first major thing is free county buses that will come into effect from July next year. This will make it easier for rural area residents to commute to centers. People who say it is unnecessary usually do not take the bus.
Secondly, bringing ships under the Estonian flag. Ships with a cargo capacity of more than 500 tons sailing under the Estonian flag number exactly zero today. We will make them a more favorable tax system while improving the ship register and port services.
I would point out support for the Tallinn stock market as the third option. No other government has privatized and listed so many state companies this century. The first to hit the market will be Port of Tallinn preparations for the IPO of which are underway.
It is impossible to list EVR Cargo today, and work is being done to raise the company's value so a minority holding could be sold in the future. Next, we have AS Estonian Roads the main goal for which in 2017 is a successful switch from internal to free market contracts to create premise for possible future privatization.
Do you have more questions regarding EVR Cargo's much-criticized Russian railcar business, or are you fully behind the venture now?
EVR Cargo has previously let out 1,000 cars in Russia. It is nothing new. I have never described it as the best thing to do. I have simply defended the transaction from absurd political attacks.
I am first and foremost referring to talk of European sanctions against Russia rules of which the transaction does not violate. The bulk of the criticism came from the Reform Party whose minister was in office when the railcar business was first launched.
We need to keep in mind that our 1,000 cars make us a minor player in Russia and its total 1.6 million railcars. European companies tens of times the size of EVR Cargo are pursuing the same business in Russia.
Should Russia unexpectedly ban something, as feared, it would be a general breach of private rules. EVR Cargo has contracts with companies registered in Europe, while transactions are carried out in euros.
Port of Tallinn has hinted that another ferry is considered for the connection between the mainland and the western Estonian islands. When and what type of boat will you procure?
It is true that ferry traffic is going well, as reflected in number of passengers that has grown considerably in the past year. Saaremaa entrepreneurs are also saying that more people and movement is visible thanks to the new ferries.
As concerns procuring another ferry, we have agreed to make a decision after going over passenger statistics once summer ends. I believe that in a situation where people have seen a good service using five ferries (businessman Olav Miil's ferry Hiiumaa is also servicing the strait – ed.) they will not settle for less. However, we will have answers in fall.
Should the state support wind farm developers whose projects are frozen due to national defense considerations in Ida-Viru County, and if so then how?
Here the balance between national defense and enterprise needs to be weighed. It is clear the state must perform national defense tasks. Perhaps the defense ministry could do a better job of explaining these things to entrepreneurs – where one can and cannot build wind farms. Unfortunately, several developments have reached a stage where decisions have to be made in court.
In general, I would say the state is very much pro-renewable energy. We can all see it on our electricity bills as the renewable energy fee. I very much doubt anyone would be erecting turbines inspired solely by their green outlook without that measure.
You will be chairing several Council meetings during Estonia's EU presidency period this fall. Is it a tedious obligation for you, or do you perceive a chance to achieve something?
(Takes a moment to think.) It is an obligation one cannot shirk. At the same time, it is also an opportunity as the doors of colleagues are open to the presidency. We can consult EU commissioners. It is a lot of work; however, we can raise matters that are important for Estonia. I plan to take advantage of all corresponding opportunities.